So there's a Super Bowl this weekend….but more importantly we're having a signing in Willow Grove on Saturday and a buncha good comics comics out February 4th!

 IN WILLOW GROVE TOMORROW!
Don't miss a good time happenin' in Willow Grove tomorrow from Noon to Five pm! Details HERE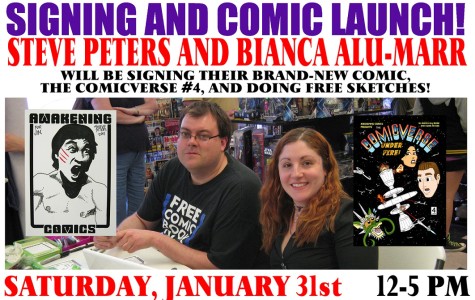 SUPPORT LOCAL COMICS!
Could be better than the actual Super Bowl!
the only other thing about the Super Bowl (other than the commercials I guess) will be the Katy Perry…but that's just me.
AND NOW

COMICS! SO MANY GOOD COMICS!
MARVEL COMICS
(W) Nick Spencer (A) Ramon Rosanas (CA) Mark Brooks
• Ant-Man's starting a new life– a bold new adventure– and you know what that means…
•  He needs to borrow some money!
•  Also, an old enemy returns… kinda. Sorta. Maybe?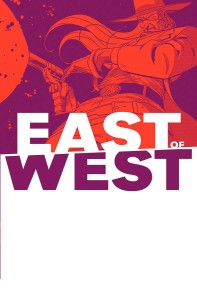 (this book)
EAST OF WEST #17
IMAGE COMICS
(W) Jonathan Hickman (A/CA) Nick Dragotta
"FALLOUT"
In which we see how the horror of war has effected each and every nation — and which nations will crumble and which will rise.The Apocalypse: Year Two rumbles on in EAST OF WEST #17.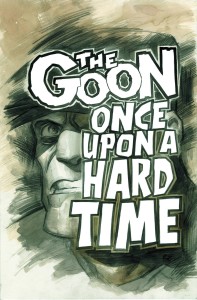 (I'm terrified of this arc b/c of
this
)
GOON ONCE UPON A HARD TIME #1
DARK HORSE COMICS
(W/A/CA) Eric Powell
After the tragic events of Occasion of Revenge, the witch coven believes that control of the unnamed town will soon be in their grasp and the Goon's tragic soul will contribute to the curse that increases their power. But has their plot destroyed the Goon or created a monster too savage for them to withstand?Once upon a Hard Time is a climactic miniseries that has major consequences for the Goon and his supporting cast. If you're a Goon fan, you can't miss this."Powell's story is sweet when it needs to be, warm and touching when it wants to be, and brutal and gruesome when it has to be."-Bloody Disgusting
HOLY CRAP! LOOKIT THIS!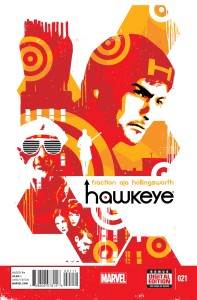 (well well well…would you look at what's finally out!)
HAWKEYE #21
MARVEL COMICS
(W) Matt Fraction (A) Annie Wu (CA) David Aja
The Finale, Part 1:
•  David. Clint. Barney. The Building. The Tracksuit Draculas. The Clown.
•  Ever seen "Rio Bravo?" Check it out, it's pretty good.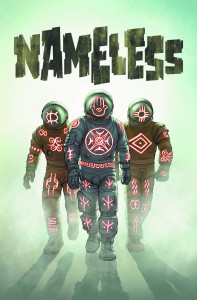 (I just want to read this
now!!!!!
)
NAMELESS #1
IMAGE COMICS
(W) Grant Morrison (A/CA) Chris Burnham, Nathan Fairbairn
An astronomer kills his family, then himself, leaving a cryptic warning.
A Veiled Lady hunts her victims through human nightmares.
An occult hustler known only as 'Nameless' is recruited by a consortium of billionaire futurists for a desperate mission.And the malevolent asteroid Xibalba spins closer on a collision course with Earth.But nothing is what it seems-a terrifying inhuman experiment is about to begin.Abandon all hope and experience ultimate horror in NAMELESS.
ALSO THERE'S THIS!: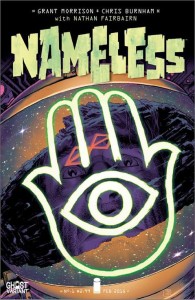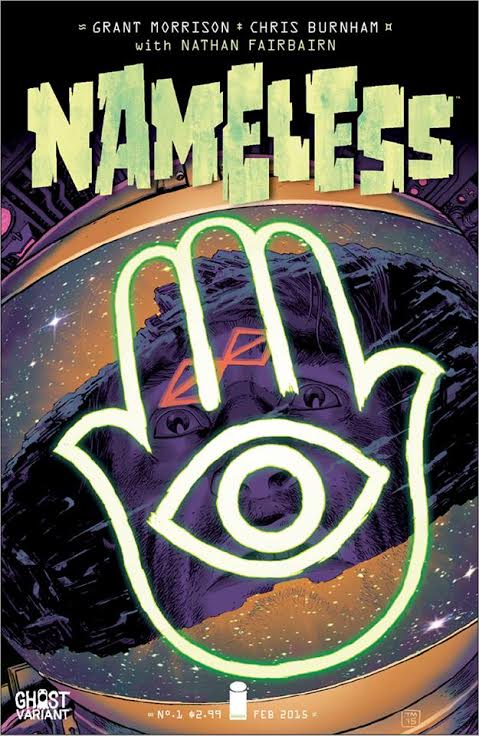 The one and only Tony Moore (you know that guy…he co-created that little comic that everyone loves so much…the Walking Dead) really knocked this kick @$$ Ghost Variant for Grant Morrison, Chris Burnham and Nathan Fairbairn's newest Image #1. Seriously this thing's cool as heck!
HOLY CRAP A SECOND TIME!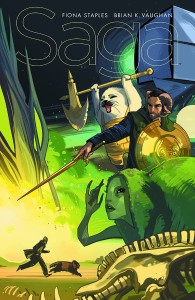 (what's gonna happen now!)
SAGA #25
IMAGE COMICS
(W) Brian K. Vaughan (A/CA) Fiona Staples
Saga is back, as is almost the entire cast! And as thanks to retailers and readers for helping our audience continue to grow every new arc, Fiona Staples created an amazing wraparound cover for this action-packed issue, which is still only $2.99, the best deal in comics!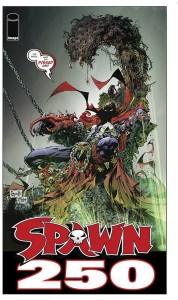 (Spawn's back in a big way!…you can tell 'cause that 250 is huge)
SPAWN #250
IMAGE COMICS
(W) Todd McFarlane (A) Szymon Kudranski (CA) Todd McFarlane
This HUGE, TRIPLE-SIZED 250th ANNIVERSARY ISSUE marks only the second time an independent comic book has reached such a lofty number! This issue marks the cataclysmic climax in the story of the current Spawn: Jim Downing's final struggle against his costume while the fate of New York City lies in the balance.
From the ashes of that battlefield comes the long awaited return of the original Spawn… AL SIMMONS.
The celebration of this anniversary issue will feature covers from TODD MCFARLANE, GREG CAPULLO (Batman), SKOTTIE YOUNG (Rocket Raccoon), JOCK (Detective Comics), SEAN MURPHY (The Wake), and PHILIP TAN (Batman and Robin).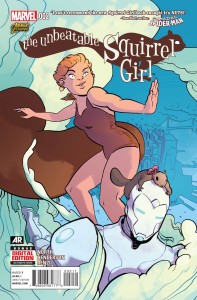 (If you're not reading this you must hate fun)
UNBEATABLE SQUIRREL GIRL #2
MARVEL COMICS
(W) Ryan North (A/CA) Erica Henderson
• Starting college is hard enough, but now Squirrel Girl has to deal with Galactus too?
•  The fate of the entire planet hangs in the balance, and only Squirrel Girl can save it!
•  Also, her squirrel friend Tippy Toe. She can help too.
•  Iron Man might show up too! Kinda, at least!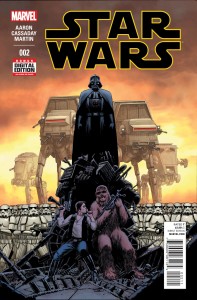 (That first issue was fantastic!)
STAR WARS #2
MARVEL COMICS
(W) Jason Aaron (A/CA) John Cassaday
THE GREATEST SPACE ADVENTURE OF ALL TIME CONTINUES!
•  The Rebel assault on Cymoon 1 continues!
•  Luke Skywalker – cornered by Darth Vader!
•  Han, Leia, and the others – trapped!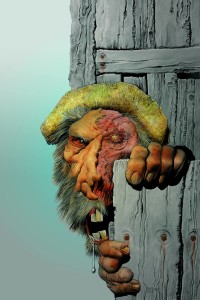 (New Corben!!!)
RAT GOD #1 (OF 5)
DARK HORSE COMICS
(W/A/CA) Richard Corben
Terrible things stalk the forests outside Arkham in this chilling original tale from comics master Richard Corben! An arrogant city slicker on a quest to uncover the background of a young woman from the backwoods finds horrors beyond imagining, combining Lovecraftian mutations with Native American legends.
 NOW ONTO THE FULL LIST!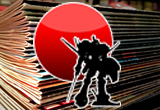 (the following list of comics reflects all the comics coming into both locations. If there's something on this list that's not in stock at your favorite BNW location do not hesitate to ask for us to order it for you!)
COMICS AND MAGAZINES
Action Comics #39 




Afterlife With Archie Magazine #4  




All New Captain America Fear Him #1 (OF 4)  




American Vampire Second Cycle #6 




Angel And Faith Season 10 #11




Angela Asgards Assassin #3  




Annihilator #5 (OF 6)




Ant-Man #2     




Aquaman And The Others #10        




Avengers #41




Back Issue #78




Batman 66 #19




Batman Eternal #44




Birthright #5  




BSG Death Of Apollo #3 (OF 6) 




Bunker #9




Cluster #1




Cowl #8 




Crossed Badlands #71




Dawn Of Planet Of Apes #3   




Dead At 17 Blasphemy Throne #6 (OF 7)




Deathstroke #1 2nd Ptg    




Detective Comics #39    




Django Zorro #3 (OF 6) 




Earth 2 #31  




Earth 2 Worlds End #18




East Of West #17       




Edge Of Spider-Verse #2 (OF 5) 4th Ptg




Egos #5                   




Escape From New York #3




Famous Monsters Of Filmland #278




Feathers #2   




Flash Season Zero #5




Game Of Thrones #24




Garfield #34 




Ghost #12  




GI Joe (2014) #5




God Is Dead #28 




Goon Once Upon A Hard Time #1  




GotG And X-Men Black Vortex Alpha #1 




Grayson #7        




Green Arrow #39




Green Lantern #39




Hawkeye #21        




Hellboy And The BPRD #3 (OF 5)




Hinterkind #15 




Hobby Japan Dec 2014




Hulk #11  




Humans #4 




Imperium #1




Injustice Gods Among Us Year Three #8 




King Jungle Jim #1 (OF 4)           




Lady Demon #2 




Lady Killer #2       




Lady Mechanika #0 & #1 Collected Ed 




Lobo #5 




Looney Tunes #223  




Marvels Ant-Man Prelude #1 (OF 2) 




Mega Man #45




Miracleman #15




Ms Marvel #11 




Nailbiter #10




Nameless #1




Names #6 (OF 9)




New 52 Futures End #40




New Vampirella #9




October Faction #2 2nd Ptg




Oddly Normal #5




Operation Sin #2 (OF 5)  




Postal #1 




Punisher #15 




Rat God #1 (OF 5)  




Red Sonja Vultures Circle #2




Return Of Living Deadpool #1 (OF 4)




Robocop 2014 #8




Saga #25 




Shaft #3




Sheltered #14 




Simpsons Illustrated #15 




Sinergy #4 




Sixth Gun Days Of The Dead #5 (OF 5)




Skylanders #6 




Sonic Universe #72 




Spawn #250




Spider-Woman #2 2nd Ptg 




Star Wars #1 2nd Ptg 




Star Wars #2




Steven Universe #7




Stray Bullets Sunshine & Roses #1




Superior Iron Man #2 2nd Ptg 




Superman #38




Swamp Thing #39  




Town Called Dragon #5 (OF 5)      




Transformers More Than Meets Eye #37 




Unbeatable Squirrel Girl #2 




United States Of Murder Inc #6




Velvet #9 




Wolf Moon #3 (OF 6)




Wolverines #5      




Woods #10   




Wytches #4




X-O Manowar #33




TRADE PAPERBACKS, GRAPHIC NOVELS, HARDCOVERS AND MANGA

Arrow Heroes & Villains Sc 




Assassination Classroom Gn Vol 02




Batman Arkham Unhinged Tp Vol 04   




Bleach Gn Vol 63




Conan Tp Vol 16 The Song Of Belit




Delinquents Tp




Disney Pixar Treasury Vol 01




Disney Princess Treasury Vol 01




Gantz Tp Vol 34




God Hates Astronauts Tp Vol 02 A Star Is Born




Inhumanity Tp 




Invisibles Hc Book 03 Deluxe Edition




Love And Rockets New Stories Tp Vol 07 




Spider-Man 2099 Classic Tp Vol 03 Fall Of Hammer




Spider-Man 2099 Tp Vol 01 Out Of Time 




Star Trek City On The Edge Of Forever Hc 




Superman Earth One Hc Vol 03 




Superman Hc Vol 05 Under Fire




Superman Tp Vol 04 Psiwar




Teen Titans Tp Vol 05 The Trial Of Kid Flash




TOYS
Throne Of Atlantis Aquaman Af    




Throne Of Atlantis Black Manta Af    




Throne Of Atlantis Mera Af   




Throne Of Atlantis Ocean Master Af




ODDS AND ENDS
DC Comics Super Villains Harley Quinn 2nd Ed Bust 




Star Trek Kirk Bust Bank