Local Comics Creators, Steve Peters and Bianca Alu-Marr, will be signing their brand-new comic, The Comicverse #4, on Saturday, January 31st, from 12-5 PM at our Willow Grove location!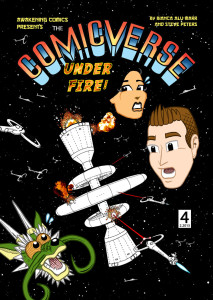 Steve has been Brave New Worlds' Free Comic Book Day sketch artist since 2010. If the lines were too long for you on past FCBDs, come on over and Steve will put some extra detail into your sketch!
Brave New Worlds is the home of Steve and Bianca's series The Comicverse, which started out on the BNW web site, so it's only fitting that their latest issue gets launched here! The Comicverse is a sci-fi rom-com about a comic book shop in space run by a young man and a mischievous dragon. In the new issue, their space station is attacked and destroyed by aliens! The Comicverse crew and their customers escape in life pods and are placed in the cargo hold of a large military ship…where will they go from here?
Below are samples of some of Steve's FCBD work: