Another weekend is upon us all! This week's list of comics features one of those rare Midnight releases too so strap on those stayin up late boots and we'll see what's coming out together!
Have you even finished reading all of your comics for this week yet?!
'If you don't eat yer meat, you can't have any pudding!?'
If sifting through the internet seems like a bit too much of a task and you'd like us to beam this right to your phone (or home Cerebro-like computer system) try signing up for our handy weekly email newsletter!
METAL @MIDNIGHT!!! DON'T MISS OUT!

We're having a Midnight Release for DARK NIGHTS METAL #1! Join us as our doors RE-OPEN at 11:30pm on Tuesday August 15 and get your hands on the begining of something that will change the DCU forever…and have it before ANYONE ELSE! Oh hey! There will also be a Variant Cover only available at the midnight release!
DARK NIGHTS METAL #1 (OF 6)
DC COMICS
(W) Scott Snyder (A) Greg Capullo, Danny Miki (CA) Greg Capullo
The superstar BATMAN team of writer Scott Snyder and artist Greg Capullo reunite for a massive, universe-spanning event!
DARK DAYS: THE FORGE and THE CASTING hinted at dark corners of reality that have never been seen till now! Now, as DARK NIGHTS: METAL begins, the Dark Multiverse is revealed in all its devastating danger-and the threats it contains are coming for the DC Universe!
DARK NIGHTS: METAL is a DC event unlike any other-one that will push Batman, Superman and heroes of the Justice League beyond their limits to take on threats unlike any our world has ever seen! It will take the combined might of the World's Greatest Heroes as you've never seen them before to face what's coming their way!
WHAT THE HECK?!?
MARVEL SELECT LADY DEADPOOL AF
DIAMOND SELECT TOYS LLC
A Diamond Select Toys release! The Marvel Select line just got a lot more lethal! The Deadpool from parallel Earth-3010, Wanda Wilson is a part of the rebellion against a fascistic US government, but she's just as deadly as her 616 counterpart! This approximately 6 1/2″ action figure features 16 points of articulation, as well as a diorama base and accessories including swords, a bazooka, and Headpool!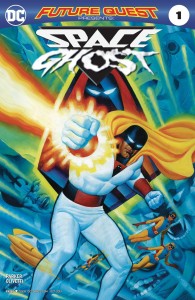 FUTURE QUEST PRESENTS #1
DC COMICS
(W) Jeff Parker (A/CA) Ariel Olivetti
After the thrilling events of FUTURE QUEST, a new age of adventure begins! First up, Space Ghost and his young wards Jan and Jace team up with the Herculoids to rebuild the mighty Space Force. Will they rise again to become defenders of the galaxy? Or is there something lurking in the shadows ready to stop them for good?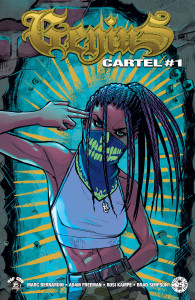 GENIUS CARTEL #1 (OF 5)
IMAGE COMICS
(W) Marc Bernardin, Adam Freeman (A/CA) Rosi Kampe
Seventeen-year-old Destiny Ajaye took on the LAPD in her South Central Siege and paid for it-not with her life, but with her freedom. Now, Destiny is sequestered in the Madrasa Institute, a government school for prodigies. But will she use her gifts to wage war at the military's behest-or is she already planning another revolution?
From writers MARC BERNARDIN and ADAM FREEMAN (Castle Rock, Alphas, X-Men Origins: Nightcrawler, The Authority, The Highwaymen) and rising-star artist ROSI KAMPE, comes a sequel that promises to set Destiny's world-and ours-ablaze.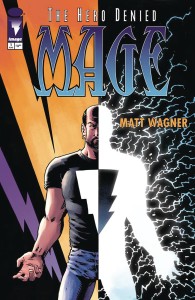 MAGE HERO DENIED #1 (OF 15)
IMAGE COMICS
(W/A/CA) Matt Wagner
    LEGENDARY WRITER / ARTIST MATT WAGNER RETURNS FOR THE THIRD AND FINAL VOLUME OF HIS EPIC FANTASY TRILOGY-MAGE: THE HERO DENIED!    This first full-sized issue begins 10 years after the climax of THE HERO DEFINED and finds the everyman hero Kevin Matchstick at an unexpected point in his life. It's been some time since he's utilized his powers as the reincarnated Pendragon, wielder of the mystical weapon Excalibur. Despite his reluctance to fulfill what two different Mages have declared as his destiny, dark forces have gathered to once again force Kevin into action.  Throughout these events, Kevin keeps hoping for the same mystical guidance that has mentored him in the past. "Who is the third Mage?!"
MAGE: THE HERO DENIED will be a 15-issue limited series climaxing in a double-sized finale. Newly repackaged editions of the previous books from the trilogy-THE HERO DISCOVERED and THE HERO DEFINED-will be released over the course of the new series. MAGE has been a perennial favorite with old and new readers alike for nearly three decades.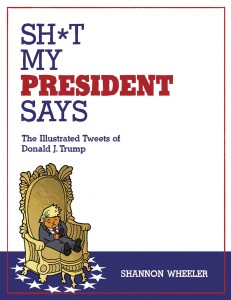 SH*T MY PRESIDENT SAYS ILLUSTRATED TWEETS OF DONALD TRUMP HC
IDW PUBLISHING
(A/CA) Shannon Wheeler
Some people are saying, I don't know, you tell me, but a lot of people are saying this is the greatest book of the year. This guy, Shannon Wheeler, he draws these cartoons for the New Yorker, MAD, the Onion-he's very, very, good, okay? Now he's illustrated the most incredible tweets. Wow! You won't believe what he does with these tweets. I mean, these tweets changed the world, folks. It's true! It's very true. EVERYONE is going to want this book – even the haters and losers (Sad!).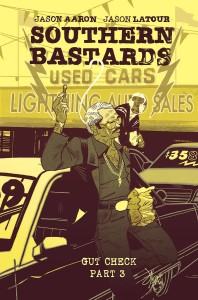 SOUTHERN BASTARDS #17
IMAGE COMICS
(W) Jason Aaron (A/CA) Jason Latour
"GUT CHECK," Part Three
The bleachers are slick with blood as Coach Boss faces some brand-new competition on and off the field.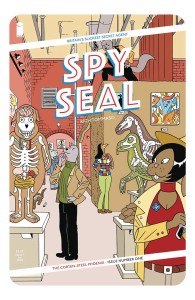 SPY SEAL #1
IMAGE COMICS
(W/A/CA) Rich Tommaso
SERIES PREMIERE!
"THE CORTEN-STEEL PHOENIX," Part One
Journey into the thrilling world of international espionage as one of Britain's most covert MI-6 divisions, The Nest, recruits a brand-new secret agent to their team: SPY SEAL! An exciting new comic series-reminiscent of The Adventures of Tintin and Usagi Yojimbo-and created by SHE WOLF author, RICH TOMMASO.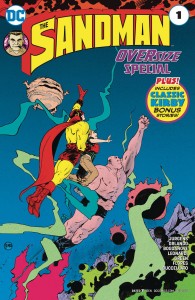 SANDMAN SPECIAL #1
DC COMICS
(W) Dan Jurgens, Steve Orlando (A) Jon Bogdanove, Rick Leonardi (CA) Paul Pope
Don't miss two new tales starring Jack Kirby's costumed Master of Nightmares from the 1970s. Sandman, Brute and Glob battle an onslaught of dreams so powerful that they are invading the dreams of other people! Then, a grown-up Jed Walker returns to his childhood home, only to find himself haunted by dreams from the past. This issue also includes "Strange Tales from the D.N.A. Project" from SUPERMAN'S PAL, JIMMY OLSEN #142-144, 146 and 148, written and pencilled by Jack Kirby and "Turn on the Heat," starring the Newsboy Legion, from STAR SPANGLED COMICS #27, written and illustrated by Joe Simon and Jack Kirby.
NOW HERE'S THE FULL LIST!
If you want a full visual list of everything howabout you click on this hyperlink  (tho the Diamond  might not update til Monday or something)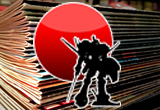 (the following list of comics reflects ALL the comics coming into BOTH locations. If there's something on this list that's NOT IN STOCK at your favorite BNW location DO NOT HESITATE  TO ASK FOR US TO ORDER IT FOR YOU!)
COMICS AND MAGAZINES
Adventure Time Comics #14
All New Guardians Of Galaxy #8
Alter Ego #148
Amazing Spider-Man Renew Your Vows #10
Aquaman #27
Astonishing X-Men #2
Astro City #46
Back Issue #99
Batman #29
Batwoman #6
Bill & Ted Save The Universe #3
Bitch Planet Triple Feature #3
Black Cloud #5
Black Panther Crew #5
Blood Bowl More Guts More Glory #3 (OF 4)
Briggs Land Lone Wolves #3
Calexit #1 2nd Ptg
Cave Carson Has A Cybernetic Eye #11
Curse Words #7
Dark Nights Metal #1 (OF 6)
DC Comics Bombshells #33
Descender #23
Disney Princess #12
Divinity #0
Dragon Age Knight Errant #4
Dungeons & Dragons Frost Giants Fury #4
Edge Of Venomverse #1 (OF 5) 2nd Ptg
Future Quest Presents #1
Generation X #5
Generations Wolverine & All-New Wolverine #1
Genius Cartel #1 (OF 5)
GFT Grimm Tales Of Terror Vol 3 #8
GFT Tarot #1
Godshaper #5
Green Arrow #29
Green Lanterns #29
Gwenpool #19
Haunted Horror #29
I Hate Fairyland #15
Injustice 2 #8
Invincible #139
Invincible Iron Man #10
James Bond Kill Chain #2 (OF 6)
Justice League #27
Kaijumax Season 3 #2
Kill The Minotaur #3
Knights Of The Dinner Table #245
Knights Of The Dinner Table #246
Luke Cage #4
Mad Magazine #547
Mage Hero Denied #1 (OF 15)
Magnus #3
Marvels Thor Ragnarok Prelude #4 (OF 4)
Micronauts Wrath Of Karza #4 (OF 5)
Mighty Thor #22
Misfit City #4 (OF 4)
Mother Russia #2 (OF 3)
Motor Girl #8
Neil Gaiman American Gods Shadows #6
Nightwing #27
Pierce Brown Red Rising #4
Rat Queens #5
Regression #4
Revolutionaries #7
Rick & Morty Pocket Like You Stole It #2 (OF 5)
ROM #12
Royals #6
Sandman Special #1
Secret Empire Brave New World #5 (OF 5)
Secret Weapons #3 (OF 4)
Sheena #0
Silver Surfer #13
Southern Bastards #17
Spider-Men II #1 (OF 5) 2nd Ptg
Spider-Men II #2 (OF 5)
Spy Seal #1
Star Trek TNG Mirror Broken #3 (OF 6)
Star Wars #34
Star Wars Poe Dameron #18
Street Fighter Vs Darkstalkers #4 (OF 8)
Super Sons #7
Superman #29
Teen Titans Go #23
TMNT Dimension X #3
Totally Awesome Hulk #22
Trinity #12
Ultimates 2 #100
US Avengers #9
Vampirella #5
War For Planet Of The Apes #2 (OF 4)
Warhammer 40000 Dawn Of War III #2 (OF 4)
Winnebago Graveyard #3 (OF 4)
Wonder Woman #28
X-Men Blue #9
TRADE PAPERBACKS, GRAPHIC NOVELS, HARDCOVERS AND MANGA
Eightball Like A Velvet Glove Cast In Iron Tp Wrap
Hal Jordan & The GLC Tp Vol 03 Quest For Hope (REBIRTH)
I Am A Hero Omnibus Tp Vol 04
Locke & Key Heaven & Earth Dlx Hc Ed
Sh*t My President Says Illustrated Tweets Of Donald Trump Hc
Unbelievable Gwenpool Tp Vol 03 Totally In Continuity
TOYS
Marvel Select Lady Deadpool Af
Pop Darkwing Duck Nega Duck Px Vinyl Figure
ODDS AND ENDS
Batman Black & White Statue By Norm Breyfogle
Nintendo Legend Of Zelda Lapel Pin
Star Trek Starships Special #10 Iss Defiant NX-742
Star Trek Starships Special #11 Lg Enterprise NCC-1701D
And a bonus for scrolling all the way down here