Here's what we'll have going on this coming Wednesday 10.19.16!
Do You Get Our EMail Newsletter Every Monday?

Sing up over HERE and get updates every Monday afternoon and help break up those early in the week doldrums!
Why Not See Doctor Strange With Us?!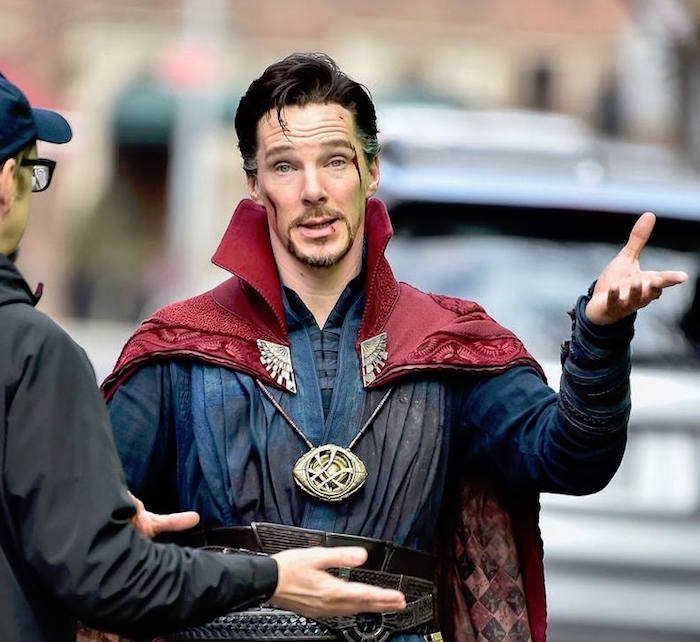 We're gonna be having another private screening at the Regal Cinema in Warrington Pa on November 3rd at 8pm!
Inquire about tickets next time you stop in! More details to come!

Are You A REAL Fan of the Animated Series?!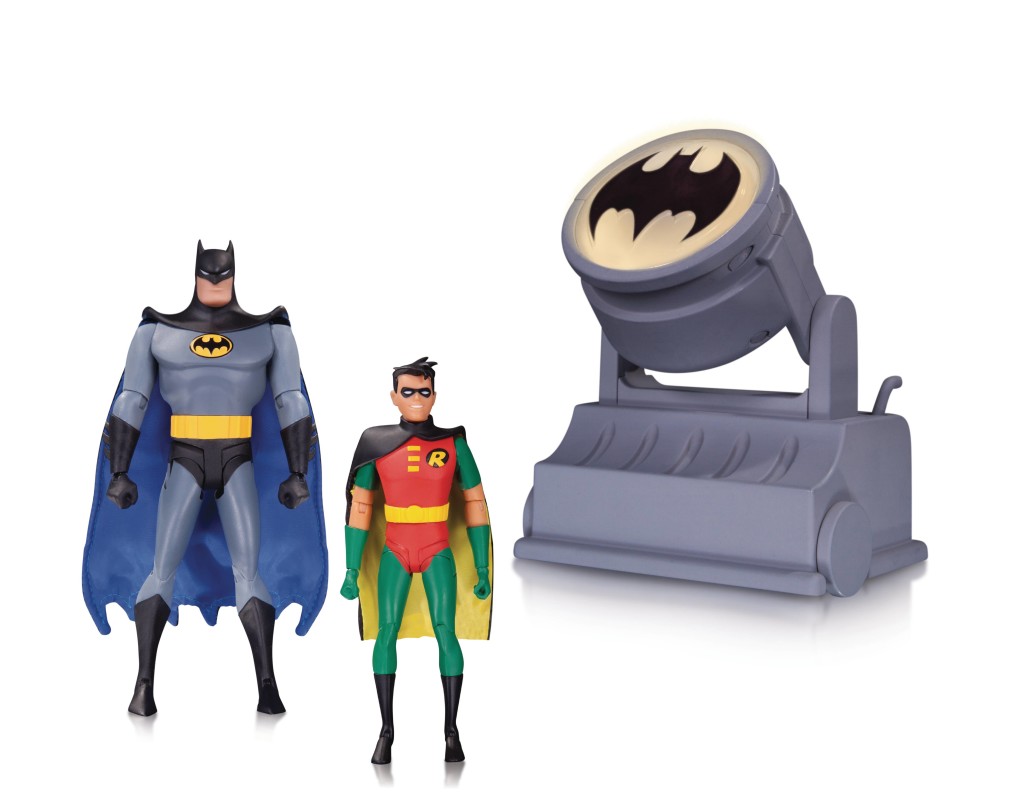 BATMAN ANIMATED SER BATMAN & ROBIN W BATSIGNAL 2 PK
DC COMICS
The Caped Crusader and the Boy Wonder are ready for adventure in this new action figure 2-pack, which comes with a battery-powered Bat-Signal!
DASH SHAW SIGNING IN OLD CITY!
Indie comics creator and film maker Dash Shaw will be signing his latest book Cosplayers this coming Thursday (October 20th) from 6-8pm in Old City!
THANK THE MAKER! DROIDS!
ALL THE SIGNED TETRIS!
YOU SEE THIS!?
Our Old City shop pals from the Comic Book Junto podcast (you've probably seen me write about it before…listen to it!) were featured in the letters column of this past weeks Power Man and Iron Fist #9 for a pretty awesome reason: Adam donated a kidney to Octavius! That's some REAL LIFE SUPERHERO LEVEL FRIENDSHIP stuff right there! Word is that things went smoothly, they're recovering and as of my typing this should be home from the hospital already!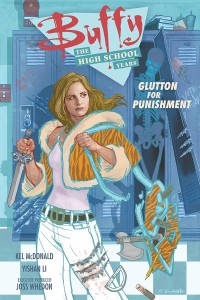 BUFFY HIGH SCHOOL YEARS GLUTTON PUNISHMENT TP

DARK HORSE COMICS
(W) Kel McDonald (A) Yishan Li (CA) Scott Fischer
When Buffy and Xander sign up for Home Ec, assuming it will be an extra-credit cakewalk, they aren't aware that the teacher is a ravenous tiger demon in disguise! When he's found to be kidnapping his top students and forcing them to cook for him, Buffy must rescue her fellow students-and give the tiger demon his just desserts!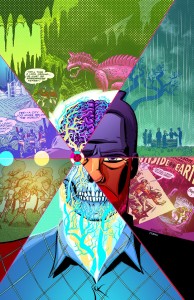 CAVE CARSON HAS A CYBERNETIC EYE #1

DC COMICS
(W) Gerard Way, Jonathan Rivera (A/CA) Michael Avon Oeming
Cave Carson has done it all: survived countless adventures below the Earth's surface, met the love of his life, and gotten a cybernetic eye…somehow. After he and his wife, Eileen, sent their only daughter Chloe off to college, Cave was ready to become just another mundane member of the surface world. That is, until Eileen got sick. Newly widowed, Cave tries to piece his life back together when a knock on the door of his secret underground lab pulls him back into a past that he and Eileen thought they had left buried deep within the Earth.
Adding to his troubles, Cave must determine if his recent hallucinations and visions are the work of his mind or his mysterious cybernetic eye. (Spoiler: It's the eye.)
Written by Gerard Way (DOOM PATROL, Umbrella Academy) and Jon Rivera (Heartbreak), and illustrated by Michael Avon Oeming (Powers), this is an absurdist action-adventure story unlike any other!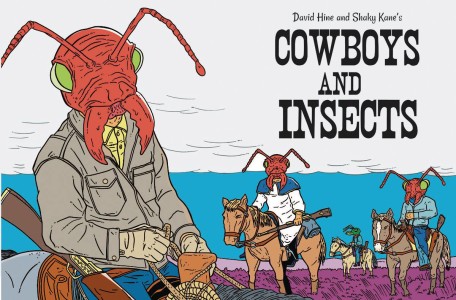 COWBOYS AND INSECTS ONE SHOT

ALTERNATIVE COMICS
(W) David Hine (A/CA) Shaky Kane
Kane and Hine follow up their cult hit The Bulletproof Coffin with this paranoid tale of troubled romance in an alternative 1950s, where the Bikini Atoll nuclear tests have had an unexpected effect on North America's insects. This one-shot is an epic story of Big Bugs and the men who wrangle them. A Floating World production.
DARK KNIGHT III MASTER RACE #6 (OF 8)

DC COMICS
(W) Frank Miller, Brian Azzarello (A) Andy Kubert, Klaus Janson (CA) Andy Kubert
Is Gotham City ready for a new Batgirl?!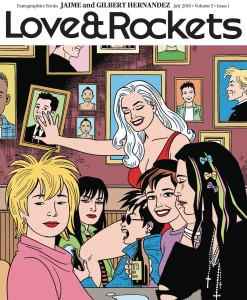 LOVE & ROCKETS MAGAZINE #1

FANTAGRAPHICS BOOKS
The comic book event of 2016! Love and Rockets is back as an all-new, ongoing comic book series (Vol. IV for those keeping track at home)! On Jaime's side: What do you do when none of your old punk friends want to be punk any more? And just who does the evil Princess Animus think she is? (Hint: She doesn't know, she has amnesia.) On Gilbert's side: Family drama takes center stage when a Fritz discovers a grandchild she didn't know existed! Old fans and new fans are sure to enjoy the most diverse cast of characters in comics, including Maggie, Hopey, Pipo, Fritz, Tonta, Baby, and many more! Plus other surprises! Grrrowl!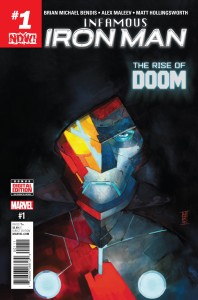 INFAMOUS IRON MAN #1
MARVEL COMICS
(W) Brian Michael Bendis (A/CA) Alex Maleev
There is a new Iron Man in town and his name is VICTOR VON DOOM. The greatest villain of the Marvel Universe will try something new. Where Tony Stark failed, Doom will succeed. What is Doom's Master Plan?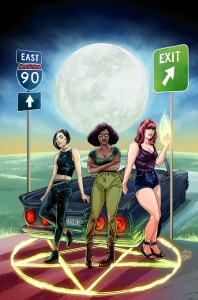 SPELL ON WHEELS #1 (OF 5)
DARK HORSE COMICS
(W) Kate Leth (A) Megan Levens (CA) Ming Doyle
Three young witches are robbed of their magical items, and they'll have to hit the road to track down the mysterious thief before he does any damage to-or with-their possessions.
NOW HERE'S THE FULL LIST!
If you want a full visual list of everything click this link whydonthca (tho this might not update til Monday or something)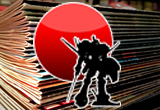 (the following list of comics reflects all the comics coming into both locations. If there's something on this list that's not in stock at your favorite BNW location do not hesitate to ask for us to order it for you!)
COMICS AND MAGAZINES
23 Skidoo One Shot
A Year Of Marvels Unbeatable #1
A-Force #10
Adventure Time Comics #4
Afterlife With Archie #10 2nd Ptg
Aliens Life And Death #2 (OF 4)
All New X-Men #14
Amazing Spider-Man #20
Aquaman #9
Archie #13
Assassins Creed Locus #2 (OF 4)
Astonishing Ant-Man #13
Astro City #40
Atomic Robo And The Temple Of Od #3 (OF 5)
Back To The Future #13
Backstagers #3 (OF 8)
Batman #9
Beauty #11
Black Hammer #4
Black Panther #7
Black Widow #7
BPRD Hell On Earth #146
Bunker #19
Captain America Sam Wilson #14
Carnage #13
Cave Carson Has A Cybernetic Eye #1
Civil War II Kingpin #4 (OF 4)
Cowboys And Insects One Shot
Cyborg #3
Dark Horse Presents #27
Dark Knight III Master Race #6 (OF 8)
Deadpool Back In Black #2 (OF 5)
Deadpool Too Soon #1 (OF 4)
Death Of X #2 (OF 4)
Demonic #3 (OF 6)
Dept H #7
Doctor Strange #13
Doctor Who 12th Year Two #10
Doctor Who 3rd #2 (OF 5)
Doctor Who Supremacy Of The Cybermen #4 (OF 5)
Evil Dead 2 Dark Ones Rising #1 (OF 3)
Evil Dead 2 Revenge Of Dracula One Shot
Evil Dead 2 Revenge Of The Martians One Shot
Faith (ONGOING) #4
Famous Monsters Of Filmland #288
Garth Ennis Red Team Double Tap #4 (OF 9)
Ghostbusters International #10
Godzilla Rage Across Time #3 (OF 5)
Green Arrow #9
Green Lanterns #9
Hadrians Wall #1 (OF 8) 2nd Ptg
Hadrians Wall #2 (OF 8)
Harley Quinn #6
Harrow County #17
Hellboy And BPRD 1954 #2 (OF 2)
Horizon #4
I Hate Fairyland #10
Infamous Iron Man #1
Injustice Gods Among Us Year Five #20
Invader Zim #14
Jeff Steinberg Champion Of Earth #3
Jem & The Holograms #20
Joyride #6 (OF 6)
Justice League #7
Kiss #1
Love & Rockets Magazine #1
Lucifer #11
Manifest Destiny #24
Mighty Thor #12
Mockingbird #8
My Little Pony Friendship Is Magic #47
Nightwing #7
Ninjak #20
Pathfinder Worldscape #1 (OF 6)
Patsy Walker Aka Hellcat #11
Penny Dreadful #5 (OF 5)
Power Rangers Pink #4
Powerpuff Girls (2016) #4
Raven #2 (OF 6)
Rick & Morty #18
Rick & Morty Lil Poopy Superstar #4 (OF 5)
Rumble #15
Sherlock A Study In Pink #5 (OF 6)
Silk #13
Simpsons Comics #233
Snowfall #6
Spell On Wheels #1 (OF 5)
Spider-Gwen #13
Spider-Woman #12
Spread #17
Star Trek Boldly Go #1
Suicide Squad Most Wanted #3 (OF 6)
Superman #9
Symmetry #8
Throwaways #4
Torchwood #2
Trinity #2
Unbeatable Squirrel Girl #13
Uncanny Inhumans #14
Usagi Yojimbo #158
Wacky Raceland #5 (OF 6)
Walking Dead Magazine #18 Px Ed
Weird Detective #5 (OF 5)
X-Files (2016) #7
X-Men 92 #8
TRADE PAPERBACKS, GRAPHIC NOVELS, HARDCOVERS AND MANGA
4001 AD Tp
All New Inhumans Tp Vol 02 Skyspears
All New Wolverine Tp Vol 02 Civil War II
Buffy High School Years Glutton Punishment Tp
Captain Marvel Tp Vol 02 Earths Mightiest Hero
Daredevil Punisher Tp Seventh Circle
Disney Princess Comics Coll Tp
Doctor Fate Tp Vol 02 Prisoners Of The Past
Doctor Strange Epic Collection Tp Separate Reality
Doctor Strange Tp Flight Of Bones
Fifth Beatle Brian Epstein Story Expanded Ed Tp
Garfield Big Fat Hairy Adventure Original Gn
Jim Hensons Dark Crystal Tp Vol 03 Creation Myths
Midnighter Tp Vol 02 Hard
Mockingbird Tp Vol 01 I Can Explain
Predator Life And Death Tp
Supergirl By Peter David Tp Book 01
Teen Titans Go Bring It On Tp New Ed
Tokyo Ghoul Gn Vol 09
TOYS
Batman Animated Ser Batman & Robin W Batsignal 2 Pack
ODDS AND ENDS
SW E7 First Order Flametrooper Mini-Bust