Bedtimes?! Where we're going we don't need bedtimes! Stay up late and get a copy of DC Rebirth at midnight!?

We will be re-opening our doors at 11:30pm on Tuesday May 24th to get you all pumped for the latest changes in the DC Universe!
DID SOMEONE SAY SALE?!
The answer is yes! In celebration of this event we'll be running a 20% OFF SALE on ALL DC GRAPHIC NOVELS from 11:30pm-12:30am!
ADDED BONUS!
You'll be able to purchase all of your other favorite MARVEL and DC COMICS releases out that week at midnight as well!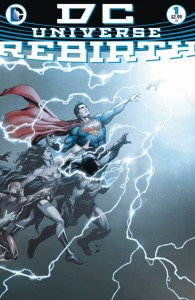 DC UNIVERSE REBIRTH #1
DC COMICS
(W) Geoff Johns (A) Gary Frank & Various (CA) Gary Frank
It all begins here. Do not skip to the last page. Do not let a friend or message board ruin this comic for you. The future (and past) of the DC Universe starts here. Don't say we didn't warn you!
THEY SAID IT: "Rebirth is about focusing in on the core of the character and their respective universe," says writer and DC Entertainment Chief Creative Officer Geoff Johns. "It brings back what has been lost, the legacy of the characters, the love and the hope of the DCU!"
CUPCAKE RUMORS
Yes. The rumors are true…there will be cupcakes or at least some form of baked good!