It's March outside…but you coulda fooled us! Now while all those people are riding the Erin Express from bar to bar take a second and look at what's coming out this week!
Do You Get Our EMail Newsletter Every Monday?

Sing up over HERE and get updates every Monday afternoon and help break up those early in the week doldrums!
CIVIL WAAAAAAAAAAAAAAAAARRRRRR!

GET YOUR MODERN CONSTRUCTED ON IN WILLOW GROVE!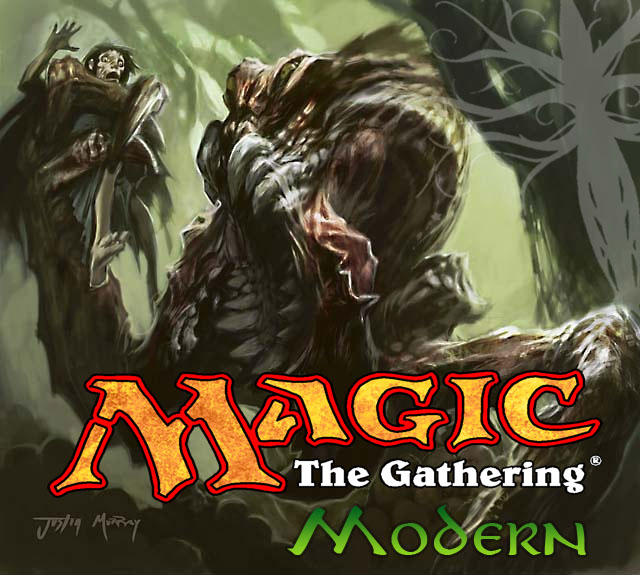 Come out to Willow Grove to play some Modern constructed tournaments starting Saturday February 6th! DETAILS!
GET TIX @ WILLOW GROVE FOR BATMAN V SUPERMAN!

Looking forward to this new Batman punching Superman movie!? Join us for a private screening, once again, out at the Regal Cinema in Warrington, Pa! DETAILS!
WHOA! LOOK AT THIS FUNKO POP!
We're always getting new shipments of Funko POPS! but, man, this 3-Pack rules pretty hard!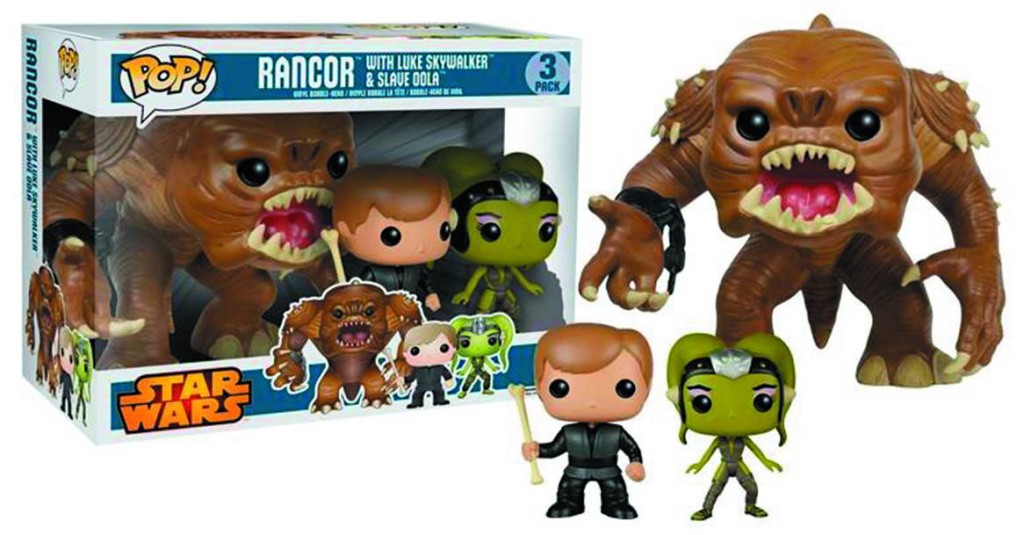 POP STAR WARS 6IN RANCOR W/LUKE & SLAVE OOLA PX VIN FIG 3PK
FUNKO
A PREVIEWS Exclusive! Star Wars fans remember Luke Skywalker's bold entry into the palace of Jabba the Hutt on his home planet of Tatooine in Return of the Jedi in his desperate mission to save his friends from the crime lord's evil clutches. This POP! Vinyl Figure 3-pack recreates Jedi Knight Luke Skywalker and Slave Oola in the 3 3/4″ tall scale as well as a 6″ tall Rancor so fans can recreate the scene in Jabba's dungeons. Window box packaging.

New stuff to check out this week!
Issues!: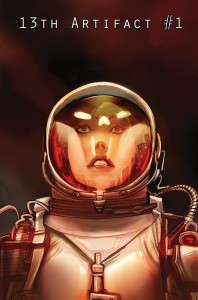 13TH ARTIFACT ONE SHOT
IMAGE COMICS
(W) Amit Chauhan (A) Eli Powell (CA) Linda Sejic
2015 TOP COW TALENT HUNT WINNER!
Stranded on a mysterious alien planet after her shuttle crashes, astronaut Valentina Kedr is desperate to find a way to survive. With her oxygen rapidly running out, she decides to explore her new surroundings. Upon discovering a civilization on the planet, will her curiosity lead to her downfall?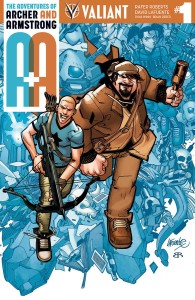 A&A #1

VALIANT ENTERTAINMENT LLC
(W) Rafer Roberts (A/CA) David LaFuente
GET SMASHED…OR BE SMASHED! Valiant's (somewhat) dynamic duo are going "IN THE BAG" for AN ALL-NEW ONGOING SERIES from rising star Rafer Roberts and comic book superstar David Lafuente!
Meet Armstrong: Since the ancient city of Ur, this immortal adventurer has spent the last 7,000 years drinking and carousing his way through history alongside some of the greatest merrymakers the world has ever known.
Meet Archer: A sheltered teenage martial arts master and expert marksman that was raised for a single purpose – to kill the devil incarnate. Little did he know that this undying evil was actually Armstrong (he's actually a pretty good guy…once you get to know him) and, since hitting the road together, the two have become great friends and even better partners.
Now: Archer is about to set off on his most dangerous mission yet – a quest into the mystic reaches of Armstrong's bottomless satchel to liberate his friend and comrade from the clutches of the mad god Bacchus! (Okay, so, Armstrong went into the satchel himself to get a bottle of whiskey that he kinda misplaced and got stuck. It's like the Amazon warehouse of arcane treasures in there…and he doesn't exactly have a maid service.)
Imprisoned in Armstrong's satchel for centuries, Bacchus now commands a legion of monsters, goblins and golems bent on escaping back into the world of man and enacting revenge on their captor… Can Archer single-handedly combat the godly embodiment of intoxication himself – and rescue his best buddy – without
becoming lost amongst Armstrong's endless repository of bizarre artifacts and historical oddities in the process?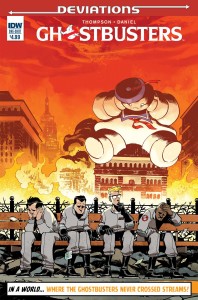 GHOSTBUSTERS DEVIATIONS (ONE SHOT)
IDW PUBLISHING
(W) Kelly Thompson (A/CA) Nelson Daniel
In a world, where on that fateful day in New York, the Ghostbusters did NOT cross streams, and were thus unable to destroy Gozer or close his portal. Now, 31 days later, NYC has descended into chaos and ruin, ruled with the deliciously soft fist of… THE STAY-PUFT MARSHMALLOW MAN!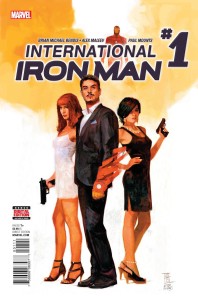 INTERNATIONAL IRON MAN #1
MARVEL COMICS
(W) Brian Michael Bendis (A/CA) Alex Maleev
Who is Tony Stark, really? Since learning that he was adopted as a baby, this question has cast a shadow over Stark's life. Now, it is time to uncover what his legacy truly is, a journey that will carry Tony into new directions as a man and as a super hero. Alongside his strange new quasi-ally Doctor Doom, Iron Man will discover new things about the Marvel Universe he didn't know existed before! A character deconstruction from Bendis and Maleev along the lines of their award-winning DAREDEVIL run!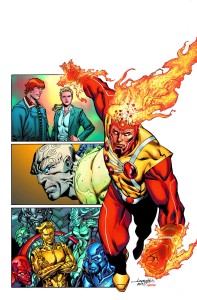 LEGENDS OF TOMORROW #1
DC COMICS
(W) Gerry Conway & Various (A) Eduardo Pansica & Various (CA) Aaron Lopresti
It's four powerhouse tales in one colossal comic, as some of comics' most legendary talents launch new tales of Firestorm, Metamorpho, Metal Men and Sugar and Spike-that's right, Sugar and Spike!
For those who like to TRADE WAIT!: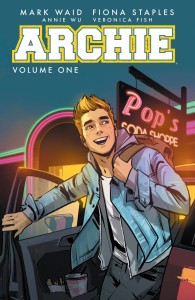 ARCHIE TP VOL 01
ARCHIE COMIC PUBLICATIONS
(W) Mark Waid (A) Fiona Staples & Various (CA) Fiona Staples
Archie, one of the longest-running titles in comic book history, is rebooted here by two of the most talented creators in comics, Mark Waid and Fiona Staples. Together they create a surprising and definitive take on the origins of everyone's favorite redheaded teen and his friends while showcasing the beginnings of the historic love triangle between Archie, Betty, and Veronica. The book captures the bite and hilarious edge of Archie's original tales in a modern, forward-looking manner, while still retaining the character's all-ages appeal. Collects Archie #1-6 and bonus content including scripts, sketches, and variant covers.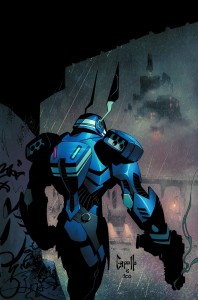 BATMAN HC VOL 08 SUPERHEAVY
DC COMICS
(W) Scott Snyder, Brian Azzarello (A) Greg Capullo & Various (CA) Greg Capullo, Danny Miki
After his deadliest battle to date, Batman is bruised, battered and scarred. And forever changed. Now, a figure in an 8-foot mechanized suit of armor roams the streets of Gotham City. More powerful than ever before, Batman's pursuit of justice has never been more swift or efficient. But who is the new Dark Knight? And why is he…or she here? Plus, learn the secret origin of the strange new villain known as Mr. Bloom! Collects BATMAN #41-45 and a story from DC COMICS DIVERGENCE #1.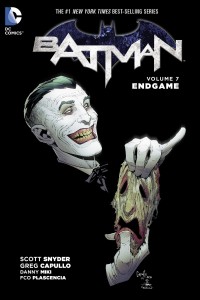 BATMAN TP VOL 07 ENDGAME

DC COMICS
(W) Scott Snyder (A/CA) Greg Capullo, Danny Miki
The Joker is back in these stories from BATMAN #35-40! For years, The Joker has regarded Batman with a sick, twisted love. But now, he's out to kill Batman! The Joker returns to Gotham City with a deadlier agenda than ever before, using every tool at his disposal to finally kill the Dark Knight. That includes turning Batman's allies against him in the bloodiest brawl that he's ever had to survive.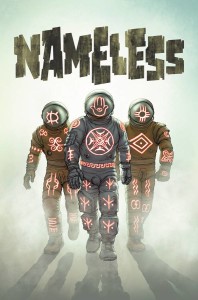 NAMELESS HC
IMAGE COMICS
(W) Grant Morrison (A/CA) Chris Burnham
NAMELESS tells the story of a down-at-heel occult hustler known only as "Nameless" who is recruited by a consortium of billionaire futurists as part of a desperate mission to save the world. A massive asteroid named Xibalba-the "Place of Fear" in Mayan mythology-is on collision course with the planet Earth. If that wasn't trouble enough, the asteroid has an enormous magical symbol carved into its side and is revealed to be a fragment of our solar system's lost fifth planet, Marduk, destroyed sixty-five million years ago at the end of an epic cosmic war between the inhabitants of Marduk and immensely powerful, life-hating, extra-dimensional "gods." One of those beings is still alive, imprisoned on Xibalba, dreaming of its ultimate revenge on all that exists. When Nameless and his teammates inadvertently unleash this malignant soul-destroying intelligence, the stage is set for a nightmarish, nihilistic journey to the outer reaches of human terror.
24 pages of Bonus Materials!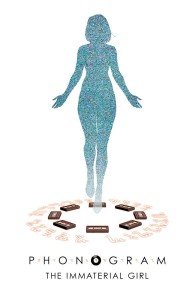 PHONOGRAM TP VOL 03 IMMATERIAL GIRL
IMAGE COMICS
(W) Kieron Gillen (A/CA) Jamie McKelvie
The creators of the award-winning THE WICKED + THE DIVINE return to their founding critical smash-hit, PHONOGRAM: THE IMMATERIAL GIRL. In a world where music is magic, phonomancer Emily Aster sold half her personality for power. Now, after a decade of brittle perfection, the deal starts to go bad as the girl behind the screen comes looking for revenge. You'll never look at the "Take On Me" video the same ever again. Includes copious "making of" material.
Collects PHONOGRAM: THE IMMATERIAL GIRL #1-6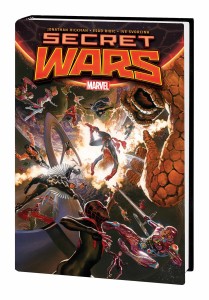 SECRET WARS HC
MARVEL COMICS
(W) Jonathan Hickman (A) Esad Ribic, Paul Renaud (CA) Alex Ross
The Marvel Universe is no more! The interdimensional Incursions have eliminated each and every alternate universe one by one. And now – despite the best efforts of the scientists, sages and superhumans – the Marvel Universe and Ultimate Universe have collided…and been destroyed! All that exists in the vast empty cosmos is a single, titanic patchwork planet made of the fragmented remains of hundreds of devastated dimensions: Battleworld! And the survivors of this multiversal catastrophe all bend their knee to Battleworld's master: Doctor Doom! What strange creatures inhabit this world? Which familiar faces will return? And what happens when Battleworld's various domains go to war? The Marvel Universe is dead – and the victors of the Secret Wars will determine what comes next! Collecting SECRET WARS (2015) #1-8 and material from FREE COMIC BOOK DAY 2015: SECRET WARS #0.
HERE'S THE FULL LIST!
If you want a full visual list of everything click this link whydonthca (tho this might not update til Monday or something)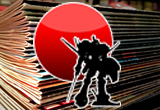 (the following list of comics reflects all the comics coming into both locations. If there's something on this list that's not in stock at your favorite BNW location do not hesitate to ask for us to order it for you!)
COMICS AND MAGAZINES
13th Artifact One Shot
A&A #1
Adventure Time Ice King #3
All New Inhumans #5
All New X-Men #6
Assassins Creed #6
Astonishing Ant-Man #6
Astro City #33
Batman And Robin Eternal #24
Big Trouble In Little China #22
Black Canary #9
Captain Marvel #3
Clean Room #6
Dark Horse Presents 2014 #20
Deadpool Mercs For Money #2 (OF 5)
Devolution #3 (OF 5)
Doctor Fate #10
Doctor Who 8th #5 (OF 5)
Dragon Age Magekiller #4 (OF 5)
Empty Zone #6
Extraordinary X-Men #8
Gft Grimm Fairy Tales #120
Ghostbusters Deviations (ONE Shot)
Green Arrow #50
Grumpy Cat & Pokey #2 (OF 6)
Hip Hop Family Tree #8
Huck #5
Imperium #14
Infinity Entity #2 (OF 4)
Injection #8
Injustice Gods Among Us Year Five #6
International Iron Man #1
Irwin Allen Lost In Space #1
Jacked #4 (OF 6)
James Bond #5
Jim Hensons Storyteller Dragons #4
Jonesy #2
Kanan #12
Legacy Of Luther Strode #5
Legends Of Tomorrow #1
Lords Of The Jungle #1 (OF 6)
Low #12
Lucifer #4
Lumberjanes #24
Martian Manhunter #10
Maxx Maxximized #29
Mercy Sparx #11
Mickey Mouse #10
Monstress #4
My Little Pony Friends Forever #26
My Little Pony Friendship Is Magic #40
Odyc #10
Poison Ivy Cycle Of Life And Death #3 (OF 6)
Popeye Classics Ongoing #44
Power Man And Iron Fist #2
Rat Queens #15
Red Thorn #5
Robin Son Of Batman #10
Roche Limit Monadic #1 (OF 4)
Scarlet Witch #4
Silk #6
Simpsons Comics #227
Sinestro #21
Spider-Man Deadpool #1 3rd Ptg
Spider-Man Deadpool #2 2nd Ptg
Spider-Woman #5
Squadron Supreme #5
Star Trek Starfleet Academy #4 (OF 5)
Star-Lord #5
Starbrand And Nightmask #4
Starve #7
Steven Universe & Crystal Gems #1
Superman #50
Uperman American Alien #5 (OF 7)
Superman American Alien #5 (OF 7)
Superman The Coming Of The Supermen #2 (OF 6)
Superman Wonder Woman #27
Symmetry #4
Titans Hunt #6 (OF 12)
Transformers Deviations (ONE Shot)
Uncanny Inhumans #6
Usagi Yojimbo #153
Vision #4 2nd Ptg
Web Warriors #5
Welcome Back #6
Will Eisner Spirit #9
Wrath Of The Eternal Warrior #5
Wynonna Earp #2 (OF 6)
TRADE PAPERBACKS, GRAPHIC NOVELS, HARDCOVERS AND MANGA
Adventure Time Tp Vol 08
Aquaman Tp Vol 06 Maelstrom
Archie Tp Vol 01
Avatar Last Airbender Tp Vol 12 Smoke & Shadow
Bart Simpson Tp Master Of Disaster
Batman Hc Vol 08 Superheavy
Batman Tp Vol 07 Endgame
Beauty Tp Vol 01
Bloody Mary Tp
Coloring Dc Batman Adventures Mad Love Tp
Dragon Ball 3in1 Tp Vol 12
Eerie Tp Vol 01 Experiments In Terror
Glorkian Warrior Gn Vol 03 Mustache Of Destiny
Goodnight Punpun Gn Vol 01
Gotham Academy Tp Vol 02 Calamity
Humans Tp Vol 02 Humans Till Deth Up
Justice League 3001 Tp Vol 01
Luke Cage Tp Vol 02 Second Chances
Mezolith Original Gn Hc Vol 01
Nameless Hc
Oh My Goddess Omnibus Tp Vol 03
Phonogram Tp Vol 03 Immaterial Girl
Robin Tp Vol 02
Secret Wars Hc
TOYS
Pop Star Wars 6in Rancor W/Luke & Slave Oola Px Vinyl Fig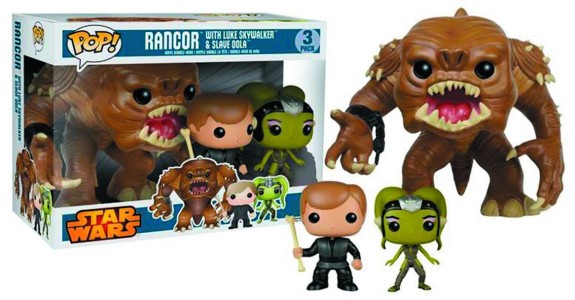 ODDS AND ENDS
Marvel Fact Files Cosmic Special #2 Star-Lord
Marvel Fact Files Cosmic Special #3 Thanos
Marvel Fact Files Cosmic Special #5 Groot