Big week just finishing up! Big week coming up! Here's the comics!

SEE ANT-MAN WITH US!

We're doing another private screening!  Join us on Thursday July 16, 2015 for Ant-Man at the Regal Warrington! Next time you're in the shops ask about tickets! CLICK FOR DETAILS!
MAGIC ORIGINS!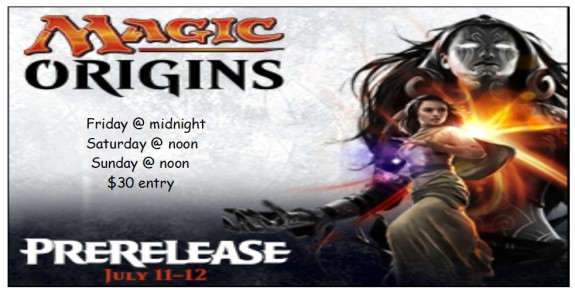 The Willow Grove shop has got some Magic prerelease tournaments going on for the new Magic set. THERE ARE DETAILS OVER HERE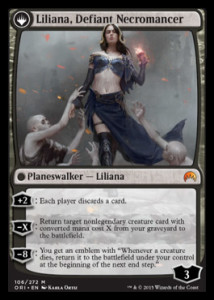 Look a NEW card!
DON'T FORGET ZIM!

The INVADER ZIM Ghost  Variant is now looking like it will be on shelves on July 8th not July 1st… We'll have the comic and the GV ASAHumanlyP.
We apologize for this event which is out of our control. (But I mean you've waited this one for anything new Invader Zim what's just one more week? Amiright?!)


NOT MANY NEW # 1s ON BATTLEWORLD THIS WEEK!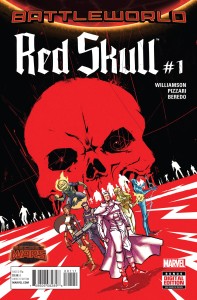 RED SKULL #1 (OF 3)
MARVEL COMICS
(W) Joshua Williams (A) Luca Pizzari (CA) Riley Rossmo
• One of the most vile villains of the Marvel Universe gets his very own twisted Secret Wars series!
•  Red Skull should be dead but his legend grows, so a team of villains that includes Winter Soldier, Magneto and Lady Deathstrike are sent on a dangerous odyssey to the Deadlands to prove it…but no one ever comes back alive from the Deadlands!
•  Forced to overcome zombies, Ultron drones and the Annihilation Wave, the rag-tag team of villains will find that they may bitten off more than they can chew….
 OTHER SECRET WARS TITLES THIS WEEK!:
 FOR THOSE OF YOU NOT INTO SUPERHEROES

 NEW BRIAN K VAUGHAN, GRANT MORRISON and BRANDON GRAHAM!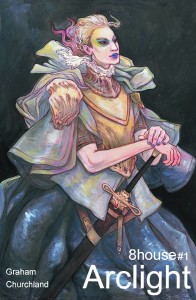 8HOUSE ARCLIGHT #1
IMAGE COMICS
(W) Brandon Graham (A/CA) Marian Churchland
A lady of the blood house has had her mind trapped in a strange alien root-body. She's hiding on the outskirts of her kingdom until she learns that the alien monster pretending to be her has returned.The first issue of a shared fantasy universe. Sharp genderqueer knights, blood magic, music, dancing, and a goose.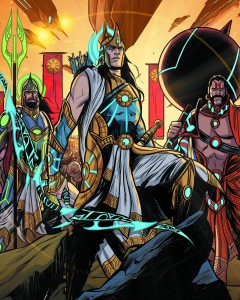 GRANT MORRISONS 18 DAYS #1
GRAPHIC INDIA PTE. LTD
(W) Grant Morrison (A/CA) Jeevan Kang
From legendary creator Grant Morrison (All-Star Superman, Batman & Robin, The Invisibles), comes the first chapter in his newest creation. 18 Days is the story of three generations of super-warriors, meeting for the final battle of their age, a climactic war that concludes the age of the gods and begins the age of man. "This is not a Lord of the Rings or a Star Wars where the good guys win because they are right. The good guys in 18 Days are forced to cheat and lie and break rules to win. Although it has fantastic, mythic trappings, this is a very modern story of realpolitik and the failure of ideals in the face of harsh truth." – Grant Morrison. Main covers by Jeevan Kang and Mukesh Singh. Also available with Cosmic Krishna and Oracle variant covers, each limited to 1,000 copies.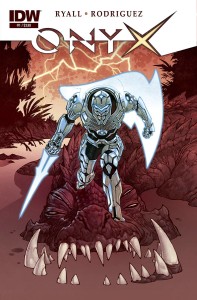 ONYX #1 (OF 4)
IDW PUBLISHING
(W) Chris Ryall (A/CA) Gabriel Rodriguez
From deepest space comes the cyborg warrior Onyx… but has she come to Earth in its time of dire need to save it or to end it? A star-born knight for a new generation takes flight here!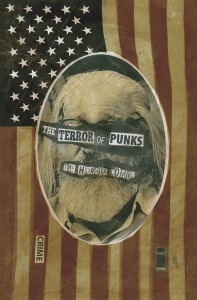 PUNKS THE COMIC CBLDF SPEC
IMAGE COMICS
(W) Joshua Hale Fialkov (A/CA) Kody Chamberlain
EVERY RULE OF THE COMIC CODE WILL BE BROKEN IN THESE 32 PAGES.  To say thanks for the assured mutual destruction, 20% of all profits will be donated to the CBLDF. Help support an amazing cause and be seduced by the innocent. Or corrupted by the corrupt. Either/or.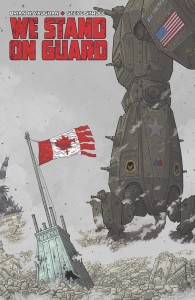 WE STAND ON GUARD #1 
IMAGE COMICS
(W) Brian K. Vaughan (A/CA) Steve Skroce
SAGA writer BRIAN K. VAUGHAN teams with artistic legend and MATRIX storyboard artist STEVE SKROCE for an action-packed military thriller that will have everyone talking. 100 years from now, a heroic band of Canadian civilians must defend their homeland from invasion…by the United States of America! The hyper-detailed combat between badass freedom fighters and giant f***ing robots begins with a spectacular 40-PAGE FIRST ISSUE for the regular price of just $2.99!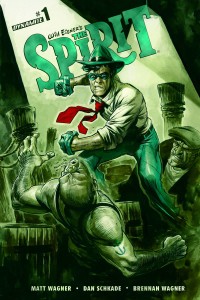 WILL EISNER SPIRIT #1
D. E.
(W) Matt Wagner (A) Dan Schkade (CA) Eric Powell
In celebration of the 75th anniversary of Will Eisner's iconic and ground-breaking character, Dynamite Entertainment is proud to present an all-new ongoing series featuring THE SPIRIT.  Scripted by Eisner Award-winning author, Matt Wagner, this monthly title will delight longtime fans as well as help introduce a whole new generation of fans to the character.  Set in the classic period of The Spirit's golden age, the 1940s, the first 12-issue story arc follows the strip's most beloved characters, Commissioner Dolan, his daughter Ellen, Ebony White and Sammy as they attempt to un(CA) why The Spirit has been missing, and presumed dead, for the past two years. Has the famous blue-masked hero finally fallen victim to one of the malicious felons or beautiful femme fatales from his lengthy rogues' gallery of enemies?  In the words of Central City's most prominent headlines: "WHO KILLED THE SPIRIT?" Illustrated by Dan Schkade and colored by Brennan Wagner, this series will strive to honor the vital and prestigious legacy of one of comicdom's most talented and influential creators – Will Eisner.
Oooooooooooh! New CORTO!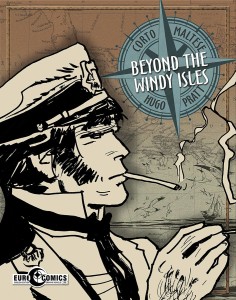 CORTO MALTESE GN BEYOND THE WINDY ISLES
IDW PUBLISHING
(W/A/CA) Hugo Pratt
Advance solicited for a May release! The second of twelve volumes presenting the definitive English-language edition of Hugo Pratt's masterpiece in the original oversized B&W format! Set in 1917, this volume takes Corto Maltese from the Mosquito Coast to Barbados to a deadly struggle among Jivaro head-hunters in the Peruvian Amazon. Translation by Dean Mullaney and Simone Castaldi.
NOW HERE'S THE FULL LIST!
If you want a full visual list of everything click this link whydonthca (tho this might not update til Monday or something)
COMICS AND MAGAZINES
8house Arclight #1
A-Force #2
Action Comics #42
Age Of Reptiles Ancient Egyptians #2 (OF 4)
Airboy #2 (OF 4)
Amazing Spider-Man #19.1
American Vampire Second Cycle #8
Angel And Faith Season 10 #16
Arcadia #3
Archie Comics Double Digest #262
Athena IX One Shot
Baltimore Cult Of The Red King #3 (OF 5)
Barb Wire #1
Bat Mite #2 (OF 6)
Batman Arkham Knight #6
Batman Beyond #2
Big Trouble In Little China #12
Bizarro #2 (OF 6)
Bobs Burgers Ongoing #1
Broken World #2 (OF 4)
Bunker #12
Chew #50
Cluster #5
Darth Vader #7
Deadly Class #14
Detective Comics #42
Doctor Who 12th #9
FBP Federal Bureau Of Physics #22
Flash Season Zero #10
Futurama Comics #75
Future Imperfect #2
Giant Size Little Marvel Avx #2
God Is Dead #37
Godkiller Walk Among Us #6
Grant Morrisons 18 Days #1
Green Arrow #42
Green Lantern #42
Groot #2
Guardians Team-Up #7
Haunted Horror #17
He Man The Eternity War #7
Heavy Metal #275
Help Us Great Warrior #5
Hobby Japan May 2015
Humans #6
Imperium #6
Jupiters Circle #4
Justice Inc Avenger #2
Lobo #8
Looking For Group #4
Masks 2 #4 (OF 8)
Miami Vice Remix #5 (OF 5)
Mickey Mouse #1
Midnighter #2
Mortal Kombat X #8
My Little Pony Friends Forever #18
Nailbiter #14
Neverboy #5 (OF 6)
No Mercy #4
Omega Men #2
Onyx #1 (OF 4)
Outcast By Kirkman & Azaceta #1
Princess Leia #5 (OF 5)
Punks The Comic Cbldf Spec
Red Skull #1 (OF 3)
Satellite Sam #15
Scooby Doo Team Up #11
Secret Wars #2 (OF 8) 2nd Ptg
Secret Wars #4 (OF 8)
Secret Wars Journal #3 (OF 5)
Sonic Boom #9
TMNT Ongoing #47
Uber #26
Ultimate End #3 (OF 5)
Unbeatable Squirrel Girl #7
Uncanny Season 2 #4 (OF 6)
Vertigo Quarterly Sfx #2
War Stories #10
We Stand On Guard #1
Wicked & Divine #12
Will Eisner Spirit #1
Woods #14
X-Files Season 10 #25
X-O Manowar #38
X-Tinction Agenda #2
Years Of Future Past #2
Zero #18
Zombies Vs Robots #7
TRADE PAPERBACKS, GRAPHIC NOVELS, HARDCOVERS AND MANGA
Aquaman Hc Vol 06 Maelstrom
Aquaman Tp Vol 05 Sea Of Storms
Autumnlands Tp Vol 01 Tooth & Claw
Avengers Tp Vol 06 Infinite Avengers
Batman Arkham Origins Tp
Corto Maltese Gn Beyond The Windy Isles
Criminal Tp Vol 06 Last Of The Innocent
DMZ Deluxe Edition Hc Book 04
Eternal Warrior Days Of Steel Tp
Guardians Of Galaxy And X-Men Hc Black Vortex
Lone Wolf & Cub Omnibus Tp Vol 09
Saved By The Bell Tp Vol 01
Shield Tp Vol 01 Perfect Bullets
Star Wars Legends Epic Collection Tp Vol 01 Old Republic
Supreme Blue Rose Tp
Sword Art Online Novel Progressive Vol 02
Transformers Tp Drift Empire Of Stone
TOYS
Texas Chainsaw Massacre Leatherface 8in Retro Af
ODDS AND ENDS
Marvel Deadpool Gelatin Mold