St. Patrick's Day weekend is upon us! So avoid all the crazies out there and check out what comics will be on our shelves for St Patrick's Hangover on Wednesday March 18th!


Sir Terry Pratchett 1948-2015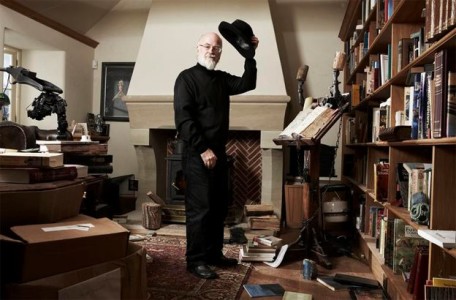 Sadly this week I have to mention the loss of yet another Sci-Fi/Fantasy persona. Terry Pratchett, the much beloved writer and creator of the Discworld series, passed away this week at the age of 66.  Pratchett was diagnosed with Alzheimer's Disease in 2007 and upon hearing of his passing, due to an infection and complications from the disease, his fans donated £28,000 in less than 24 hoursto an Alzheimer's charity set up in his name. Neil Gaimon wrote this awesome piece about his good friend back in September. Needless to say the loss of Terry Pratchett is a huge one.
For more information about Alzheimer's Disease head over here
In Heartwarming News
Robert Downey Jr, loosely in character as Tony Stark, gives a kid a prosthetic arm and simultaneously give us ALL OF THE FEELS…
PREORDER FIGHT CLUB 2 #1 AND WIN!
Pre-order a copy of Fight Club 2 #1 (the official sequel BTW!) and you'll instantly be entered to win a PERSONALLY INSCRIBED limited edition hardcover copy of the original novel! Seriously Chuck Palahniuk will write whatever the heck you want in this thing…within reason. What can it hurt!?
FIGHT CLUB 2 #1
DARK HORSE COMICS
(W) Chuck Palahniuk (A) Cameron Stewart (CA) David Mack
  Some imaginary friends never go away . . .
Ten years after starting Project Mayhem, he lives a mundane life. A kid, a wife, pills to keep his destiny at bay. But it won't last long; the wife has seen to that. The time has come . . .
Fight Club 2 comes out on May 27th!
Wait What?!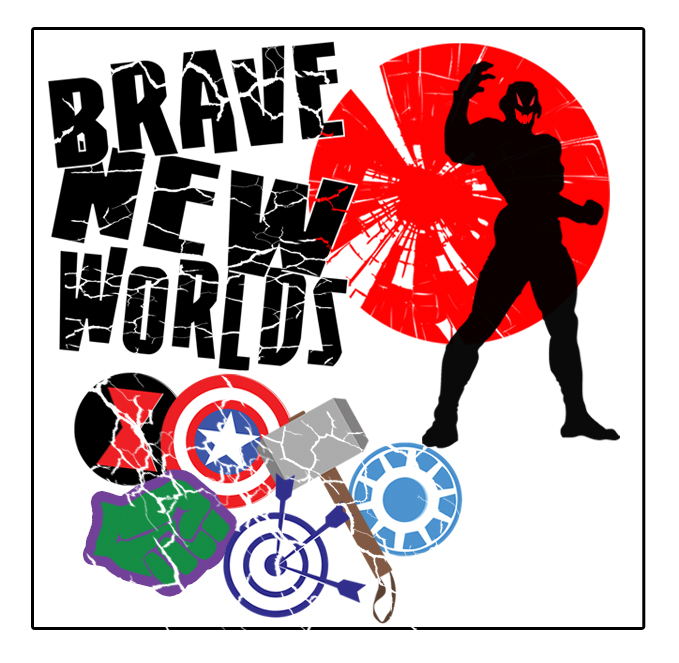 Now Onto This Week Stuff!
Lotsa #1s This Week!
IMAGE COMICS
(W) Mark Millar (A) Sean Murphy (CA) Sean Murphy, Matt Hollingsworth
From MARK MILLAR (Kick-Ass) and SEAN GORDON MURPHY (Punk Rock Jesus) comes a bromance for the ages! Corbin Quinn and Danny Reilly are two buddies who love to have fun. They're also scientific geniuses. When their research leads them to a time-traveling adventure, will they use their knowledge for the good of all mankind? Or use the space-time continuum for their own ends? This is the story of man's first, televised steps through the time-stream and everything going wrong in the process.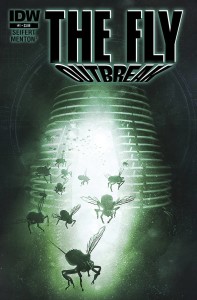 FLY OUTBREAK #1 (OF 5)
IDW PUBLISHING
(W) Brandon Seifert (A/CA) Menton3
Years ago, a scientist had a horrific accident when he tried to use his newly invented teleportation device and became a human/fly hybrid. Now his almost-human son continues to search for a cure for the mutated genes. But a breakthrough turns into a breakout, and anyone exposed risks turning into a monster as well…
FRANKENSTEIN UNDERGROUND #1 (OF 5)
DARK HORSE COMICS
(W) Mike Mignola (A) Ben Stenbeck (CA) Mike Mignola
  The Frankenstein creature is alone, abandoned, and wandering underground, where he will discover other strange creatures-and dark secrets to the universe.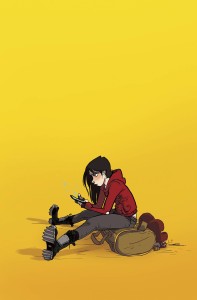 GIANT DAYS #1
BOOM! STUDIOS
(W) John Allison (A/CA) Lissa Treiman
WHY WE LOVE IT: John Allison is well known for his funny and intelligent webcomics Bad Machinery and Scary Go Round. His story of three friends at university lightly flavored with the occult features some of the best dialogue in comics, and we couldn't help but think it's like Monty Python goes to college. Sign us up!
WHY YOU'LL LOVE IT: John Allison's daily webcomics are hilarious, the kind of strips where every panel makes you laugh out loud. As a result, John has earned a large, loyal following of readers that have followed his work daily for the past 12 years. This is a series ans of things like Buffy the Vampire Slayer, Scott Pilgrim, or Gunnerkrigg Court will not ant to miss.
WHAT IT'S ABOUT: Susan, Esther, and Daisy started at university three weeks ago and became fast friends because their dorm rooms were next to each other. Now, away from home for the first time, all three want to reinvent themselves. But in the face of handwringing boys, "personal experimentation," influenza, mysterymold, nuchauvinism, and the willful, unwanted intrusion of "academia," they may be lucky just to make it to spring alive.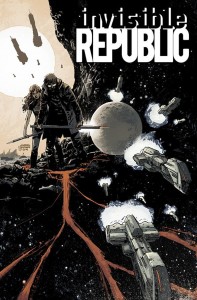 INVISIBLE REPUBLIC #1
IMAGE COMICS
(W) Gabriel Hardman, Corinna Bechko (A/CA) Gabriel Hardman
Breaking Bad meets Blade Runner.
Arthur McBride's planetary regime has fallen. His story is over. That is until reporter Croger Babb discovers the journal of Arthur's cousin, Maia. Inside is the violent, audacious hidden history of the legendary freedom fighter. Erased from the official record, Maia alone knows how dangerous her cousin really is…
Creative team GABRIEL HARDMAN (KINSKI, "Intense" – A.V. Club) and CORINNA BECHKO (HEATHENTOWN, "Nuanced" – Broken Frontier) brought you sci-fi adventure before (Planet of the Apes, Star Wars: Legacy, Hulk) but never this gritty or this epic.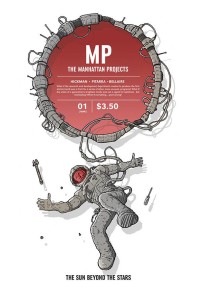 MANHATTAN PROJECTS SUN BEYOND THE STARS #1
IMAGE COMICS
(W) Jonathan Hickman (A/CA) Nick Pitarra
"MAN IN SPACE"
Only when he's lost in space does the great Russian cosmonaut, Yuri Gagarin, find his true calling. THE MANHATTAN PROJECTS is back with all new stories told in a brand-new format.
The greatest FEEL GOOD, BAD SCIENCE book in the long history of man returns in THE MANHATTAN PROJECTS: THE SUN BEYOND THE STARS.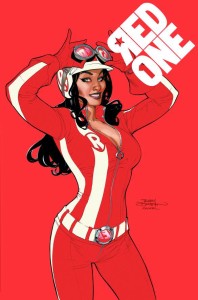 RED ONE #1 
IMAGE COMICS
(W) Xavier Dorison (A/CA) Terry Dodson, Rachel Dodson
What happens when America's greatest hero…is a Russian Spy?
Soviet Agent Vera Yelnikov is sent to 1977 Los Angeles by the Kremlin to become an American Superhero and spread communist values in the land of Uncle Sam in a funky superhero romp straight out of a Tarantino film by TERRY & RACHEL DODSON (Uncanny X-Men, Wonder Woman, Spider-Man, Harley Quinn) and XAVIER DORISON (Long John Silver, The Third Testament).
COLLECTIONS WORTH CHECKIN'!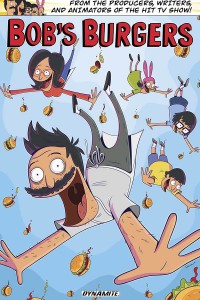 BOBS BURGERS TP VOL 01
D. E.
(W) Chad Brewster & Various (A) Robin Brigstocke & Various (CA) Steve Umbleby
Now you can read about the Belcher family (parents Bob and Linda, and their children Tina, Gene and Louise) with brand-new in-canon stories created by the TV show's producers, writers, and animators! That's right, all-original stories that expand upon the fan-favorite animated series, including hilarious installments of "Louise's Unsolved Mysteries", "Tina's Erotic Friend Fiction", "A Gene Belcher Original Musical", "Letters Written by Linda", "Bob's Burgers of the Day", and much more!
IMAGE COMICS
(W) Rick Remender (A/CA) Wesley Craig
Marcus Lopez is settling into life at Kings Dominion for the Deadly Arts, a secret elite school, to train the next generation of assassins. He has a girl, a circle of friends, and he's learning a trade: the craft of killing.But his murderous past is about to catch up with him, and there are a few things about Marcus that even his friends don't know. Secrets that threaten the lives of everyone around him. Because there's a reason Marcus was sought out by the school's shadowy principal Master Lin, a man who's long had an eye for Marcus's unique talents.Continuing the story of a group of damaged, deranged, and struggling teenagers living through one of the country's most vibrant and chilling eras.
Collecting DEADLY CLASS #7-11
NOW ONTO THE FULL LIST!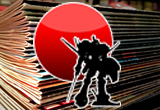 (the following list of comics reflects all the comics coming into both locations. If there's something on this list that's not in stock at your favorite BNW location do not hesitate to ask for us to order it for you!)
COMICS AND MAGAZINES
Ace Magazine #1




Alex + Ada #13        




All New Captain America #5




All New X-Men #39 




Altered States Doc Savage One Shot  




Amazing Spider-Man #16.1   




Angry Birds Transformers #4 (OF 4)




Batgirl #40    




Batgirl Endgame #1 




Batman Eternal #50   




Batman Superman #20          




Batwoman #40     




Black Widow #16  




BPRD Hell On Earth #129    




BTVS Season 10 #13 




Bucky Barnes Winter Soldier #6 




Burning Fields #3 




Captain America And Mighty Avengers #6    




Chrononauts #1




Cowl #9




Cyclops #11




Dark Horse Presents 2014 #8




Divinity #2 (OF 4) 




Doctor Who 12th #6




Dungeons & Dragons Legends Of Baldurs Gate #5 




Earth 2 Worlds End #24   




Ei8ht #2 (OF 5)     




Fly Outbreak #1 (OF 5) 




Frankenstein Underground #1 (OF 5) 




Garbage Pail Kids Love Stinks (ONE Shot) Dlx Ed




GI Joe A Real American Hero #211  




Giant Days #1   




Green Lantern New Guardians #40




Groo Friends And Foes #3  




Guardians Team-Up #3 




Infinite Crisis Fight For The Multiverse #9         




Injustice Gods Among Us Year Three #12           




Invisible Republic #1




Ivar Timewalker #3




John Carter Warlord Mars Special 




Judge Dredd #28   




Kitchen #5 (OF 8)




Knights Of The Dinner Table #218  




Lady Rawhide Lady Zorro #1 (OF 4)    




Little Nemo Return To Slumberland #4 




Loki Agent Of Asgard #12  




Lumberjanes #12  




Magneto #16  




Manhattan Projects Sun Beyond The Stars #1




Marvel Universe Avengers Assemble Season Two #5




Marvel Universe Guardians Of Galaxy #2 (OF 4)   




Millennium #2 (OF 5)      




Mind MGMT #31 




Moon Knight #13 




My Little Pony Friendship Is Magic #28




New 52 Futures End #46




Orphan Black #2    




Outcast By Kirkman & Azaceta #7




Peanuts Vol 2 #26  




Plunder #2   




Princess Leia #2 (OF 5)




Punisher #16  




Punks The Comic #5




Red Hood And The Outlaws #40  




Red One #1




Red Sonja Vultures Circle #3




Regular Show #21




Reyn #3 




Satellite Sam #12 




Secret Identities #2    




Sensation Comics Featuring Wonder Woman #8     




Silk #2 




Simpsons Comics #219  




Solar Man Of Atom #10 




Solitary #2 (OF 4) 




Sons Of Anarchy #19




Sparks Nevada Marshal On Mars #2 (OF 4) 




Spread #6




Star Trek Planet Of The Apes #4 (OF 5)  




Storm #9 




Strain Night Eternal #7




Strange Sports Stories #1 (OF 4)




Stray Bullets Sunshine & Roses #2




Supergirl #40 




Superman #39  




Superman Wonder Woman Tp Vol 01 Power Couple 




Teen Titans #8




TMNT Ongoing #44




Transformers #39




Trinity Of Sin #6  




Unbeatable Squirrel Girl #2 2nd Ptg 




Unbeatable Squirrel Girl #3   




Witchblade #181 




Wolverines #11




X-Files Season 10 #21   




Zero #15 



TRADE PAPERBACKS, GRAPHIC NOVELS, HARDCOVERS AND MANGA

All New X-Men Prem Hc Vol 06 Ultimate Adventure 




Angel And Faith Season 9 Library Ed Hc Vol 01




Baltimore Hc Vol 05 Apostle & Witch Of Harju 




Bobs Burgers Tp Vol 01 




BPRD Hell On Earth Tp Vol 10 Devils Wings




Chronicles Of King Conan Tp Vol 10 Warlord Of Koth




Deadly Class Tp Vol 02 Kids Of The Black Hole




Deadpools Art Of War Tp 




Dragonlance Chronicles Tp Vol 01 Dragons Of Autumn 




Guardians Galaxy Prem Hc Vol 04 Original Sin 




Jack Kirby Mister Miracle Artist Ed Hc




Justice League Of America Tp Vol 02




Katamari Hc Vol 01 




Lazarus Tp Vol 03 Conclave




Ms Marvel Tp Vol 02 Generation Why




Ocean Orbiter Deluxe Ed Hc




Prophet Tp Vol 04 Joining   




Revenge Tp 




Rocketeer The Complete Adventures Tp    




Sexcastle Ogn 




Sonic Saga Tp Vol 07 Dark Mirror




Super Street Fighter Hc Vol 02 Hyper Fighting




Superior Spider-Man Hc Vol 03  




Superman Wonder Woman Hc Vol 02 War And Peace




Superman Wonder Woman Tp Vol 01 Power Couple




United States Of Murder Inc Prem Hc Vol 01 Truth




Usagi Yojimbo Saga Tp Vol 02




ODDS AND ENDS
DC Batman Auto Fig Mag #53 




DC Batman Auto Fig Mag #54 




DC Superhero Chess Fig Coll Mag #78 Desaad




DC Superhero Chess Fig Coll Mag #79 Stargirl




Marvel Chess Fig Coll Mag #28 Bullseye




Marvel Chess Fig Coll Mag #29 Scarlet Witch




Marvel Chess Fig Coll Mag Special #2 Rocket Raccoon




Star Trek Starships Fig Mag #36