2nd week of new comics for 2015! There's a new Star War. There's a new Kombat. There's actually a new issue of Jupiter's Legacy. Check out what else there will be for you this week!

MAGIC!
Hey Magicians! Don't forget of miss out on the Fate Reforged pre-release event happening NEXT WEEKEND at our Willow Grove shop! It's gonna be a crazy weekend of slinging spells! THERE'S PLENTY OF DETAILS OVER HERE

 Issues I am choosing to spotlight for you!
MARVEL COMICS
(W) Rick Remender (A/CA) Stuart Immonen
• This is it! The new generations meet–Captain America vs Sin, daughter of the Red Skull!
•  The truth in regards to the blood of equalization is revealed, but Hydra's proliferation is too wide, there is no stopping them now.
•  Nomad stands tall against the ruthless might of one of Cap's oldest foes!
DARK HORSE COMICS
(W) Gail Simone, Jim Zub (A) Dan Panosian (CA) Dan Panosian, Dave Stewart
Gail Simone teams with Jim Zub to bring together legendary warriors in this truly epic crossover!In a story spanning multiple eras in the lives of these classic characters, Conan and Red Sonja become comrades to take down a sorcerer-priest hell bent on creating a dark new age in Hyborian warfare!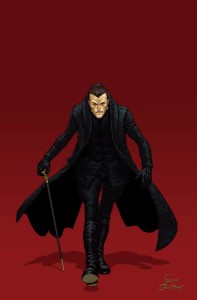 JUPITERS LEGACY #5
IMAGE COMICS
(W) Mark Millar (A/CA) Frank Quitely
Meet BARNABAS WOLFE-a former supervillain with Sherlock Holmesian instincts who hunts heroes for the U.S. government. While Brandon and Uncle Walter struggle with their utopian vision for America, Chloe and family live under the radar in Australia. But their peaceful lives are about to explode when the authorities find suspicious super-activity down under and send their #1 weapon to investigate. The generation gap is about to reach the next level as Millar and Quitely bring their epic to a head!
MORTAL KOMBAT X #1
DC COMICS
(W) Shawn Kittelsen (A) Dexter Soy (CA) Ivan Reis
Get over here…for an all-new digital-first series set before the events of 2015's highly anticipated game Mortal Kombat X! Prepare yourself for the brutal adventures of all your favorite Mortal Kombat characters and witness the rise of the next generation of Kombatants!
This premiere issue features two interlocking covers by superstar artist Ivan Reis!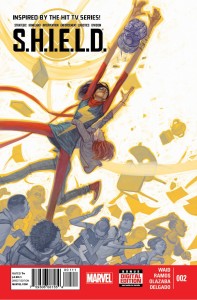 SHIELD #2
MARVEL COMICS
(W) Mark Waid (A) Humberto Ramos (CA) Julian Totino Tedesco
• Why has SHIELD agent Jemma Simmons gone undercover at the Coles Academic High School in Jersey City?
•  Maybe it has something to do with the all-new Ms Marvel…
•  …and the most dangerous lunch meal ever served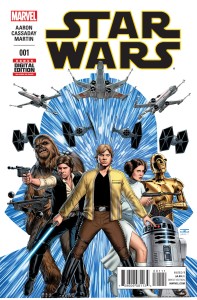 STAR WARS #1
MARVEL COMICS
(W) Jason Aaron (A/CA) John Cassaday
THE GREATEST SPACE ADVENTURE OF ALL TIME RETURNS TO MARVEL!
Luke Skywalker and the ragtag band of rebels fighting against the Galactic Empire are fresh off their biggest victory yet-the destruction of the massive battle station known as the Death Star. But the Empire's not toppled yet! Join Luke along with Princess Leia, smugglers Han Solo and Chewbacca, droids C-3PO and R2-D2 and the rest of the Rebel Alliance as they strike out for freedom against the evil forces of Darth Vader and his master, the Emperor. Written by Jason Aaron (Original Sin, Thor: God of Thunder) and with art by John Cassaday (Astonishing X-Men, Uncanny Avengers), this is the Star Wars saga as only Marvel Comics could make it!
 I love this series and volume 2 hits on Wednesday!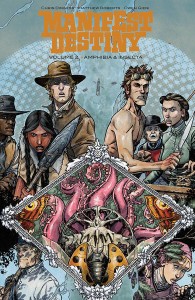 MANIFEST DESTINY TP VOL 02
IMAGE COMICS
(W) Chris Dingess (A/CA) Matthew Roberts
Lewis, Clark and the surviving members of their expedition continue westward across America, only to learn there is nowhere to run on a river.Collects MANIFEST DESTINY #7-12
Now here's the full list of stuff!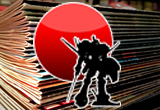 (the following list of comics reflects all the comics coming into both locations. If there's something on this list that's not in stock at your favorite BNW location do not hesitate to ask for us to order it for you!)
COMICS AND MAGAZINES
2000 Ad #1911




A Voice In The Dark Get Your Gun #2 (OF 5)




Abe Sapien #19 




Adventure Time Marceline Gone Adrift #1




Alice Cooper #5 




Alien Vs Predator Fire And Stone #4 (OF 4)  




All New Captain America #3          




All New Ghost Rider #10




All New Ultimates #12         




Amazing X-Men #15




Arrow Season 2.5 #4 




Astro City #19   




Avengers #34.2  




Avengers #40




Batgirl #38 




Batman Eternal #41  




Bravest Warriors #28




BSG Death Of Apollo #2 (OF 6)




Captain Marvel #11  




Conan Red Sonja #1   




Constantine #21    




Copperhead #5    




Cyclops #9     




Daredevil #12 




Deadpool #40     




Death Defying Dr Mirage #5 (OF 5)




Deathlok #4 




Deep State #3




Doctor Who 10th #6 




Doctor Who Magazine #481 




Doctor Who Special #39




Earth 2 Worlds End #15 




Evil Ernie #3




Ex Con #5 (OF 5)




Fables The Wolf Among Us #1




FBP Federal Bureau Of Physics #17




Fraggle Rock Journey Everspring #4 (OF 4)




Fuse #9




George Romeros Empire Of Dead Act Two #5 (OF 5) 




Ghosted #16




Grayson #6   




Green Lantern Corps #38




Guardians 3000 #4 




Hexed #6     




Hi Fructose Magazine Quarterly #34 




Holmes Vs Houdini #3 (OF 5)




Injustice Gods Among Us Year Three #7 




Jupiters Legacy #5 




Justice League United #8  




Klarion #4    




Knights Of The Dinner Table #216  




Lazarus #14




Lone Ranger Vindicated #3 (OF 4) 




Marvel Universe Avengers Assemble Season Two #3




Miles Morales Ultimate Spider-Man #9     




Mortal Kombat X #1




New 52 Futures End #37




New Suicide Squad #6 




Nightcrawler #10




Parallel Man #4 (OF 7)




Q2 Rtn Quantum & Woody #4 (OF 5)




Rai #6 




Rat Queens Special Braga #1 




Regular Show #19




Resurrectionists #3 




Savage Dragon #201




Scooby Doo Where Are You #53  




Shield #2 




Shutter #8




Silver Surfer #8 




Smallville Season 11 Continuity #2 (OF 4) 




Spider-Verse #2 (OF 2)   




Spongebob Comics #40




Star Trek Ongoing #40     




Star Wars #1     




Steven Universe #6 




Stumptown V3 #5    




Suicide Risk #21  




Superannuated Man #5 (OF 6)




Superman Wonder Woman #15  




Supreme Blue Rose #6




Teen Dog #5       




Ten Grand #12




Thanos Vs Hulk #2 (OF 4) 




Thomas Alsop #8 (OF 8)




Twilight Zone #11  




Vampirella #100




Walking Dead #136




Wilds End #5  




Wolverines #2   




Worlds Finest #30  




Wwe Superstars Ongoing #11 




X #21 Marked For Death Pt 1




X-Force #14 



TRADE PAPERBACKS, GRAPHIC NOVELS, HARDCOVERS AND MANGA
American Vampire Hc Vol 07 




Avengers Time Runs Out Prem Hc Vol 01




Batman Black And White Tp Vol 04  




BTVS Season 9 Library Hc Vol 01




Crossed Tp Vol 11




Flash Tp Vol 04 Reverse




George Romeros Empire Of Dead Act Two #5 (OF 5)




Green Lantern Corps Tp Vol 05 Uprising




Henshin Ogn    




Manifest Destiny Tp Vol 02 




Rachel Rising Tp Vol 05 Night Cometh 




Rags & Bones New Twists On Timeless Tales Sc 




Run Like Crazy Run Like Hell Hc 




Star Wars Marvel Yrs Omnibus Hc Vol 01




Stray Bullets Tp Vol 06 Killers




Supergirl Tp Vol 05 Red Daughter Of Krypton




TMNT Adventures Tp Vol 09




Uncanny X-Men Tp Vol 03 Good Bad Inhuman      




Veil Hc



TOYS
Avengers Wolverine Titan Heroes 12in Af




Star Wars Black Boba Fett 6in Af 




Superman Retro 8-In Af Series 1 Asst




ODDS AND ENDS
Batman Artfx Statue Black Costume Ver




Sons Of Anarchy Mini Wacky Wobbler 4pk Set 




Universal Monsters Metaluna Mutant Bust Bank