Welcome to the First Saturday of 2015! Here's the list of the new comics…the First New Comics of 2015!


Whoa Marvel's got some New #1s!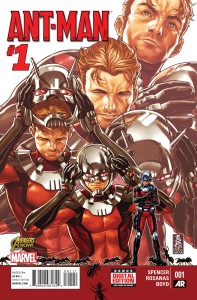 ANT-MAN #1
MARVEL COMICS
(W) Nick Spencer (A) Ramon Rosanas (CA) Mark Brooks
• Scott Lang has never exactly been the world's best super hero. Heck, most people don't even think he's been the best ANT-MAN — and the last guy invented Ultron and joined the Masters of Evil, so that's saying something.
•  But when the SUPERIOR IRON MAN calls with a once-in-a-lifetime opportunity, Scott's going to get a chance to turn it all around and be the hero he's always dreamed of being.
•  Sure he's been to prison! Sure he's been through a messy divorce! Sure he's been, um… dead. But this time is different! This time nothing is gonna stop the astonishing ANT-MAN!
The Ant-Man movie gets a tease on Agent Carter this week! Also Agent Carter THIS WEEK!
Here's a tiny version of the teaser!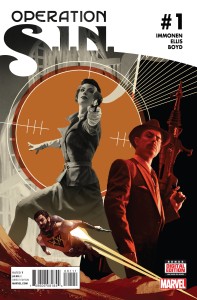 OPERATION SIN #1 (OF 5)
MARVEL COMICS
(W) Kathryn Immonen (A) Rich Ellis (CA) Michael Komarck
• Tying into the explosive events of ORIGINAL SIN, see an untold story from the origins of the Marvel Universe!
•  After an alien energy source is discovered in Russia in the early 1950's, it's up to Peggy Carter and Howard Stark to find out what happened.
•  But a newly-risen terrorist group going by the name Hydra also happens to be on the hunt for their own nefarious purposes!
•  It's only when a mysterious operative going by the name of Woodrow McCord enters the picture to aid Peggy and Howard that they realize just how far some people are willing to go to keep the Earth safe!
•  Megawatt writer Kathryn Immonen (JOURNEY INTO MYSTERY) is joined by rising star artist Rich Ellis (SUPERIOR FOES OF SPIDER-MAN) to tell an all-new tale featuring AGENT CARTER!
UNBEATABLE SQUIRREL GIRL #1
MARVEL COMICS
(W) Ryan North (A/CA) Erica Henderson
• Wolverine, Deadpool, Doctor Doom, Thanos: There's one hero that's beaten them all-and now she's got her own ongoing series! (Not that she's bragging.)
•  That's right, you asked for it, you got it, it's SQUIRREL GIRL! (She's also starting college this semester.)
•  It's the start of a brand-new series of adventures starring the nuttiest and most upbeat super hero in the world!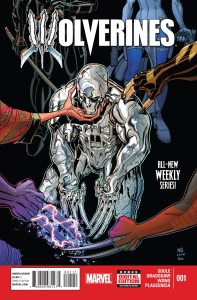 WOLVERINES #1
MARVEL COMICS
(W) Charles Soule (A/CA) Nick Bradshaw
From the pages of DEATH OF WOLVERINE, THE LOGAN LEGACY and the WEAPON X PROGRAM!
Wolverine may be dead…but what will happen to his mortal remains, encased in something as rare and powerful as Adamantium? The battle for control of this valuable artifact has begun! But why does it matter so much… and why is a war brewing in Logan's name? Death is on the books for a dozen heroes and villains, and Mystique is playing chess with them all, including X-23, Sabretooth, Daken, Lady Deathstrike and more! Murder, mutilation, betrayal and trauma…none will be spared!
Other Sweet (Non Marvel) Books You Should Probably Check Out!
BOOM! STUDIOS
(W/A/CA) Jorge Corona
WHY WE LOVE IT: In the footsteps of Archaia titles Rust, Iron, Will o' the Wisp, and The Reason for Dragons, debut writerartist Jorge Corona brings a brandn-ew voice to the comics industry with Feathers. With our passion for working with fresh talent, we could not be happier to introduce his work to a wider audience.
WHY YOU'LL LOVE IT: There's never been a better time for fantastic, all-ages comics that embrace both the darkness and beauty in life. Fans of Avatar: Legend of Korra, Mike Mignola, and Amulet will fall in love with Poe, the boy covered in feathers.
WHAT IT'S ABOUT: A recluse boy born covered in feathers must help his firstever friend, a young girl named Bianca, as she tries to return to her home beyond the slums of the Maze. They must dodge street gangs and childsnatchers along the way, and perhaps together will learn the secrets to his mysterious past.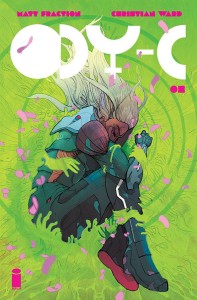 ODYC #2
IMAGE COMICS
(W) Matt Fraction (A/CA) Christian Ward
Odyssia and her crew are tempted by the deadly and dangerous Lotus Eaters, living sources of the most powerful narcotic in the galaxy.
Here's that full list!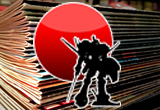 (the following list of comics reflects all the comics coming into both locations. If there's something on this list that's not in stock at your favorite BNW location do not hesitate to ask for us to order it for you!)
COMICS AND MAGAZINES
Action Comics #38




All New X-Factor #19        




Alter Ego #130




Amazing Spider-Man #12




Angel And Faith Season 10 




Angela Asgards Assassin #2  




Ant-Man #1  




Aquaman And The Others #9




Army Of Darkness Vol 4 #2




Avengers No More Bullying #1  




Batman Eternal #40  




Betty & Veronica #274 




Birthright #4




Bucky Barnes Winter Soldier #3 




Capt Victory & Galactic Rangers #4 (OF 6)




Chaos Smiley The Psychotic Button One Shot               




Deadly Class #10




Death Of Wolverine Weapon X Program #5 (OF 5) 




Detective Comics #38       




Earth 2 #30 




Earth 2 Worlds End #14   




Edward Scissorhands #3 (OF 5) 




Elephantmen #61 




Escape From New York #2 




Eternal Warrior Days Of Steel #3 (OF 3)




Fade Out #4




Fairest #33




Feathers #1 




Flash Season Zero #4 




Garfield #33




Ghost #11  




God Hates Astronauts #5




God Is Dead #26




Green Arrow #38 




Green Lantern #38    




Hawkeye Vs Deadpool #4 (OF 4)  




Heavy Metal #272 




Hellboy And The Bprd #2 (OF 5)




Hinterkind #14 




Hulk #10  




Humans #3




Iron Fist Living Weapon #8




Jack Kirby Collector #64




John Carter Warlord #3 




Justice League 3000 #13 




Lady Killer #1




Legendary Star Lord #7  




Legends Dark Knight 100 Page Super Spectacular #5




Lobo #4    




Magnus Robot Fighter #10




Marvels Avengers #2 (OF 2)




Maxx Maxximized #15    




Men Of Wrath By Aaron And Garney #4 (OF 5)




Miracleman #14




My Little Pony Friends Forever #13    




Nailbiter #9




Names #5 (OF 9)




New 52 Futures End #36




New Vampirella #8 




ODYC #2




Operation Sin #1 (OF 5)  




Punisher #14    




Red Sonja Vultures Circle #1 




Robocop 2014 #7




Roche Limit #4




Scooby Doo Team Up #8




Shadow Show #3 (OF 5) 




Shaft #2




Sinergy #3 




Sip (STRANGERS In Paradise) Kids #2  




Sixth Gun Days Of The Dead #4 (OF 5) 




Skylanders #4




Sonic Boom #3




Sonic Super Special Magazine #13 




Spider-Man 2099 #7




Storm #7 




Swamp Thing #38 




Tech Jacket #7       




Terminal Hero #5 




Thor #1 3rd Ptg




Thor #2 2nd Ptg




Trees #8




Unbeatable Squirrel Girl #1  




Uncle Grandpa #4 




Usagi Yojimbo Senso #6 (OF 6) 




V-Wars #9




War Stories #4




Weird Love #5 




Wolf Moon #2 (OF 6)




Wolverines #1




Woods #9   




X-Men #23 
TRADE PAPERBACKS, GRAPHIC NOVELS, HARDCOVERS AND MANGA
Amazing Spider-Man Tp Vol 02 Spider-Verse Prelude




Armor Hunters Bloodshot Tp 




Armor Hunters Harbinger Tp




Casanova Complete Ed Hc Vol 02 Gula




Death Of Wolverine Hc




EC Wally Wood Spawn Of Mars Hc 




Injustice Gods Among Us Tp Vol 02 




Judge Dredd (IDW) Tp Vol 06 




Lone Wolf & Cub Omnibus Tp Vol 07 




Punisher Tp Vol 02 Border Crossing 




Sinestro Tp Vol 01 The Demon Within




TMNT Animated Tp Vol 05 Choosing Sides 




TMNT New Animated Adventures Tp Vol 04 




Tom Sutton Creepy Things Chilling Archives Of Horror 




Uncanny Avengers Prem Hc Vol 05 Axis Prelude       



TOYS
Aliens Xenomorph Queen Ultra Dlx Af