You know when you come and get your comics and shoot the sh…er crap with us and the other people in the shop?! How about talking with a local comic creator, getting him to draw ya something and picking up a signed copy of the graphic novel he put out?! Sounds like a good Wednesday afternoon/evening to us!
You may know our old friend and local comics artist extraordinaire Jamar Nicholas from stuff like his webcomic Detective Boogaloo or from the simple fact that he's an all around awesome guy to know and talk to with about art and comics. You may know, we hope because we've carried it, or may not know, shame on you in that case, that he published a graphic adaptation of the memoir by Geoffrey Canada, the President and Chief Executive Officer of Harlem Children's Zone, called Fist Stick Knife Gun: A Personal History of Violence.
Jamar will be in our Old City shop this Wednesday August 10th from 5pm-??? (?'s let you know the party is gonna be a good one…but most likely he'll be there til we close at 8pm) signing copies of his book, doing sketches and as I cannot say enough being one of the genuinely nicest guys in comics.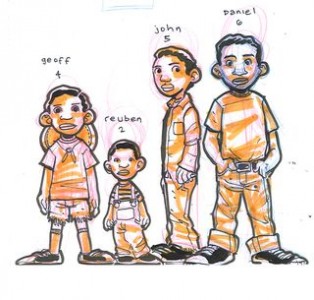 So maybe this Wed plan your comics purchasing excursion around meeting Jamar and pick up a copy of his book otherwise he'll be forced to deal with Rob and myself pitching him ideas that he will never ever want to draw in a million years (Gene Dewolfe a crazy man who believes he's a werewolf but isn't!…gold right?! Also don't take that cause it's mine!)…Why would he do a book like that when he's got a KICKSTARTER going for his newest creation– Leon: the Protector of the Playground.
We hope that you can make it!:
Jamar Nicholas
Wednesday August 10th
5pm
Old City Lobby