Are you ready for Free Comic Book Day!? Are you sure!? Let's see what sort of stuff your favorite comic shop(s) have going on for May 7th!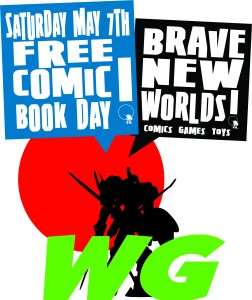 WILLOW GROVE SHOP :
The Original BNW will be your FCBD headquarters/destination for those of you living out in the suburbs! Here's what's going:
•The Creators of BNW's own Webcomic The Comicverse will be there!
•Free sketches from local artists will be happening!
•Free Comics for all ages!
•Rogue, Kick Ass and Black Costume Spider-man will be on site for Pictures and high-5s!
Check out the Facebook event page by CLICKING HERE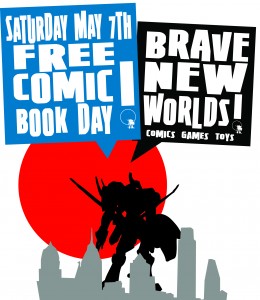 OLD CITY SHOP:
For those of you in and around the city head on into Old City for all sorts of comic related action on 2nd street! Here's what's going on:
•the Creators of Moongirl (published by Red 5 Comics)
•Local Artists doing Free Sketches all day!
•your friendly neighborhood Spider-man in costume posing for pictures and crime stopping antics
•the Broadzilla DJs spinning classic tunez!
If all of that awesomeness wasn't enough to get you to come out to either of our BNW locations for FCBD, how about this stuff to sweeten the pot?:
•Spend $25 – get a FREE Godzilla #1 Variant! Godzilla Destroying BNW!!!!
•Spend $50 – get a FREE BNW Glass version 2.0!!!
•Spend $100 – Get the Godzilla #1, the BNW Glass and $20 Store Credit towards your next visit to BNW!
All this stuff gets kicked off when we open our doors at 11am Saturday May 7th. So for best selection get here early!
See ya then!