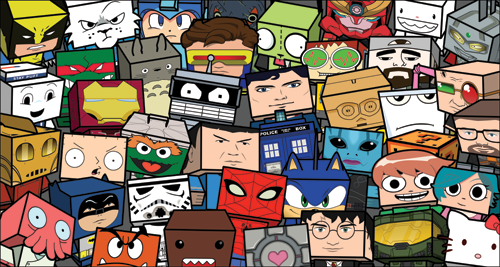 Brave New Worlds Olde City will be hosting a Cubeecraft show throughout the month of May.  The show is set to open May 6th with a special signing event:
"THANK YOU! It's been a crazy couple of years.  What started as a way to share my hobby with friends has just grown unimaginably!  Now's the time to celebrate!  Brave New Worlds in Olde City Philadelphia is hosting the first Cubeecaft-centric papercraft show.  A ton of oversized Cubeecraft will be on display and I'll be there for the opening May 6th 2011 to sign Batman: Built for Action books, offer exclusive Cubeecraft kits, and hang out so if you are in the Philadelphia area please stop by and say "Hello!". -Chris Beaumont
GUEST ARTISTS! There are over 300 characters now on Cubeecraft.com and though the majority of them are the work of site founder Christopher Beaumont a generous amount are the fantastic work of guest artists, so with that in mind Chris has invited a number of fellow artists and papercrafting peers to contribute new work to the show!
Contributing artists:
Marshall Alexander
Glen Brogan
Evan Cheng
Vanessa Germosen
Horrorwood
Emilio Lopez
Dolly Oblong
Derek Rippe
Salazad
Tougui
Marko Zubak
and more!
Show info:
Friday Night, May 6th 2011
Brave New Worlds
45 N. 2nd Street Philadelphia, PA
215.925.6525