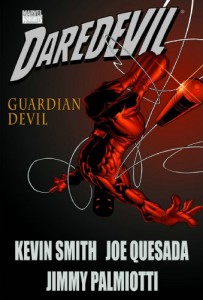 Daredevil Guardian Devil
Kevin Smith (w) Joe Quesada, Jimmy Palmiotti (a)
Daredevil Guardian Devil was the first eight issues of the Marvel Knights Daredevil launch as well as Kevin Smith's first foray into mainstream comic book writing. I think both were a huge success as Smith was able to soften his hyperkinetic awareness of his character's self-involved worlds and tell a really heartfelt story about the Man Without Fear with some surprising twists and turns.
I feel as if this is Smith's best comic effort and although many enjoy his Green Arrow run, I am not one of them. That run seems to talky while his second Marvel effort – Spider-Man/Black Cat The Evil That Men Do just does not hit the same notes as his Daredevil debut.

One of the other revelations on this book is Joe Quesada's amazing pencils. This was years before his okay efforts on Amazing Spider-Man's One More Day and One Moment in Time. One of my friends recently said that he thought Quesada should have just kept drawing instead of taking over the reigns of Marvel, and I agreed immediately with him, especially after looking at his work on this story.

It's hard to believe this story is 10 years old. And it has a lot going on. There is a baby that could be the next savior which Daredevil is enlisted to protect. We get cameo appearances by many of Marvel's mightiest heroes, plus a couple of former lovers return to Matt Murdoch's life including the Black Widow. And then there is also a surprise foe, who's story in this book saw many hardcore fans outraged and crying foul.
Don't discount Smith's ability to make an easy and smooth transition from screenwriting to comics, that made it look like he was doing comics all his life. In fact, it's not until the end of page 5 that we actually get real character dialogue instead of inner monologues, but it's those inner thoughts that set up the story for us, and what a doozy of a tale Smith has in store for all of us.

What makes it all the more great is that the dialogue is coming from none other than our hero, who's introduction in book is pretty sweet. It's funny that we first see Murdoch, in church and in the confessional. If anyone is going to write something heavy with Roman Catholic overtones, Smith is the guy (especially after his film Dogma).
I feel that Smith gets a ton of credit for his way with words, but never enough for his ability to tell a story. Just look at the triumph that is his Clerks II. Granted, to me, this is his best effort at the helm of a comic. He may attain this awesomeness again on a mainstream title, but his efforts that followed paled in comparison with this one.
How's this for not giving anything away but telling you why you should be reading this book, even if it's over 10 years old?
Check out previous "My Pick" selections below.
Danger Girl
Thor by J. Michael Straczynski TP Volume 1
Final Crisis Legion of 3 Worlds