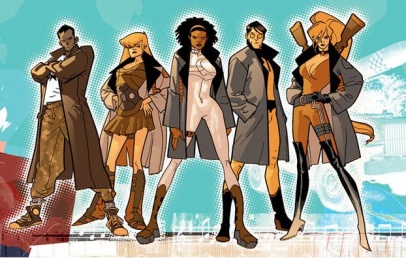 Wow, tackling Warren Ellis as a Featured Creator is a huge undertaking as the man is a workhorse when it comes to writing comics. Getting his start in 1990 in merry ol'England penning a Judge Dredd and Doctor Who tale, Ellis made the jump to American companies Marvel and DC in 1994 and 1997, respectively, both of which he continues to write for in addition to numerous independent and creator-owned projects.
Writing as much as he does, it should not come as a surprise that he has been recognized for his ability to spin a yarn or two, winning two coveted Eisner Awards for his Image series Fell – Best New Series and Best Continuing Series.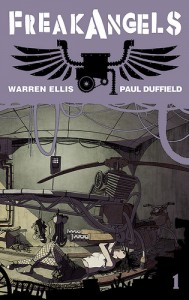 He also has nabbed the Sidewise Award for Alternate History in 2004 for his three-issue Ministry of Space mini-series for Image Comics, as well as Eagle Awards for Favourite Comics Writer in 2007 (and for Nextwave – Favourite New Comic Book, Favorite Comics Story and Favourite Comics Villain – Dirk Anger, also in 2007) as well as last year for his web-based FreakAngels.
He has written many mainstream titles (X-Men, Ultimate Universe, Iron Man, Excalibur, Wolverine, Hellblazer, Justice League) and some of his own wild and crazy stuff (Transmetropolitan, Planetary, Red, Ocean, DV8, Authority, Global Frequency, Anna Mercury and Doktor Sleepless).
While it is a difficult task to pick just a few Ellis titles to spotlight, we have endeavored to present you a nice representation of the mind of the writer. Below we take a closer look at a few of his selected works – all of which are currently available at Brave New Worlds, as well as the titles mentioned above. For a full bibliography click here.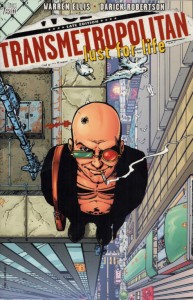 Transmetropolitan
A sixty-issue series, Transmetropolitan is Ellis' largest work to date about a dystopian future (besides Star Trek is there ever any other?) America where a journalist, along with his filthy assistants, tired of two corrupt Presidents decide to expose the comings and goings to keep the world from falling deeper into despair. Along the way, of course Spider Jerusalem becomes a celebrity himself, a concept that keeps him honest as he continues to write his exposes. Ellis teamed with co-creator and artist Darick Robertson on this title.
Planetary
They say sometimes the best things in life are worth waiting for. I am not sure who "they" are, but they must have had Ellis' Planetary in mind when it took him over four

years to finish this 27-issue tale with artist John Cassaday. "Archaeologists of the Impossible," Planetary is an organization that tracks down the world's secret history. Intrigued? You should be. Planetary is made up of three superhumans, which have abilities ranging from invulnerability and super strength to manipulating information and freezing items at will. They are funded my the mysterious Fourth Man.

Doktor Sleepless
A monthly series produced by Avatar Press, Ellis himself compares Doktor Sleepless to his earlier fan-favorite Transmetropolitan, the book draws on a wide range of ideas from futurism and counter-culture. Sleepless may just be a trust-fund baby and genius who undergoes a transformation into a "cartoon mad scientist."
Iron Man Extremis
Elements of this six-issue mini-series were adapted into the 2008 motion picture, Extremis turned Iron Man's world upside down, redefining the story of Iron Man and increasing his armor's ability significantly. Ellis was joined by artist Adi Granov on the run.
Fell
Illustrated by Ben Templesmith, Fell is about a detective who gets transferred to Snowtown, a city rife with urban decay and poverty – to an amazing exaggerated extreme. It's citizens are desperate and hostile and violence is the way of life. Sounds like a swell place to live. Besides the crime, there are of course mysteries for our hero to solve as well. Can't make the story that simple, can they?

Proving that he does something for eveyone, Ellis also wrote the animated shorts G.I. Joe Resolute, bringing the characters into very realistic, adult situations with actual consequences. Check out this entire tale on DVD.
Click below for previous Featured Creators;