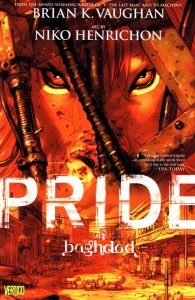 Vaughan is the mastermind behind the Vertigo series Y, The Last Man (probably the next awesome television or movie adaptation out there, yeah I am starting that rumor here), the Wildstorm (DC) series Ex Machina and Marvel's Runaways. In addition, he also penned the original Vertigo graphic novel Pride of Baghdad and was a writer on a little television show called Lost, in which he was nominated for a Writers Guild of America Award in 2009 (maybe you have heard of it or caught it on the tele).
He got his start in the business in 1997 at Marvel where he scripted the Ka-Zar annual before going on to write some of the big properties at both Marvel and DC including Batman and the X-Men before settling on his own creations – the aforementioned Y, The Last Man and Ex Machina.
He has been recognized several times for his abilities, receiving the coveted Eisner Award in 2008 (along with artists Pia Guerra and Jose Marzan, Jr.) for Best Series for Y, The Last Man and in 2005 as Best Writer for his work on Y, Runaways, Ex Machina and Ultimate X-Men, as well as Best New Series (along with Tony Harris) for Ex Machina.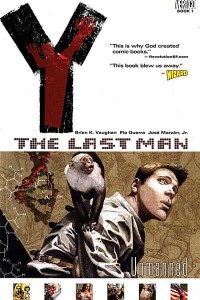 Some of his work that we cheerfully recommend to all comers include;
Y, The Last Man
This original series ran for six years and was a breath of fresh air as Vaughan told the tale of literally the last man on Earth. A mysterious event (plague or something) hits the world and simultaneously kills every living mammal possessing a Y chromosome (and we do mean everything), except for the main character Yorick Brown and his male monkey, Ampersand (don't ask us). This is their story, and of course you know it's an adventure. Just think about what you would do if you were the only man left (with your male monkey of course), the fun you could/should/would have?
It's "the best graphic novel I have ever read," Stephen King said. (Yes, THAT Stephen King!)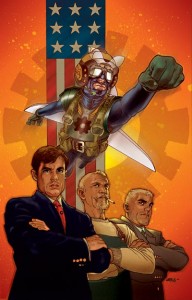 Ex Machina
Another six-year run as an original series by Vaughan (maybe he likes the number six?), Ex Machina tells the story of Mitchell Hundered (aka The Great Machine). Our very own George raves non-stop about this book with all it's political intrigue.  The story chronicles the life of the world's first and only superhero while he serves as Mayor of New York City after his actions on 9/11. The book also flashbacks through his time as The Great Machine. It's a great ride with some amazing artwork by Tony Harris.
"Ex Machina is half X-Files, half West Wing and 100% genius," Publishers Weekly reviewed.
Runaways
Vaughan went to Marvel with Runaways as an effort to attract young new readers and initially was planned as a six-issue mini-series. Seven years later the Runaways are still a staple at Marvel, although Vaughan moved on a few years later while the book was at the height of it's success.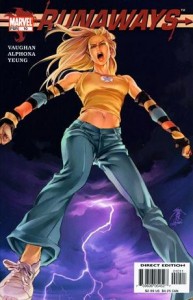 Runaways is about a group of teenagers who uncover a secret about their parents, that they really are evil doers called the Pride. The Runaways steal resources from their unknowing parents and learn about their inherited abilities.
It's been called "one of the best original concepts from Marvel in 30 years."
Other notable titles in stock by Vaughan include his run on Ultimate X-Men (#46-65, Annual 1), Wonder Woman (v2 #160-161) and a brief stint on Buffy the Vampire Slayer Season Eight #6-9. All the above titles and more are available in trade paperback and hardcover deluxe editions at Brave New Worlds.