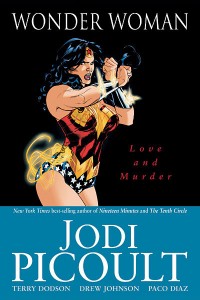 Wonder Woman: Love and Murder
Jodi Picoult (w) Terry Dodson, Drew Johnson, Paco Diaz (a)
Emerging from the events of Infinite Crisis and the subsequent year without Superman, Batman and Wonder Woman, DC Comics pulled out some very big guns with Wonder Woman's return to a monthly title. Allan Heinberg reintroduced the character in "Who is Wonder Woman?" and Jodi Picoult was tabbed to pen the second story, "Love and Murder," collecting Wonder Woman issues #6-10.
Picoult's run could have easily been called who is Wonder Woman as well as her story focused on Wonder Woman's conflict of who she was in the aftermath of her actions in killing Maxwell Lord and then joining the Department of Metahuman Affairs as Diana Prince.
It was an interesting question that ran through all five issues, and never really finds a conclusive answer as Diana grapples with everything that is occurring around her. And maybe that is a good thing since that answer is never really that simple when it comes to real life.

One thing Picoult does really well is begin Diana's new relationship with Nemesis, which Gail Simone would nurture and allow to blossom before her run ended this year. It's interesting to see this internal struggle with identity that Diana and Wonder Woman has, especially when she is asking questions and discovering new ones at her new partner's comments.

There are some awesome cool moments, especially in the first issue as Diana encounters the marketing machine of super heroes only to find that Wonder Woman swag is discounted and not as cool as Superman and Batman. Pretty funny how JMS took over the title trying to make her cool once again.
I have a theory with that, as sometimes you change things so much for people who don't like the character anyway, that you will lose the people that do appreciate the character. But hey, give it a chance is all I am saying.

While Circe is pulling all the strings in this one, somehow it evolves into Amazon Attack, which received its own mini-series treatment by another creative team and DC attempted to tie into it's 52 event.
Anyway, the second arc of Wonder Woman's return is an entertaining one and sets the table for Simone's strong run to follow.
And for a character that has always never seemed to "connect" or "interest" readers, this new volume of tales is just as strong in my opinion, and as overlooked as Rucka's previous run before the title ended.