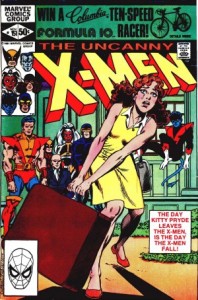 Uncanny X-Men #151
Chris Claremont (w) Jim Sherman, Bob McLeod, Josef Rubinstein (a)
A year removed from the Dark Phoenix saga, Claremont revisited the Hellfire Club in the first part of this two-issue story that sees the return of Emma Frost, Sebastian Shaw and  all the whacky gang from that elite New York City organization.
For current readers of the X-Men who have not dabbled in their glory days, it is a real kick to see the White Queen in all her evilness. You think she is wicked now, wait until you read how she was back in the day with no holds barred.

The story is a unique twist of revenge that ends on a cliffhanger as the Hellfire Club once again appears to have the upper hand (as we need our readers to want to buy the next issue the following month).
We begin at Charley's place (better known as Xavier's Institute for Gifted Youngsters) where the team's youngest member, Kitty Pryde, just received the news that her folks are removing her from the school and instead sending her to Frost's Massachusetts Academy.
Of course none of this goes over well and hence, are story begins in earnest.
'Tis the season and while this story is not a holiday tale per say, the holiday season does bring the quest for bargains, and this story (plus the second issue) can be yours at the bargain price of $5 at Brave New Worlds (while supplies last).

Here's the deal, issues #151-152 of Uncanny X-Men are collected as part of the Women of Marvel trade paperback, which is currently sitting on Brave New Worlds $5 bargain bin. Don't let the title fool you or scare you off (like a Buffy the Vampire Slayer TV show once might have). This book is chock full of comic awesomeness.
But wait, there's more as the Women of Marvel also includes eight-more issues

including the first issues Dazzler, Ms. Marvel and the debut of Black Widow's new duds. We also have some more X-Men and classic Avengers. Like we said, some awesome stuff.
And one more tidbit before I go, these stories are all pre-1990s which means its perfect for all ages, boys and girls, fans and non-fans. Enjoy.