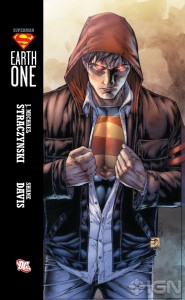 Superman: Earth One
J. Michael Straczynski (w) Shane Davis, Sandra Hope (a)
Loved this one, loved it. I know there is a lot of controversy surrounding Straczynski after this past week's announcement that he would be leaving the weekly Superman and Wonder Woman titles in order to focus on the sequel to Earth One, but don't let that stop you from reading this book (especially when it returns to shelves in a few weeks).
DC's version of Marvel's Ultimate Universe (but in perhaps a more realistic way), Earth One reimagines Superman's debut on Earth as if it happened today, in 2010, instead of way, way back in the day.
Straczynski makes a number of changes, but the main points all stay true. He is from the planet Krypton and was found by the Kents. There is Lois Lane, Jimmy Olsen and Perry White and of course the Daily Planet.
The devil is in the details when it comes to the changes, as Straczynski tells this new story in his now classic simplified approach – less is more (at least in my opinion). Kent comes to Metropolis, but enjoys the journey there. He is no longer that bumbling farm boy, with whom readers today may have had more difficulty connecting.
I don't want to give too much away, but the struggle Clark goes through before he dons the cape are poignant. His hesitations make sense in this hyper-active, media-fueled society we now live.
Not so much a reboot, this story would make an excellent template for a movie (something I am sure Mr. JMS had in mind).
So forget all the nonsense surrounding it's writer and his departure from the monthly title. Sit down and give this one a shot, and then join me as I eagerly await its sequel.