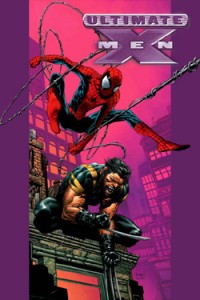 Ultimate X-Men #34
Brian Michael Bendis (w), David Finch, Art Thibert (a)
The 'Burbs Not only is this the name of an awesome Tom Hanks comedy from the 80s-90s (not sure which), it is also where a lot of this issue takes place. Logan found out his real name might be James. He left. This is the issue he returns. And all of it takes place in the real world, with just two pages of tights, that's it.
In the Beginning Our story starts with what appears to be a groupie noticing Logan eating lunch in a diner. She of course is not a groupie, and someone has a problem with this. All I could think about while they are trying to kill Wolverine is, that poor diner. I mean, it's not like it was a dog or something, seriously.
Typical Talk A few weeks ago I spent some time defending Bendis when it came to all the comparisons of Scarlet and Alias. I'm not saying this reminds me of those books, but the issue's dialogue certainly is classic Bendis. He has a way with the speaking, just like Joss Whedon. It is somewhat comforting.
What Do You Do Hotshot? So a bloody and bullet-holed Logan shows up in your attic to "heal." What do you do? Especially if you are Peter Parker.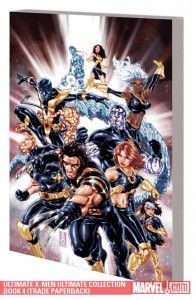 It's Funny There is really not a lot going on after the initial kill order in the diner. The remainder of the book focuses on Parker trying to hide Logan from his Aunt, and Logan trying to score beer.
Bonding There was a real nice bonding moment between Pete and Logan when Logan admits that Parker stepped up. Logan tells him he "owes him one." A couple of seconds later when those vans from the beginning of the book appear, Logan amends it to "I might end of owing you more than one."
Where Can I Get It? Well at Brave New Worlds of course, and lucky for you Marvel has started collecting the entire Ultimate X-Men run in Ultimate Collections. Volume four contains issue 34 and is on sale now.