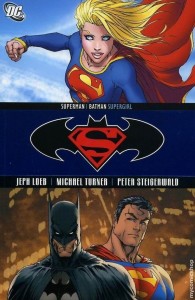 Superman/Batman: Supergirl TP
Jeph Loeb (w), Michael Turner, Peter Steigerwald (a)
The Return And I am not talking about Kara Zor-El's return, I am talking my return to comics. After years being away for whatever reasons, Joss Whedon's Astonishing X-Men and Superman/Batman: Supergirl where my first two purchases. What a way to be welcomed back. But I digress …
The Big Three And I am not talking Halladay, Oswalt and Hamels (I wonder how many people reading this actually understood that reference), but actually Supes, Bats and Wonder Woman. That's right, all three appear in this story, and all three play a major role.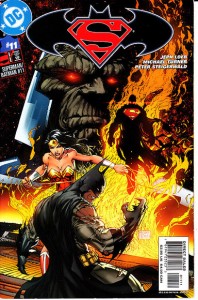 Public Enemies This story has its seeds in the first six issues of Superman/Batman and currently are available in the Superman/Batman Public Enemies trade paperback. Turns  out Loeb was doing a little foreshadowing when he wrote about a meteorite crashing towards Earth. Guess who it was?
She's Back And this time she was not an ectoplasmic being, or whatever. Kara Zor-El was back as Superman's legitimate cousin from the doomed planet of Krypton, the way she was always meant to be portrayed before making the ultimate sacrifice in Crisis (the first and really only true one).
R.I.P. Besides an absolutely amazing story, there is Turner, who's art, coupled with Steigerwald's colors, just make this tale all the more real. The emotions in Kara's face when she emerges naked in the real world, when Krypto chases her through the Fortress, when her friend dies and when she becomes possessed by Darkseid just remind us of how soon we lost one of the true talents in the industry.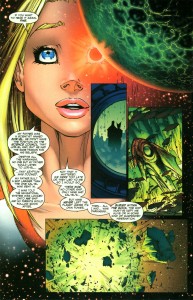 The Yin and Yang Loeb started off a nice narrative with this title, as a lot of the story takes place in the heads of Bruce and Clark, a great contrast in who they are and why they are friends. It is on fine display in these six issues.
The Originals This collection includes Superman/Batman #8-13 and is worth getting just for the covers.
How's This for Spoiler Free With the exception of a few references, I hardly wrote about what this book is about, instead I decided to focus on the what I felt make it was Barney Stinson would say is awesome!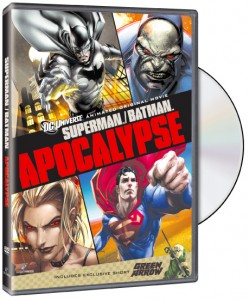 Final Thought If this does not do it for you, then nothing will. The story is dedicated to the memory of Christopher Reeve. There is also a message in Kryptonian that Clark translates for Bruce that is ran along with the dedication. Very poignant.
Media Tie-In DC just released its latest animated feature titled Superman/Batman: Apocalypse on the dvd, which is this story. Not sure why they changed the title, but its is almost a perfect adaptation. It is definitely worth catching.