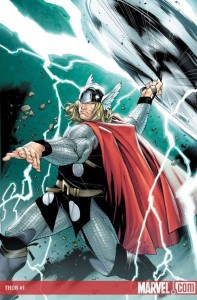 Thor by J Michael Straczysnki TP Volume 1
Michael Straczynski (w), Olivier Copiel, Mark Morales (a)
Slow Burn This is the best way I can describe Straczynski's run on Thor, a slow burn. It just builds up each issue at a sweet pace that is not typical of the frenetic style of most cape books. It was a big departure of his storytelling on Spider-Man, and very similar to what he is doing now on Superman.
Read Nothing Else For those who are sick of getting tied into several books because of one issue, Thor remained self-contained under Straczynski, to his detriment actually as he left after only 17 issues because Marvel want some crossover action on the title. Marvel's loss turns out to be DC, Superman and Wonder Woman's gain.

"The" Thor Artist After living through and experiencing first hand Walt Simonson's run and art on Thor in the 1980s, I never thought another artist could capture the true epicness of the title. Enter Copiel, whose style is a perfect compliment to Straczynski's storytelling and to the God of Thunder himself.
Success I think one reason the book clicked for so many was because Straczynski's run for the most part was grounded in reality, or Broxton, Oklahoma to be specific. Too many times a trip to Asgard can kill any connection you want from a reader.

Life Outside Oklahoma Even though Straczysnki did his best to keep the title self-contained, there were still issues (funny) to deal with. Like Iron Man bringing in Clor, which killing Bill Foster during the Civil War. Repercussions, which Straczysnki addressed masterfully. And the great thing about the issue, if you lived under a rock and did not read or know about Civil War, you could still enjoy the story. How awesome is that!

We Are Getting the Band Back Together No, this is not the Blues Brothers, but Thor and Donald Blake reuniting as Thor seeks to bring about the return of Asgard, and his fallen brothers and sisters. And what a fun ride it is.
Culture Moments I am sure if Thor really set down Asgard in the United States there would be some great moments on both sides of the fence. Since he is in

Oklahoma, things are probably a little more simplified, like when the local police come to tell Thor he can't build Asgard on the ground without permits and such. His response, classic.
What Am I Trying to Say? Well, I never really cared about Thor until this run. Now I am hooked and loving so many of the monthly offerings that features Marvel's God of Thunder. This is the one that reignited and for many like me, ignited the spark that is Thor. This is the one to read.