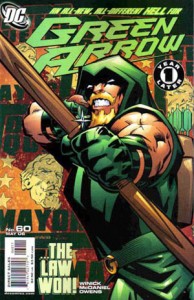 Green Arrow #60 (Volume 3) Judd Winick (w), Scott McDaniel, Andy Owens (a)
Deja Vu Well it was just this past March when I last reviewed a Green Arrow issue, a Winick joint as well, issue #32 where Connor and Roy paint the town red. It was a good yarn, but had not much to do with Ollie. Today's treat features a Year 1 story.
Forget Detroit … Don't move to Star City. Every disaster possible in the DC Universe seems to beset this tiny little hamlet. Page one of this issue reminisces about the Amsterdam Disaster. Dude, one word for y'all, move.
NOLA Reading through the first few pages, I was struck by how similar the plight of the residences of Star City were to those of the real-life victims of Hurricane Katrina in New Orleans. These kinds of stories always make me wonder when comics blur the lines of reality and fantasy and take on a social story like this. The question is, is it too soon or even really necessary.
Putting the Green Arrow in Green Arrow How is it the two Green Arrow issues selected for Random Retro Comic Review do not actually contain Green Arrow in the issue? In this episode, there is a moment behind the wall when we see his arrow and a note when a former crime lord is trying to bring justice to the savages, but that's it. It's not until the last panel when we see good ol' Ollie, and its Ollie we see, mayor of Star City.
Btw … This issue was a great jumping on point for readers.
Still Despite hardly any of the lead, I liked the issue. Granted I have some issues of the possible exploitation, but love the social issues facing Star City's residents, especially those behind the wall.