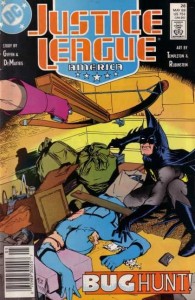 Justice League #26 (Volume 2; May, 1989) Keith Giffen, J.M. DeMatteis (w), Ty Templeton, Joe Rubinstein (a)
Not Your Father's Justice League When Giffen and Kevin Maguire relaunched Justice League post-Crisis, it was the "B" team with Batman being the lone holdover. What readers received instead of Superman, Wonder Woman, Flash and Green Lantern was Booster Gold, Blue Beetle, Guy Gardner and lots of jokes. Believe it or not, it worked for its time.
Fast Forward 2010 The current Justice League Generation Lost squad is made up of the original members of this Justice League group sans Batman and Ted Kord. As he did over 20 years ago, Max Lord hand picked the members. It's real interesting to see how casually Lord used his mind-control powers to manipulate heroes.
Coming This Fall Giffen writes the book like a typical prime-time comedy complete with hijinks and puns. In fact even during all the serious action, there is a little goofiness in every scene. Luckily the new series did not take this page out of the playbook. Again, it works for the late 80s.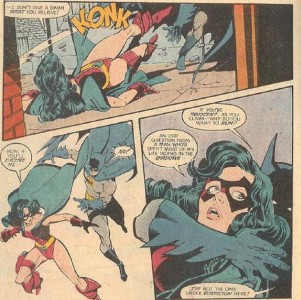 Payback Do you think the reason Max Lord killed Ted was because Ted had a nervous breakdown in this issue and stabbed him. I mean no one remembers that Ted instigated this fight. I'm not saying he deserved to be killed for it, I am just saying they have some history.
Enter Stage Right Before she became a full-time member (thanks to the aforementioned mind push from Maxwell), the Huntress jumped in to save Max's life from an off-balance Blue Beetle, who decided to add Master Culinary Cutter to his resume.
Jumping to Conclusions Huntress saves the day, takes out Beetle and is about to get Max to the hospital when she is stopped by a current member of the JLI who only sees the evidence and wanders why she did what she did. Oops. You are never going to believe who it is that finds and accuses her.
Late 80s Bats Its old school Batman in this issue, complete with the yellow-chest insignia with the black bat in the middle. The good old days. But I digress.
Can I Purchase This Awesome Issue? But of course, it is currently in the back issue bin at BNW Willow Grove and also in volume four of the the collected Justice League International trade paperback at both locations.