Tomorrow night Brave New Worlds Old City and the Philadelphia Cartoonists Society (you might remember them from such events as last weeks FCBD and the Lincoln Show from last year) will be putting on a ROBOT themed art show called Domo Arigato!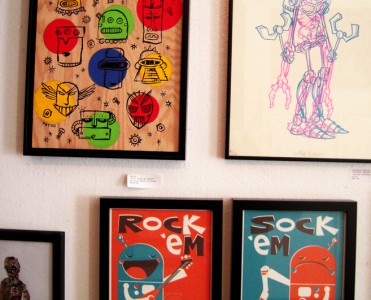 The show will be featuring 24 local artists and their unique takes on the theme of Robots (well 2 pieces are from the UK so they dont count so we should be saying 22 i guess [and  on a total side note those 2 UK pieces were held up in their voyage by that volcano, XYUUYRIURRTIGGKKS, in Iceland doing all that erupting/interrupting]). Heck with a movie like Iron Man 2 launching on the same day how could we not try to cross pollinate.
Domo Arigato starts at 6pm and BNW Old City will be open late with the extended First Friday Hours (til probably 10pm).
Show up early and join in on the PCS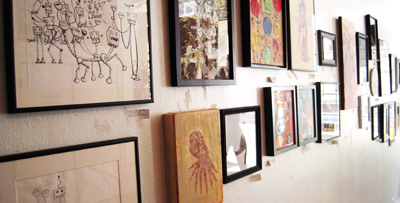 Art Crawl that will be taking them to 2 other shows that they are putting on the same night (1 show is a solo show by founding member Jeffro Kilpatrick). They will most likely hit bars along the way so 21+ always helps.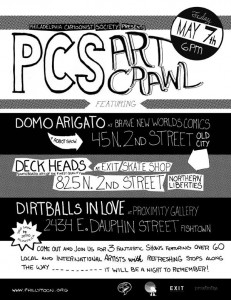 PCS ART CRAWL:

•Stop 1
BNW OLD CITY
45 N. 2nd Street (Old City)
Domo Arigato
•Stop 2
825 N. 2nd Street (Northern Liberties)
Deck Heads (skate deck show)
•Stop 3
2434 E. Dauphin Street (Fishtown)
Dirtballs in Love (Jeffro Kilpatrick Solo Show!)
We hope to see you all make an appearance at one of these events (hopefully at least Domo Arigato!)