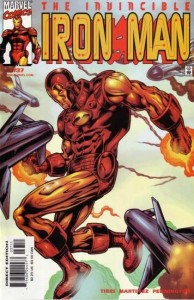 After back-to-back weeks of reviewing some quality titles by the newest addition to the Mouse Empire, this week proves the third time is not always the charm.  Not that I am looking to be too critical, but Invincible Iron Man Volume 3, #37 by Frank Tieri, Alitha Martinez and Rob Hunter just did absolutely nothing for me.
This story takes place about three years after Heroes Reborn. Tieri told the story through a Tony Stark narration, which for me was very clunky.  The dialogue felt like it was out of a 1960s or 70s issue.  So if Tieri wanted to channel his inner Stan Lee, mission accomplished.
There were some interesting moments in this issue, including Tony Stark working on a teleportation device for his Iron Man armor.  However, the story actually dropped or forgot its opening hook as it opens with Stark in the middle of a gunfight.  It's at this moment he finds his inner monologue and decided to explain how he found himself in his present predicament.  Thing is, it is never referred to again.
The issue introduces an old friend of Tony's that comes back to the roost and it is so obvious that the problems with his current girlfriend are going to come back to his old buddy.  Speaking of girlfriends, Pepper and Happy have a nice tender moment, although Martinez draws her in a very un-Pepper like way.
Overall I found the issue very lacking and it reminded me of why I stopped reading comics for a little bit in the mid-90s.  The surprising thing is, there was some good stuff in my opinion that came out of the Heroes Return titles, including Fantastic Four (granted I do look at the world through Reed Richards glasses).  Until next time …