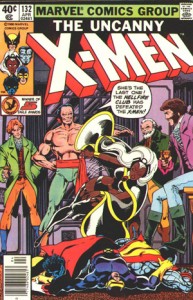 The year was 1980 and it was the glory days of the Uncanny X-Men as Chris Claremont and John Byrne were collaborating like McCartney and Lennon when it came to everyone's favorite band of mutants.  And while just as with the Beatles, all good things would have to end (after I think a year), the duo produced some of the most memorable comics issues ever.
This week's story, Uncanny X-Men #132, takes place smack dab in the middle of the classic Dark Phoenix saga as Mastermind's plot to control Jean Grey comes to a head by issue's end.  This was a plot point that was being nurtured over several issues before its payoff in 132.
Even more exciting was the Hellfire Club's role in the issue and subsequent role they played in unleashing the Dark Phoenix.  And the X-Men would never be the same again.
Byrne, along with inker Terry Austin, was at the top of his game.  Byrne's pencils always seemed a little more spectacular when Austin was finishing and the duo was just as hot as the Claremont-Byrne writing pairing was.
Awesome moments included Jean and Scott sharing what would be their final intimate moment on top of a bluff in Colorado; Jean's transformation into the Black Queen (if evil looks like this than I don't want to ever be good); the Hellfire's smackdown of the X-Men and their toasting to their new queen; and last but not least, Wolverine emerging from the sewer waters, claws extended, vowing for his turn at paybacks.
There is not much more to say except, great issue.  Excuse me while I read it again …