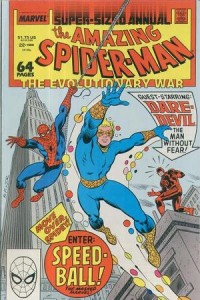 Once again my comic-reading fate was placed in the hands of one of our regular customers, who this week pulled out Amazing Spider-Man Annual #22 from the summer of 1988.  There are two notable facts about this Evolutionary War tie-in, first and most exciting (no sarcasm there), it is the first appearance of Speedball.  And second, it is also one of Mark Bagley's first full issues drawn at Marvel.  Yes, the guy has been around the block for a little bit.
Bagley actually was the winner of a 1983 Marvel contest, Marvel Try-Out book, which Jim Shooter used to draw new talent into the industry.  Bagley was the winner of the contest, and the rest is (spider) history.
The annual itself was a decent tale by Tom DeFalco with some help by David Michelinie.  It teamed up Spidey with Daredevil and saw J. Jonah Jameson happy as ever as he thought he finally caught his favorite punching bag on the wrong end of a crime, with drug dealers that he caught ending up dead.
But of course Spidey did not commit the crime.  Daredevil, and funny enough the Kingpin came to his rescue.  Meanwhile, the Evolutionary War story was weaved through the tale and their efforts were thwarted, for this issue.