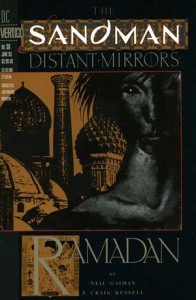 This week's selection was mined by one of our regular customers, Martin, who blindly pulled out Sandman #50 by Neil Gaiman and P. Craig Russell for me to review this week.
For the second-straight week I was able to relive a book that I had already read (back in the day of course when it was originally released).  Sandman #50 always stood out as a classic for me, titled "Ramadan," I actually bought the Sandman statue based on Russell's Sandman from this issue, and yes, still own said statue which resides on my book shelf.
The issue reads more like an illustrated novel than a comic, its that good.  Gaiman's masterful story strokes are matched perfectly with Russell's art, for that perfect storm that so rarely occurs in comics when both writer and artist are at the top of the game.
Originally published in April 1993, this gem is available for $15 (a true bargain) at Brave New Worlds.  Grab it now, before I do.