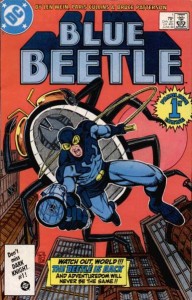 Let me paint a picture for you.  It was the mid 1980s and DC had just finished Crisis on Infinite Earths.  One of the many things that ground-breaking series accomplished was reintroducing to the world, one Blue Beetle.
If you guessed this week's Random Retro Comic Review was going to be an issue of the Blue Beetle, you would have guessed correctly.  But this week's classic is not just any issue, but the first of the Ted Kord run, Blue Beetle #1 from July 1986, "Out From the Ashes," by Len Wein and Paris Cullins (of Blue Devil fame).
Since beginning the Random Review, this is the first time I pulled out an issue that I had read before.  And there was a lot going on for my money in this issue (which was three fat old quarters), as the issue explains how Kord became the Beetle, sets up three other story arcs, and also leaves a cliffhanger (invented before the Borg snatched Picard) with our fearless hero in peril.
It was a fun issue to relive even if Wein's dialogue is tough to digest by today's standards.  Kord comes off almost like a poor-man's Spider-Man with all the quips, and the narrative of the villain Firefist (I know, lame), was also difficult to swallow.  But the seeds of Kord's reign with the scarab (name at least) are all planted in this first issue.