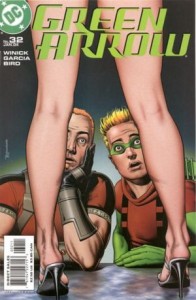 Apologies for the delay on this one, but this week's gem from the vault was just too good not to read several times.  I had to let it digest and simmer before I explained the awesomeness that was Green Arrow #32 (Volume 3).
Kidding.  The cover explains the entire issue titled "Boy's Night Out," as Roy and Connor are seen looking through a pair of legs – and those would be stripper legs.  Turns out Red Arrow's idea of a good time is going out to a gentleman's club.  This is what readers paid #2.50 for just six short years ago.
A Judd Winick-Manuel Garcia joint production the issue does have some redeeming qualities.  It is a good bonding issue between Roy and Connor, as Connor especially comes to understand the differences and similarities between himself and the man he would come to refer to as brother by story's end.
And just in case you were worried that this was a get in touch with all your feelings episode, Winick threw in a store robbery for the new dynamic duo to foil, out of costume and with no quivers.  But the story was never about that, it was about Roy and Connor becoming, brothers.