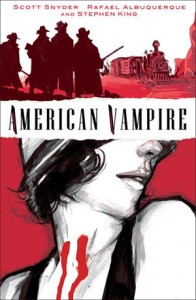 Vertigo is the spotlight this week with the release of a new ongoing monthly title in American Vampire #1 and the latest Vertigo Crime offering – Bronx Kill.
Witness the birth of the very first American vampire and in the process a brand-new species of blood suckers by exciting new scribe, Scott Snyder, along with an assist by none other than Stephen King himself in Vertigo Comics' American Vampire #1 this week.
A new ongoing series, American Vampire will feature five extra-sized issues with back-to-back tales by Snyder and King.  Rafael Albuquerque takes care of the pictures in what promises to be an exciting new series from the folks that have brought us Preacher, Fables, DMZ and Daytrippers.
Also out this week by Vertigo Comics is the latest in their Veritgo Crime series – Bronx Kill by Peter Milligan and James Romberger.  The lastest tale of noir has to do with a man who wanted nothing more in the world than to be a writer, but that would mean turning his back on the family profession of law enforcement.  But when his wife goes missing, he is forced to start digging into what turns out to be dark secrets (are there any other?).
Also available at Brave New Worlds from the Vertigo Crime line is Bryan Azzarello's Filthy Rich.  We also have other of noir titles in stock if these two make you happy.