Not satisfied with just picking a letter last week (it was Q and Quasar by the way), Brian actually came to the Brave New Worlds back issue comic vault to select this week's Random Retro Comic Review – the now classic Batman: Legends of the Dark Knight #40.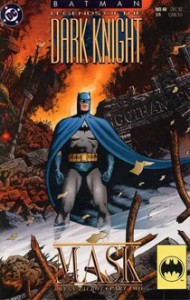 Issue 40 was actually part two and the conclusion of Bryan Talbot's Mask story.  You might think jumping in on the second part of the story could be a little confusing, but a couple of pages in I was able to masterfully figure just what was what.  It helps knowing who Bruce Wayne and Batman are to boot.
Anyway, this is another back issue that I have never read before (until now that is).  It was an interesting story.  Turns out someone blames Batman for the death of his parents and decides to exact revenger on the Caped Crusader.  Most of the story takes place in Bats mind.  A couple of interesting things did happen in the issue, most notably the criminal mastermind of the issue (the vengeful son) actually set a trap and captured Batman, and successfully removed his cowl to reveal his identity.  Granted he did not get far with it, but that never happens.
Talbot served as both writer and artist for this December 1992 release.  His art style reminded me a lot of Kevin Maguire.  It was decent and worked for the story which has a classic feel.
I enjoyed Batman: Legends of the Dark Knight #40 and would recommend it to any of you faithful fans out there (you know which five you are).  Until next time, enjoy …