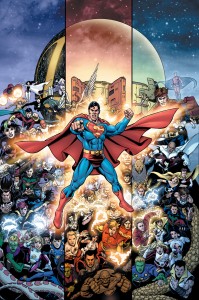 Leave it to mega-scribe Geoff Johns to weave a tale that combines all the eras of the Legion of Superheroes, which is just what he did along with his accomplice George Perez in the Final Crisis: Legion of 3 Worlds.
I am a big fan of the Legion and really enjoyed Johns treatment of the team as he brought together all of the eras as Superboy Prime made his "triumphant" return to the DC 'verse.
Johns actually left breadcrumbs of hints for this epic battle back in the Justice League Lightning Saga story that saw the JLA and JSA team-up to find wayward members of the Legion of Superheroes.
Final Crisis: Legion of 3 Worlds (which is available in hardcover at Brave New Worlds) is  a good time with amazing art by Perez who has not seemed to have lost a step over the years.
I highly recommend this five-issue mini-series, which will serve as a great launching point for this summer's Brainiac and the Legion of Superheroes crossover in Adventure Comics by former-Legion writer Paul Levitz.
Enjoy!