Our good friend Box Brown, local comic creator and member of the Philly Comix Jam, will be having a release event for his latest comic project, Everything Dies, at BNW Old City FIRST FRIDAY on March 5, 2010.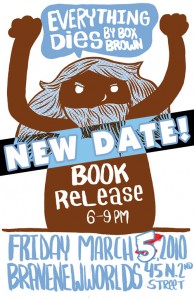 Box is a talented Philadelphia Indy Creator who has created quite the following for himself, both locally and amongst the indy comics community, with his webcomic Bellen! which he publishes five times a week. Box also has a pretty sweet blog that is worthy of checking out in which he gives insights into his process as well as a place where he can showcases his print work.
If you click here you can watch a video pitch that Box used to help get this latest print project the necessary funding it needed to become an actuality. He currently has other work available such as his original graphic novel Love Is A Peculiar Type Of Thing and is part of the music lovers anthology side b, which hit the shelves of Brave New Worlds in June of '09.
UPDATED INFO

So be sure to mark your calendar for FIRST FRIDAY March 12th 5th and come out to support part of the Philly Local Comic Scene!
Any questions contact Brave New Worlds Old City via phone @ 215.925.9525 or shoot me an email by clicking here