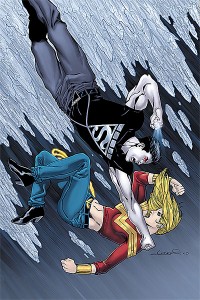 Adventure Comics Starring Black Lantern Superboy #7 ships this week and wraps up the Blackest Night tie-in for the title as Black Lantern Superboy appears ready to have some unkind words for Wonder Girl.  Tony Bedard provides the words and Travis Moore the pictures.
If Adventure does not get you into a "super" mood, the second trade paperback collection of Grant Morrison's and Frank Quietly's All-Star Superman is also released this week, collecting issues seven through 12 of their award-winning run.
Superman's end is near, but before he can pass into the great beyond he must first face Bizarro! (naturally) and others.  If you have not picked up this titles yet (and what have you been waiting for), now is the time to stop by Brave New Worlds and get yourself a copy of volume 1 (now in stock) and volume 2.