Rich gave me the idea of choosing this weeks character (well they are really a team of characters) and once again I am breaking my own rules, 1 week DC and then the next Marvel, since they hail from the Marvel U…hit this jump to see who the heck it is…
The Circus of Crime
The Circus of Crime is a group of Super Villains in the Marvel Universe that was created by Stan Lee and Steve Ditko in issue #3 of the Incredible Hulk.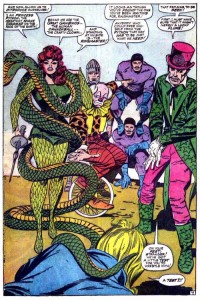 Read their Wikipedia entry here
(be sure to read about all the individual members of the Circus of Crime!)
Read their Comicvine entry here
How could I not go for an entire team that is made up of circus freaks?! I really couldn't help but break my normal Marvel to DC and back to Marvel pattern for such sweetness!
Be sure to check back next week to see who or what I pull out of obscurity to showcase here in A Character To Learn More About!
Also if there are any ideas for whom you may like to see here in this section shoot me an email! [BRiAN]