Since I normally write about what I'm excited to read on Wednesday on Tuesday nights and I didn't get around to it, I have decided to write about 2 comics that are still sitting in my New Comis Pile that i still wanna read.
First off I've still yet to read my copy of Criminal: The Sinners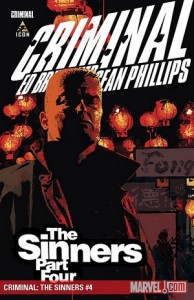 #4. If you haven't been following the Criminal series this is not an issue to be jumping in on, being that it's the penultimate issue of Tracy Lawless' current tale in the Criminalverse. Though if you have been reading the Sinners storyline you know that our boy Tracy was left in a bit of a cliffhanger situation [not that one]. Ed Brubaker and Sean Phillips continue to deliver when they team-up whether it be in Criminal, Incognito or Sleeper. Also with the backup article having Charles Bronson's face, as drawn by Sean Phillips, for its title page rules.
Criminal: The Sinners #4, Ed Brubaker/Sean Phillips, $3.50, 40 pages, full color, Marvel Comics
For my next book I was going to chose Demo #1 but I realized that I have been choosing Brian Wood a lot recently so I went with Red Robin #9.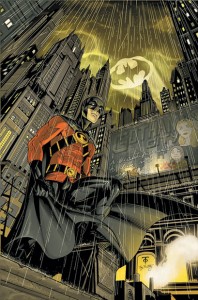 This is a great Batfamily series that in the aftermath of the death of Bruce Wayne has been all about Tim Drake…er Tim Wayne (Robin) now dealing with the fact that he does not believe Bruce is dead…just missing. After donning the Red Robin cape and cowl Tim trekked the globe for evidence to back his theory about ol' Batman still being alive.  With what he has learned he, in this issue, will be returning to Gotham City to figure out his next step, both in his life and in his search.
Red Robin #9, Christopher Yost/Marcus To, $2.99, 32pages, full color, DC Comics