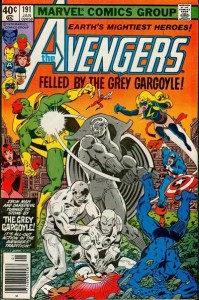 Welcome to the first edition of Random Retro Comic Review.  Here is the situation, twice a month I will dip my hand blindly into the Brave New Worlds back issue comics vault and pull out a gem from yesteryear that I will in turn read and share with you.
This month's first adventure features "Earth's Mightiest Heroes!" and was the second part of a two-issue tale that began in (you guessed it) Avengers #190.  The cover itself sells the issue and promises a good time as "The Avengers Felled by the Grey Gargoyle!" and "It's All-Out Action in the Avengers' Tradtion!"  Awesome stuff.
Joining the story in progress, moments before the splash page, the Avengers have unwittingly (of course) released the Grey Gargoyle from his stone prison and he in turn repaid them by turning Iron Man and Daredevil (who was just tagging along because in New York that is what heroes do) to stone.
Daredevil's inclusion in the issue is just one of the things I miss from comics back in the day, where it seemed like Spidey, the Fantastic Four, X-Men and Avengers were always popping up in someone else's book.  I know it still happens today, but it does not have the same surprise as it did back then.  But I digress …
Part two of a two-part story, "Back to the Stone Age" is a wonderful journey back to the way comic stories used to be told.  It was a lot of fun reading this issue and getting readjusted to the narrative of the time, where all the characters had thought balloons explaining everything they were thinking.  When someone wasn't saying what was what, they were definitely thinking it.
Meanwhile, back to the story, Avengers #191 was a lot of fun to reread.  The issue's big bad was the Grey Gargoyle, and David Michelinie gave readers a quick update on his whereabouts and his origin story.  Granted, it took up about a page, but for readers who might not be familiar with GG, it was valuable reading.
Of course it would not be much of a story if the Avengers took down GG right away, so he handles the current lineup which started in issue #181 (Iron Man, Cap, Beast, Wasp, Scarlet Witch, Vision, Falcon and Ms. Marvel, who joined in issue #183) with ease.  The Falcon manages to get away to track GG back to his lair (an old apartment) and with the help of his faithful falcon Redwing, slows GG up enough for the calvary to arrive.  Cap's shield does the rest.
John Byrne's pencils and storytelling were as clean as ever and Dan Green's inks provided the final masterstrokes.
It was funny to see the Grey Gargoyle's best shots were taking out the Scarlet Witch and Ms Marvel, and turning Redwing to stone.  Damn him.
The arc began an issue earlier with the Avengers being brought in front of a special senate sub-committee at Henry Gyrich's behest, but their work against GG showed the committee how important they are and the government actually gave them more autonomy as a result.
There were a couple of other interesting moments in the story, including where the Vision noticed that Wanda continued to be "off" ever since she returned from Attilan, leading to her departure in the next issue.
Another cool moment was when Beast wondered aloud if they should run off after the Grey Gargoyle or stay and wait for Iron Man and Daredevil to revert to normal.  Turns out only Tony's iron was turned to stone and therefore he could answer Beast's question himself – "… he'd say go!."
Although all of the action took place on the streets on in an apartment, there was still time for a brief appearance for Jarvis, cooking for the gang's return.
Another part of the experience I enjoyed reading the old issue was seeing some of the old advertisements including a two-page Star Wars toy collection promoting the inclusion of the newest villain – Boba Fett.  Plus, there was a lot of candy ads.
The issue marked the end of a 10-issue run on the book by Byrne (his second as he also pencilled issues 164-166).  Overstreet prices the book @ $10.00 in NM condition.  You can actually pick it up at Brave New Worlds Willow Grove for $1.00 (remember our back issue sale) as our copy is between fine and very fine (7.0) condition.
Issue Skinny
Avengers #191 (Volume 1) "Back to the Stone Age"
David Michelinie (w), John Byrne (a), Dan Green (a)
Released: January 1, 1980
Collected: The Avengers: Back to the Stone Age TP (Out-of-Print)
Until next time …