Welcome back to the second installment of Random Retro Comic Review.  Just like the title states, this is a totally random review of a comic back issue and this week's gem comes to us from DC Comics.  Once again I blindly placed my hand into the Brave New Worlds back issue comic vault and pulled out much to my pleasure, Tales of the Teen Titans #45 from April 1984 by Marv Wolfman and George Perez.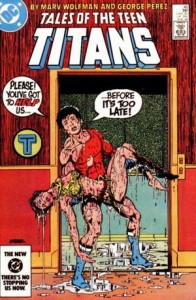 For the second week in a row, I was able to enjoy a back issue that I had never read before.  I don't know what it is about the early 80's era of comics, but I really have enjoyed the storytelling these past two weeks (could be nostalgia since this is when I first started reading the funny books as my Dad calls them).
This week's cover once again sells the issue (they really knew how to get a reader hooked with that cover back then, sorry, waxing nostalgic once again) as Aqualad holds an unconscious Aquagirl entering Titans Tower.  And the cover is complete with word balloons, which we never see anymore, as Aqualad screams "Please you've got to help us … before it's too late!"
The first of a three-part H.I.V.E. story simply titled "H.I.V.E." this issue is mostly a set up as there is not much going on.  The Teen Titans (which I found awesome to read an actual good Titans story again even though there was not a lot of action) are still reeling from the death of Tara at the hands of the Terminator.  The cover opens the issue and then we immediately jump into a grieving Beast Boy (or Changeling as he was called back in the day).
It was a really dark portrayal of a character who is generally so lighthearted as Changeling disrupts a weapons deal all on his own with some vicious attacks.  If not for Cyborg hanging in the background, Wolfman and Perez convince the reader that Gar may have actually killed one of the men.
This issue really deals with a lot of emotional issues – Donna and Terry's impending marriage, complete with a bachelor party and hot girl coming out of a cake.  Perez is really an excellent artist and his work on the Titans over the years is his signature book.  Raven's continuing feeling of loneliness just as Wally comes back, still upset over his breakup with Raven, but refusing to help the team out in the end when they set off to confront H.I.V.E.  Turns out, Wally has some issues whenever he taps into the speed force.
Once again I really found myself enjoying this issue.  There were some real nice moments, including a couple of pages when Donna went back to Paradise Island to ask Hippolyta's permission to wed Terry.  Another fun scene was Cyborg's grandparents arriving at his apartment in Hell's Kitchen but not finding anyone at home.  So what do they do, but pick the lock of course.
As I previously mentioned, I can not say enough great things about Perez's detailed layouts.  Plus any time you get to see Aqualad and Aqaugirl in an issue has to be a plus.
Tales of the Teen Titans was actually called The New New Teen Titans up until issue #40 before switching to Tales.  Overstreet prices the book at $3.50 for a 9.0 copy and the version we had in the store is probably an 8.0 and can be had for just $1.00 as part of Brave New Worlds current back issue sale.
Issue Skinny
Tales of the Teen Titans #45 "H.I.V.E."
Marv Wolfman, George Perez (w), George Perez (p), Mike DeCarlo (f)
Released: April 12, 1984
Collected: None
Until next time …