It's been a week! The city seems to have calmed down at this point so settle in and put you feet up and check out what's coming out this week! (OH YEA! Comics come out on Valentine's Day!)
If sifting through the internet seems like a bit too much of a task and you'd like us to beam this right to your phone (or home Cerebro-like computer system) try signing up for our handy weekly email newsletter!
---
THE WILLOW GROVE FNM SCHEDULE!
If You Couldn't Make It OUT!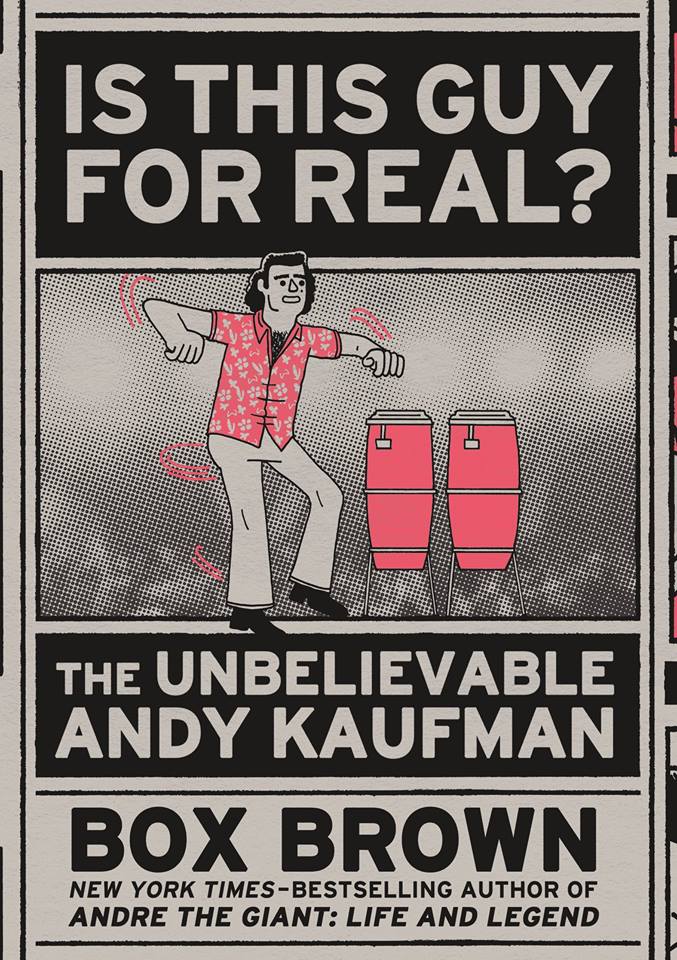 If you couldn't make it out to our SIGNING with BOX BROWN we've got plenty of signed copies of his latest book "Is This Guy For Real?" at both locations!
We've Got New Boxes!
See This New Spidey!?!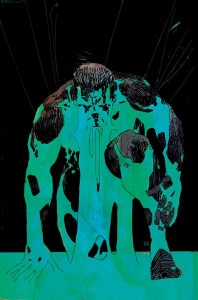 COLD WAR #1

AFTERSHOCK COMICS
(W) Christopher Sebela (A/CA) Hayden Sherman
Panacea Cryonics offered its customers life after death by keeping their heads frozen until the day technology could rebuild them, free of disease and death. However, as these everyday people from the past are revived, they're not handed the keys to a new life, but a gun, body armor and an ultimatum. They must fight in a war against unknown opponents for unknown reasons, to secure their place in a brave new world that doesn't want them around.
From Chris Sebela, writer of Blue Beetle, Kiss/Vampirella and Evolution, and Hayden Sherman, artist of The Few and John Carter The End, comes the story that HAD to be told at AfterShock!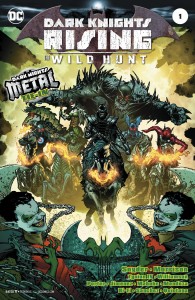 DARK KNIGHTS RISING THE WILD HUNT #1
DC COMICS
(W) Scott Snyder, Grant FREAKING Morrison & Various (A) Doug Mahnke & Various (CA) Doug Mahnke
Continued from the pages of the bestselling DARK NIGHTS: METAL! The Dark Knights ride through the farthest reaches of the Multiverse to track down the unlikeliest of teams: The Flash, Cyborg, Raven and Detective Chimp. The mission: keep these heroes from completing their desperate quest to save all of existence! Plus, Challengers' Mountain crackles with dark energy that will release an army of the world's worst nightmares into the streets of Gotham City!
This one-shot also answers the question: Where are the Metal Men? And who is the latest addition to the team?
FOIL-STAMPED COVER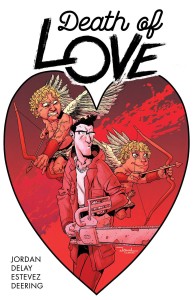 DEATH OF LOVE #1 (OF 5)

IMAGE COMICS
(W) Justin Jordan (A/CA) Donal Delay
Love sucks. Philo Harris is going to do something about it. After gaining the ability to see the Cupidae that make love work-after a particularly bad drunken decision-Philo ends up going to war with love itself. With a chainsaw.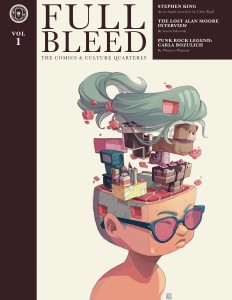 FULL BLEED COMICS & CULTURE QUARTERLY HC VOL 01
IDW PUBLISHING
(W) Mark Russell & Various (A) Erin Nations & Various (CA) Cassey Kuo
FULL BLEED is a brand-new quarterly, PRINT-ONLY 200-page hardcover "magazine," curated and edited by IDW Publishing's Dirk Wood and Ted Adams. By merging the best in comics, fiction, non-fiction, deep dive interviews, opinion, history, think-pieces and more, FULL BLEED will be a reading experience like no other, and a beautiful artisan addition to any bookshelf. Looking through an international lens, but filtered through the unique perspective of the IDW:PDX satellite office in Portland Oregon, FULL BLEED will tackle all aspects of the creative culture, and beyond – comics, music, film, tv, fine art, photography, design, politics and more.
FULL BLEED volume one contains an exclusive interview with Stephen King, a lost and unpublished interview with Alan Moore, a political with spot illustrations by Bob Fingerman, a new short story from Joe Lansdale with spot illustrations by Tim Truman, new comic content from Erin Nations, Kim Dwinell, Craig Yoe, Shannon Wheeler, and much, much, much more!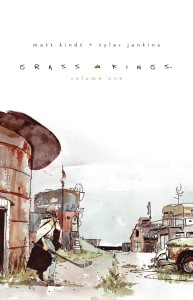 GRASS KINGS HC VOL 01

BOOM! STUDIOS
(W) Matt Kindt (A/CA) Tyler Jenkins
From The New York Times bestselling writer Matt Kindt (Mind MGMT) and Peter Panzerfaust artist Tyler Jenkins comes a rural mystery series chronicling the tragic lives of the Grass Kings, three brothers and rulers of a community living off the grid and outside of the law.
Eldest brother Robert has been a broken man since the disappearance of his daughter, but when a young woman swims across the great lake dividing the Grass Kingdom from the nearby city of Cargill in search of a safe haven, he must decide if getting a chance at atonement is worth risking the entire Kingdom.
Collecting the first six issues of the acclaimed series in a prestige hardcover edition.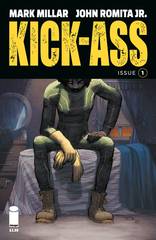 KICK-ASS #1
IMAGE COMICS
(W) Mark Millar (A/CA) John Romita
KICK-ASS IS BACK-ready to wipe out the city's criminal lowlives, destroy its gangs, and save its communities from decay. But there's a new face beneath the old mask, a new figure wearing that famous green and yellow spandex. Who is this new vigilante superhero? Who can fill Dave Lizewski's shoes? WHO IS THE NEW KICK-ASS? Find out in the first issue of this new, ongoing monthly series. Comic book legends MARK MILLAR and JOHN ROMITA, JR. reunite for the next chapter of the greatest superhero comic of all time.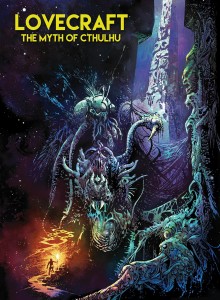 LOVECRAFT MYTH OF CTHULHU HC
IDW PUBLISHING
(W/A/CA) Esteban Maroto
Illustrated in haunting black and white over 30 years ago, these comics are re-presented in a new edition, adapting three of H.P. Lovecraft's most famous stories involving the Cthulhu Mythos.
"The Nameless City" is considered the first story of Lovecraft's Cthulhu Mythos, detailing the discovery of an ancient city in the deserts of the Arabian Peninsula built by an unnamed race of reptilian beings. In "The Festival," a man arrives at the sea town of Kingsport, Massachusetts during Christmas but finds a place eerily empty and centuries out of date. "The Call of Cthulhu" is perhaps Lovecraft's most famous story, describing a man who, after finding the notes of his granduncle, is lead on a journey around the world in search of a mysterious and disturbing phenomenon.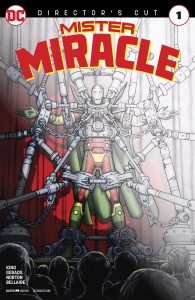 MISTER MIRACLE DIRECTORS CUT #1

DC COMICS
(W) Tom King (A) Mitch Gerads, Mike Norton (CA) Nick Derington
We crack open the vaults on MISTER MIRACLE #1 to show you this issue's original black-and-white artwork by Mitch Gerads and the script by Tom King, providing a peek into the creative process. Plus, King has written a brand-new eight-page story retelling Mister Miracle's origin, drawn by Mike Norton (MYSTIK U) and available here for the first time! MISTER MIRACLE #1 sold out fast, so you won't want to miss out on this special edition of one of the most talked-about debuts of the year!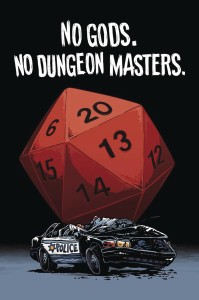 NO GODS NO DUNGEON MASTERS ONE SHOT
SILVER SPROCKET
(W) Rachel Dukes, Lo (A) Andy Warner (CA) Hannah Fisher
An analysis of multi-classing between anarchist and nerd identities, tag along for an adventurous peek into the world of one "un-elected bastard ambassador" for two cultures that rarely overlap. This comic gorgeously reflects how radical leftist values and geek predilections can inform one another, the struggle to feel comfortable in either community, and how sorcery is real and you can use it to fight cops.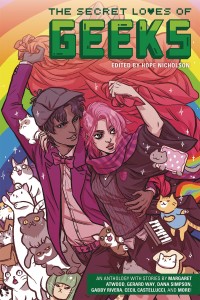 SECRET LOVES OF GEEKS TP
DARK HORSE COMICS
(W) Margaret Atwood & Various (A) Megan Kearney, Michael Walsh (CA) Becky Cloonan
The follow-up to the smash-hit The Secret Loves of Geek Girls, this brand new anthology features comic and prose stories from cartoonists and professional geeks about their most intimate, heartbreaking, and inspiring tales of love, sex, and dating. This volume includes creators of diverse genders, orientations, and cultural backgrounds.
Featuring work by Margaret Atwood (The Handmaid's Tale), Gerard Way (Umbrella Academy), Patrick Rothfuss (The Name of the Wind), Dana Simpson (Phoebe and Her Unicorn), Gabby Rivera (America), Hope Larson, (Batgirl), Cecil Castellucci (Soupy Leaves Home), Valentine De Landro (Bitch Planet), Marley Zarcone (Shade), Sfé
R. Monster (Beyond: A queer comics anthology), Amy Chu (Wonder Woman), cover art by Becky Cloonan (Demo), and more!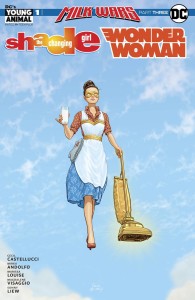 SHADE THE CHANGING GIRL WONDER WOMAN SPECIAL #1
DC COMICS
(W) Cecil Castellucci, Magdalene Visaggio (A) Mirka Andolfo, Sonny Liew (CA) Frank Quitely
"MILK WARS" part three! Shade has been split into multiple parts, each representing a different mood, all in service to the perfect and beautiful Wonder Wife. But Happy Shade is starting to sense that not all is right in Wonderland, and she finds something strange staring back at her on the other side of the looking glass! Plus, part three of the Eternity Girl backup story!
SIDEWAYS #1
DC COMICS
(W) Dan DiDio, Justin Jordan (A/CA) Kenneth Rocafort
During the events of DARK NIGHTS: METAL, high school junior Derek James accidentally fell through a rift into the dark matter dimension! Now, as Sideways, he can create rifts in midair to leap through dimensions at will! But with that much power comes great liability-and cracks are starting to form in the fabric of the space-time continuum…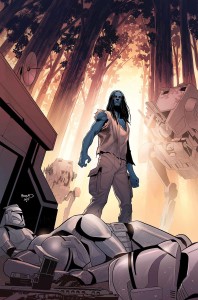 STAR WARS THRAWN #1 (OF 6)
MARVEL COMICS
(W) Jody Houser (A) Luke Ross (CA) Paul Renaud
One of the most cunning and ruthless warriors in the history of the Star Wars Universe, Grand Admiral Thrawn is back with a six-issue miniseries about how he became one of the most feared military tacticians in a galaxy far, far away. Written by Jody Houser (ROGUE ONE ADAPTATION) and drawn by Luke Ross (STAR WARS: DARTH MAUL, STAR WARS: THE FORCE AWAKENS ADAPTATION), follow the comic adaptation of Timothy Zahn's New York Times best-selling novel about Thrawn's rise in the Imperial ranks!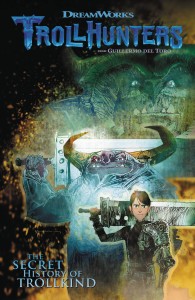 TROLLHUNTERS SECRET HISTORY OF TROLLKIND TP
DARK HORSE COMICS
(W) Richard A. Hamilton, Marc Guggenheim (A) Timothy Green (CA) Bill Sienkiewicz
From Guillermo del Toro and DreamWorks Animation comes a graphic novel with further adventures for teenage Jim Lake, Jr., and the trolls from Netflix's Emmy Award-winning original series, Trollhunters!
The secrets of the trolls and great troll warriors of the past are crucial tools for the new Trollhunter, and the time has come for Jim to appreciate the battles of Kanjigar the Courageous, who through his own struggles, triumphs, and failures lead the trolls after the Battle of Killahead Bridge through unknown territory, across oceans and continents, and past fearsome foes!  With his friends by his side, Jim continues the fight against the Gumm-Gumms and their allies!
-Co-written by Netflix Trollhunters series writer and Executive Producer, Mark Guggenheim and How to Train Your Dragon comics writer, Richard Hamilton!
-Based on Guillermo del Toro's Emmy Award-winning series!
NOW HERE'S THE FULL LIST!
If you want a full visual list of everything howabout you click on this link  (tho the Diamond  might not update til Monday or something)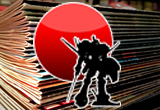 (the following list of comics reflects ALL the comics coming into BOTH locations. If there's something on this list that's NOT IN STOCK at your favorite BNW location DO NOT HESITATE  TO ASK FOR US TO ORDER IT FOR YOU!)
COMICS AND MAGAZINES
Action Comics #997
Amazing Spider-Man Annual #42
Amazing Spider-Man Renew Your Vows #16
Angelic #6
Animosity Evolution #4
Archie #28
Avengers #675 2nd Ptg
Avengers #680
Babyteeth #8
Barbarella #3
Batgirl And The Birds Of Prey #19
Ben Reilly Scarlet Spider #14
Black Monday Murders #8
Black Sable #4 (OF 6)
Bloodshot Salvation #6
Cable #154
Captain America #698
Catalyst Prime Accell Vol 2 #4
Chasing Hitler #3 (OF 4)
Cold War #1
Curse Words #11
Dark Fang #4
Dark Knights Rising The Wild Hunt #1
Deadman #4 (OF 6)
Death Of Love #1 (OF 5)
Despicable Deadpool #294
Detective Comics #974
Doctor Strange #385
Doctor Who 12th Year Three #12
Falcon #5
Flash #40
G Fan #118
Ghost Money #7 (OF 10)
GI Joe A Real American Hero #248
Goosebumps Monsters At Midnight #3 (OF 3)
Gotham City Garage #9
Grass Kings #12
Hal Jordan And The Green Lantern Corps #38
Ice Cream Man #1 2nd Ptg
Invader Zim #28
Invincible #144
Jack Kirby Collector #73
Jenny Finn #4 (OF 4)
Jim Henson Power Of Dark Crystal #11 (OF 12)
Judas #3 (OF 4)
Justice League Of America #24
Kick-Ass #1
Kill Or Be Killed #16
Lazarus X Plus 66 #6 (OF 6)
Mage Hero Denied #6 (OF 15)
Marvel Two-In-One #3
Minky Woodcock Girl Who Handcuffed Houdini #3
Mister Miracle Directors Cut #1
Ms Marvel #27
New Super Man & The Justice League Of China #20
Ninja-K #4
No Gods No Dungeon Masters One Shot
Old Man Hawkeye #2 (OF 12)
Old Man Logan #35
Paradiso #3
Planet Of The Apes Ursus #2
Port Of Earth #4
Punisher #221
Ragman #5 (OF 6)
Red Hood And The Outlaws #19
Robotech #7
Rockos Modern Life #3
Rumble #3
Scooby Apocalypse #22
Scooby Doo Where Are You #90
Shade The Changing Girl Wonder Woman Special #1
Sheena #6
Sideways #1
Skybourne #5
Sleepless #3
Slots #5
Spongebob Comics #77
Star Wars Darth Vader #11
Star Wars Poe Dameron #24
Star Wars Thrawn #1 (OF 6)
Stray Bullets Sunshine & Roses #32
Suicide Squad #35
Supergirl #18
Titans #20
Torchwood The Culling #4 (OF 4)
Twisted Romance #2 (OF 4)
Unbeatable Squirrel Girl #29
War Stories #26
Weapon X #14
Wildstorm Michael Cray #5
Wonder Woman #40
Xena #1 (OF 5)
X-Men Blue #21
X-Men Grand Design #1 (OF 2) 2nd Ptg
X-Men Grand Design #2 (OF 2) 2nd Ptg
Youngblood #9
TRADE PAPERBACKS, GRAPHIC NOVELS, HARDCOVERS AND MANGA
Batman The Dark Prince Charming Hc Book 01 2nd Ptg
DC Meets Looney Tunes Tp
Full Bleed Comics & Culture Quarterly Hc Vol 01
Giant Spider & Me Post Apocalyptic Tale Gn Vol 01
Grass Kings Hc Vol 01
Jimmys Bastards Tp Vol 01
Lovecraft Myth Of Cthulhu Hc
Lumberjanes Tp Vol 08
Plants Vs Zombies Greatest Show Unearthed Hc
Secret Loves Of Geeks Tp
Star Wars Adventures Tp Vol 02
Sword Art Online Progressive Gn Vol 06
Titans Tp Vol 03 A Judas Among Us Rebirth
Transformers Lost Light Tp Vol 02
Trollhunters Secret History Of Trollkind Tp