As you prepare to watch (or ignore) Super Bowl LII take a second to check out what's up with BNW this week! #SPOILER we've got a signing in Fishtown with Box Brown on Wednesday!
Happy Day after Groundhog Day, Phil…you finally made it out!

Oh gross…we also got six more weeks of winter…
Now On To Business!
If sifting through the internet seems like a bit too much of a task and you'd like us to beam this right to your phone (or home Cerebro-like computer system) try signing up for our handy weekly email newsletter!
---
THE WILLOW GROVE FNM SCHEDULE!
THIS WEDNESDAY! SIGNING! BOX BROWN!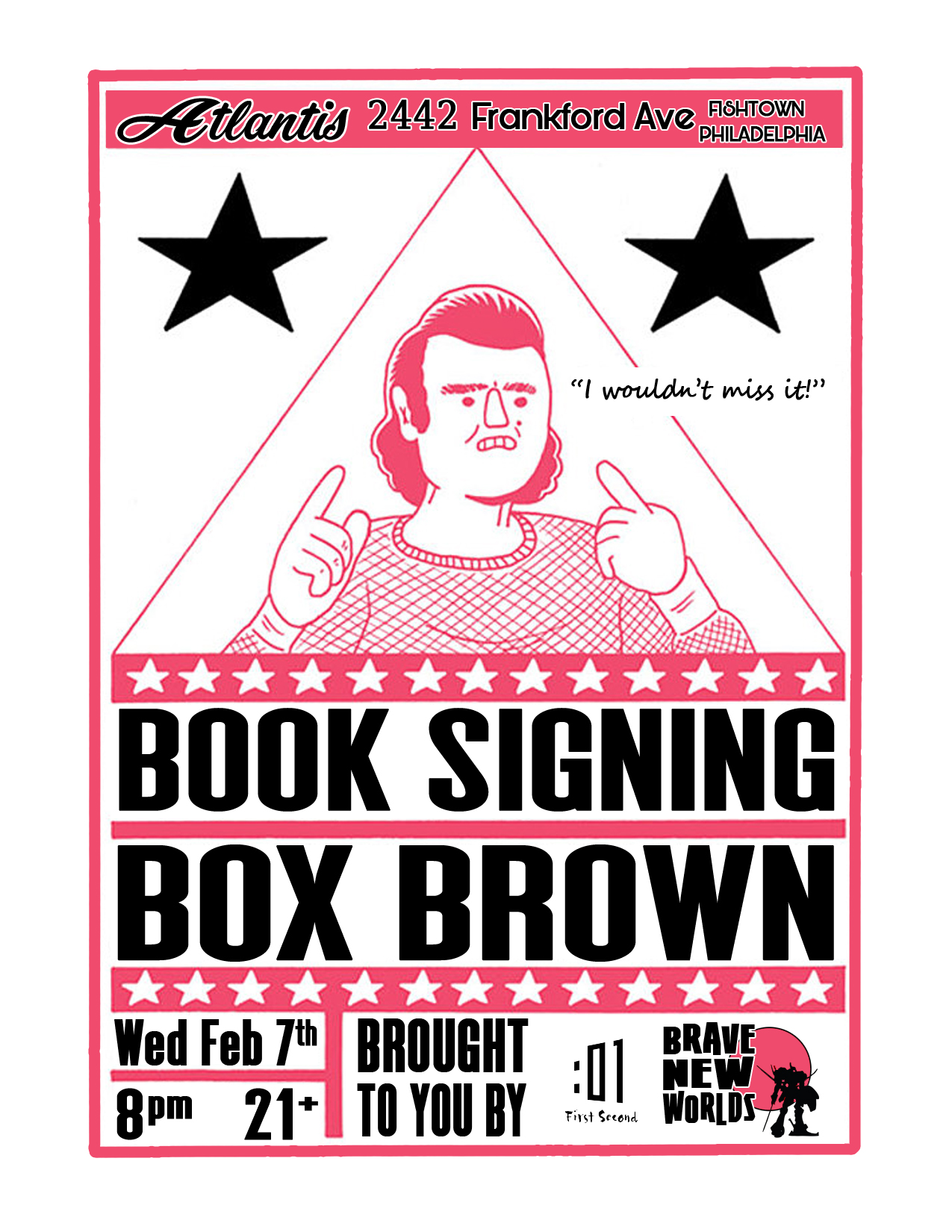 BE THERE! (If you're 21+)
Box Brown's pretty dang great graphic novel about comedy/wrestler/weirdo Andy Kafman is out from First Second books! 'Is This Guy For Real' cames out on February 2 and we're going to be hosting a book release/signing event for it that kicks off his Box's book tour!
We'll be hanging out up in Fishtown at Atlantis the Lost Bar at 2442 Frankford Ave. Don't worry we'll be selling copies of his book (while he signs em!), tossing back some brewskies and listening to the tunes provided by the Wednesday night DJ! Can't be that! COME JOIN THE PARTY!

There's a Facebook event for this OVER HERE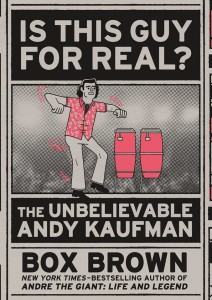 IS THIS GUY FOR REAL GN
:01 FIRST SECOND
(W/A/CA) Box Brown
Comedian and performer Andy Kaufman's resume was impressive – a popular role on the beloved sitcom Taxi, a high-profile stand-up career, and a surprisingly successful stint in professional wrestling. Although he was by all accounts a sensitive and thoughtful person, he's ironically best remembered for his various contemptible personas, which were so committed and so convincing that all but his closest family and friends were completely taken in. Why would someone so gentle-natured and sensitive build an entire career seeking the hatred of his audience? What drives a performer to solicit that reaction? Graphic novelist Box Brown takes on the complex and often hilarious life of Andy Kaufman.
SEE YOU WEDNESDAY!
---
I KILL GIANTS Is Gonna Be A Movie!
Many years ago when Old City did a book discussion club we read 'I Kill Giants' and it basically made everyone cry because it's sooooo good and sooooo sad. You really should read this book before the movie drops!
Here's the trailer!

DID YOU READ THIS ONE?!
(When was the last time I attempted one of these?!)
So you may have been asked to read Beowulf in school. Maybe you've even read the John Gardner twist in which we see the story from through the eyes of Grendel. Or, heck, there's a chance you've seen the Animated CGI movie that Neil Gaiman wrote the screenplay for way back in 2007. I guess I'm just gonna assume you're mildly familiar with the story of Beowulf…it is one of the oldest ones we've got (I see you over there Gilgamesh just hanging with Enkidu).
For this installment of me babbling about a comic I've recently read, I was drawn to this most recent comic version of the tale. It mainly boils down to the fact that David Rubin was on art chores. If you've read Ether (from Image), Black Hammer and/or it's spin-off Sherlock Frankenstein & the Legion of Evil (both of those are from Dark Horse) or most recently the relaunch of Rumble (Image again) you've been exposed to his stuff.
I'm a fan of his…and of Beowulf.
So when I saw preview art like this…
…I knew I HAD TO read it! The book has been out for a year now and I recently (finally) got around to cracking it open. Shucks howdy did it not disappoint. As a fan of the source story this is a pretty awesome and readable adaptation. Violence. Machismo. Monsters. More violence. Danes. Weird monster nudity. Sad old guys drinking and talking about the past. A dragon. It's got it all!
It's all packaged in a beautifully put together hardcover from Image. Heck the book is worth it for the art alone. The designs of Grendel et all are fantastic. There's detail to get lost in and moody colors all over! Definitely crack open some mead (or whatever your beverage of choice may be) and blast Sigur Ros' Kveikur album while reading this and really experience why Beowulf is a story for the ages!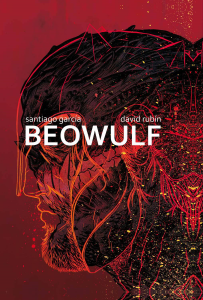 BEOWULF HC (MR)
IMAGE COMICS
(W) Santiago García (A/CA) David Rubin
    SANTIAGO GARCÍA and DAVID RUBÍN unite to bring forward the myth of Beowulf, which has endured for a thousand years and inspired an epic poem of the same name, become a foundational piece of English literature, and inspired generations of authors, from Tolkien to Hollywood screenwriters.
BEOWULF tells of the tale of a Scandinavian hero in lands that would become what is now Denmark and Sweden: A monster, Grendel, has arrived in the kingdom of the Danes, devouring its men and women for 12 years until Beowulf arrives to save them.
GARCÍA and RUBÍN faithfully follow the original story for a new version that is neither revisionist nor postmodern, but captures the tone and important details of the poem, translating its potent, epic resonance and melancholy into a contemporary comic that isn't standard swords and sorcery or heroic fantasy fare, but rather an ancient story with a modern perspective that remains respectful of the source material.
Now translated into English.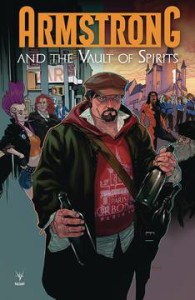 ARMSTRONG & THE VAULT OF SPIRITS #1 (ONE SHOT)
VALIANT ENTERTAINMENT LLC
(W) Fred Van Lente (A) CAFU (CA) Kalman Andrasofszky
What secrets await inside the Vault of Spirits?
Deep beneath New York City's seediest dive bar, Armstrong – the hard-hitting, harder-partying immortal veteran of history's greatest escapades – is hosting an invitation-only affair for his most beloved friends and allies! Archer… Ivar, Timewalker… Faith… Quantum and Woody… And special guests from across the Valiant Universe… All have been offered a seat at the table for a personally guided tour of Armstrong's most valuable and tightly guarded treasure… From the Great Flood to ancient Greece to the height of the Crusades, raise a glass as Armstrong recounts the true stories of his wine-soaked path down through the ages and the artifacts that reside within his own secret archive!
ARCHER & ARMSTRONG maestro Fred Van Lente returns with rising star CAFU (RAPTURE) to chronicle the first landmark solo adventure in the very (very, very) long life and times of Valiant's very own disorderly immortal!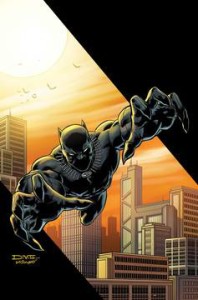 BLACK PANTHER SOUND AND FURY #1

MARVEL COMICS
(W) Ralph Macchio (A/CA) Andrea DiVito
PANTHER VS. KLAW!
The fantastic technology of Wakanda comes to Dubai! But when the villainous KLAW launches a plot to extort billions from the citizens of the city, T'CHALLA's diplomatic mission becomes a search and rescue for the BLACK PANTHER! Written and illustrated by industry legends Ralph Macchio and Andrea Di Vito, THE SOUND AND THE FURY puts the Black Panther on a mission that will test his prowess against his long-standing nemesis, as well as three new villains – BLOKK, GARROTTE, and SHEN-YU!
Featuring a special presentation of FANTASTIC FOUR #53, featuring the earliest conflict between T'Challa and Klaw, and the introduction of VIBRANIUM!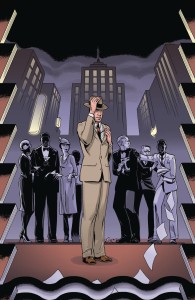 INCOGNEGRO RENAISSANCE #1
DARK HORSE COMICS
(W) Mat Johnson (A/CA) Warren Pleece
After a black writer is found dead at a scandalous interracial party in 1920s New York, Harlem's cub reporter Zane Pinchback is the only one determined to solve the murder. Zane must go "incognegro" for the first time-using his light appearance to pass as a white man-to find the true killer, in this prequel miniseries to the critically acclaimed Vertigo graphic novel, now available in a special new 10th Anniversary Edition. With a cryptic manuscript as his only clue, and a mysterious and beautiful woman as the murder's only witness, Zane finds himself on the hunt through the dark and dangerous streets of "roaring twenties" Harlem in search for justice.  A page-turning thriller of racial divide, Incognegro: Renaissance explores segregation, secrets, and self-image as our race-bending protagonist penetrates a world where he feels stranger than ever before.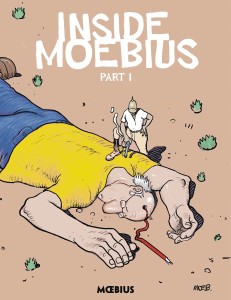 MOEBIUS LIBRARY INSIDE MOEBIUS HC VOL 01
DARK HORSE COMICS
(W/A/CA) Moebius
Working closely with Moebius Production in France, Dark Horse presents Inside Moebius Part 1, the next volume in the Moebius Library. As he explores  a beautiful, expansive desert that represents his mind, Moebius draws himself encountering his favorite characters-creations like Blueberry, Arzak, and Major Grubert-and also meets a younger version of himself! A six-part study, Inside Moebius Part 1 collects the first two chapters in this fantastic exploration of a creator meeting his own creations to discuss his artistic process and the real world issues that encroach into his thoughts.
-Moebius's final long-form work-now available in English!
-The next volume in Dark Horse's Moebius Library series!
"Moebius excelled as much in fluidity of his storytelling as he did in the brilliance of his linework." -Frank Quietly
MOTHER PANIC BATMAN SPECIAL #1
DC COMICS
(W) Jody Houser, Magdalene Visaggio (A) Ty Templeton, Sonny Liew (CA) Frank Quitely
"MILK WARS" part two! Mother Panic has discovered a Gotham City transformed. What happened to her family and friends? And who moved into Gather House, the religious school that scarred Mother Panic as a young girl? It's Father Bruce, the orphan millionaire who decided to give back to society by filling the deep demand for sidekicks. So many Robins in need of a nest! Plus, part two of the Eternity Girl backup story!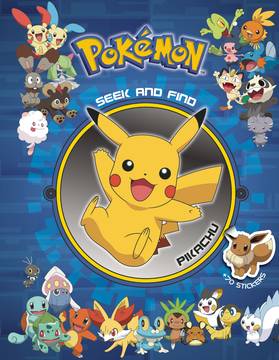 POKEMON SEEK & FIND HC PIKACHU
VIZ MEDIA LLC
Find your favorite Pokémon in these first of five full-color activity books! Pick your adventure: will you search for the special Pokémon of Kanto? Or will you seek fan favorite Pikachu? Each volume of the Pokémon Seek and Find series includes tons of Pokémon-packed seek-and-find illustrations as well as fun facts or creative quizzes about the Pokémon you find.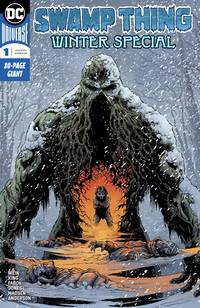 SWAMP THING WINTER SPECIAL #1
DC COMICS
(W) Tom King, Len Wein (A) Jason Fabok, Kelley Jones (CA) Jason Fabok
Tom King and Jason Fabok pay tribute to the legendary creators of Swamp Thing, writer Len Wein and artist Bernie Wrightson, as they join forces for an earth-shattering Swamp Thing passion project!
In this new, squarebound one-shot, Swamp Thing is out of his element as he shepherds a lost boy through a blinding blizzard and other hazards of a strange, frozen tundra. In this touching and harrowing tale of survival, the pair must navigate countless threats throughout a bewildering terrain-with a bloodthirsty snow monster hot on their heels. But how long can they rely on each other? Separated from the Green and stripped of his powers in this dead world, Swamp Thing struggles to fight for their lives and deliver the boy to safety. Disoriented and decaying, Swamp Thing's fading understanding of his surroundings forces the duo to confront their desperation and uncover the true identity of the snow monster that hunts them.
In addition, this special features the final Swamp Thing story from the monster's co-creator, Len Wein. Originally intended as the start of a new series, it is presented here both in its original script form and with art by Kelley Jones.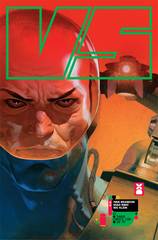 VS #1

IMAGE COMICS
(W) Ivan Brandon (A/CA) Esad Ribic
War has become a spectator sport. Privately funded armies of superstar soldiers march into battle for fame, profit, and the glory of their sponsor nations.
When a new generation of soldiers arrive, top gladiator Satta Flynn is about to discover how fleeting the limelight can be.
From writer IVAN BRANDON (BLACK CLOUD, DRIFTER) and superstar artist ESAD RIBIC (Secret Wars, Uncanny X-Force) in his creator-owned Image debut, with painted color by NIC KLEIN (DRIFTER, VIKING) and graphic design by TOM MULLER, VS delivers spectacular action, darkly humorous satire, and explores our hunger for fame and our penchant for self-destruction.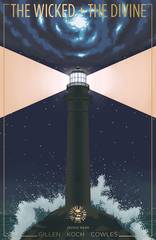 WICKED & DIVINE 1923 CVR A MCKELVIE & WILSON (ONE-SHOT)
IMAGE COMICS
(W) Kieron Gillen (A) Aud Koch (CA) Jamie McKelvie
Basically, a bunch of 1920s gods based on major modernist figures stuck in the middle of an Agatha Christie murder mystery, done in a comics-prose hybrid that's clearly trying to start a fight with JONATHAN HICKMAN. (Yeah, you heard, Jon. Come at us, bro.) It's high art versus lo art, with the most beautiful AUD KOCH artwork the world has ever seen. We're so excited, we may have to have a lie down.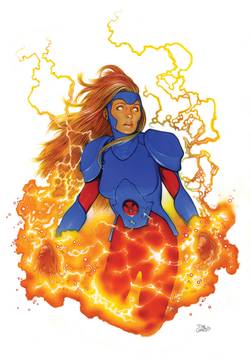 X-MEN RED #1

MARVEL COMICS
(W) Tom Taylor (A) Mahmud A. Asrar (CA) Travis Charest
The Hate Machine Part 1
THE FIRST SENSATIONAL ARC OF AN ALL-NEW TEAM OF X-MEN STARTS HERE!
JEAN GREY is back! Returned to a world she doesn't recognize, the First Lady of the X-MEN gathers an unlikely team – NIGHTCRAWLER, NAMOR and LAURA KINNEY (A.K.A. ALL-NEW WOLVERINE) – to face an evil that threatens to tear down XAVIER's dream by any means necessary!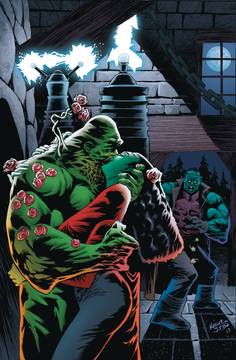 YOUNG MONSTERS IN LOVE #1
DC COMICS
(W) Paul Dini & Various (A) Guillem March & Various (CA) Kelley Jones
It's hard being a monster… and even harder being a monster in love. Sparks will fly and hearts will be broken when the ghouls and ghosts of the DC Universe assemble to bring you the Valentine's Day Special that no one saw coming!
NOW HERE'S THE FULL LIST!
If you want a full visual list of everything howabout you click on this link  (tho the Diamond  might not update til Monday or something)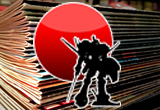 (the following list of comics reflects ALL the comics coming into BOTH locations. If there's something on this list that's NOT IN STOCK at your favorite BNW location DO NOT HESITATE  TO ASK FOR US TO ORDER IT FOR YOU!)
COMICS AND MAGAZINES
30 Days Of Night #3 (OF 6)
Adventure Time #73
Amazing Spider-Man #793 2nd Ptg
Amazing Spider-Man #795
Armstrong & The Vault Of Spirits #1
Avengers #679
Back To The Future Time Train #2
Bane Conquest #9 (OF 12)
Batman #38 2nd Ptg
Batman #40
Batman White Knight #5 (OF 8)
Batman Who Laughs #1 3rd Ptg
Black Bolt #10
Black Lightning Cold Dead Hands #4 (OF 6)
Black Panther Sound And Fury #1
Bombshells United #11
Captain America #697 2nd Ptg
Catalyst Prime Noble #9
Coyotes #4
Daredevil #596 2nd Ptg
Daredevil #598
Dastardly And Muttley #6 (OF 6)
Deathstroke #28
Dejah Thoris #1
Doctor Strange #383 2nd Ptg
Exit Stage Left The Snagglepuss Chronicles #2 (OF 6)
Extremity #11
Game Of Thrones Clash Of Kings #8
Ghostbusters Answer The Call #3
Giant Days #35
Gravediggers Union #4
Greatest Adventure #9 (OF 9)
Green Arrow #37
Green Lanterns #40
Half Past Danger II Dead To Reichs #5 (OF 5)
Halo Rise Of Atriox #5 (OF 5)
Harley & Ivy Meet Betty & Veronica #5 (OF 6)
Harley Quinn #37
Haunted Horror #32
Hawkeye #15
I Hate Fairyland #16
Iceman #10
Incognegro Renaissance #1
Infinity Countdown Adam Warlock #1
Injustice 2 #19
Iron Fist #77
Jetsons #4 (OF 6)
Justice League #38
Kingsman Red Diamond #6 (OF 6)
Koshchei The Deathless #2 (OF 6)
Mech Cadet Yu #6
Mister Miracle #1 (OF 12) 4th Ptg
Mister Miracle #2 (OF 12) 3rd Ptg
Mister Miracle #3 (OF 12) 2nd Ptg
Mister Miracle #4 (OF 12) 2nd Ptg
Monstro Mechanica #3
Mother Panic Batman Special #1
Nightwing #38
No 1 With A Bullet #4
Paper Girls #20
Peter Parker Spectacular Spider-Man #298 2nd Ptg
Punisher #219 2nd Ptg
Quarrys War #3
Rasputin Voice Of Dragon #4 (OF 5)
Rise Of Black Panther #2 (OF 6)
Rock Candy Mountain #8 (OF 8)
Rogue & Gambit #2 (OF 5)
Rose #8
Runaways #6
Savage Dragon #231
Scales & Scoundrels #6
Scarletts Strike Force #2
Shadow Batman #5 (OF 6)
She-Hulk #162
Snotgirl #9
Songs For The Dead #1 (OF 4)
Spider-Man #237
Spider-Man Deadpool #27
Spirits Of Vengeance #5 (OF 5)
Star Wars #43
Superman #40
Swamp Thing Winter Special #1
Thanos #14 2nd Ptg
TMNT Universe #19
Transformers Lost Light #14
Transformers Vs Visionaries #2 (OF 5)
Twisted Romance #1 (OF 4)
Venom #161
Vs #1
Walking Dead #176
Wicked & Divine 1923
Witchblade #3
Wonderful World Of Tank Girl #3
X-Men Gold #21
X-Men Red #1
Young Monsters In Love #1
TRADE PAPERBACKS, GRAPHIC NOVELS, HARDCOVERS AND MANGA
Action Presidents Hc Book 01 George Washington
Action Presidents Hc Book 02 Abraham Lincoln
Cave Carson Has A Cybernetic Eye Tp Vol 02
Incognegro A Graphic Mystery Hc
Killing & Dying Gn Tomine
Moebius Library Inside Moebius Hc Vol 01
Pokemon Seek & Find Hc Pikachu
Robotech Tp Vol 01
Scales & Scoundrels Tp Vol 01 Into The Dragons Maw
Scooby Apocalypse Tp Vol 03
Star Wars Doctor Aphra Tp Vol 02 Doctor Aphra Enormous Profit
TOYS
DRAGONBALL SUPER DRAGON STARS AF ASST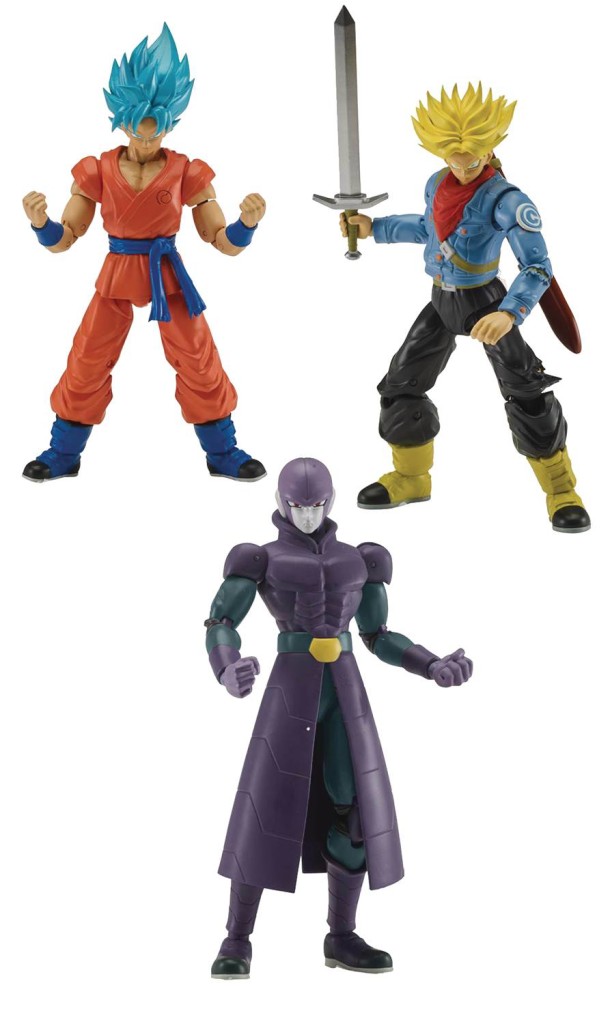 ODDS AND ENDS
Star Trek Starships Fig Mag #114 Uss Baram Challenger Class
Star Trek Starships Fig Mag #115 Tellarite Ship
Star Trek Starships Special #18 USS Enterprise XCV-330