Take a second to stop stressing yourself out about the Eagles game on Sunday and take a look at what's going on over here at Brave New Worlds! Here's what'll be out on Wednesday January 24th!
If sifting through the internet seems like a bit too much of a task and you'd like us to beam this right to your phone (or home Cerebro-like computer system) try signing up for our handy weekly email newsletter!
---
FRIDAY NIGHT MAGIC SCHEDULE INFO!
SIGNING WITH BOX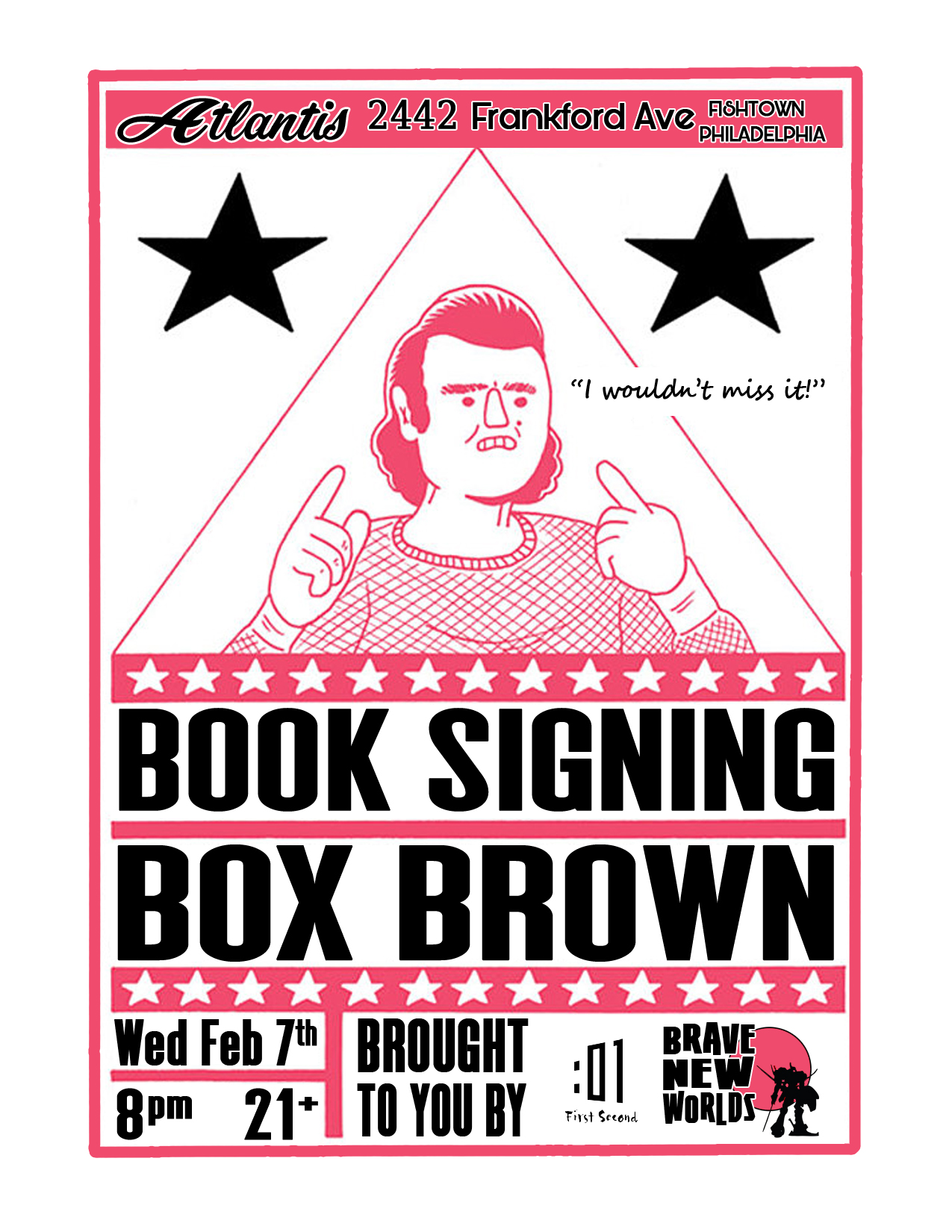 BOX BROWN! NEW BOOK! SIGNING!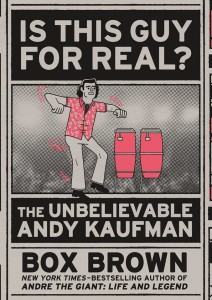 IS THIS GUY FOR REAL GN
:01 FIRST SECOND
(W/A/CA) Box Brown
Comedian and performer Andy Kaufman's resume was impressive – a popular role on the beloved sitcom Taxi, a high-profile stand-up career, and a surprisingly successful stint in professional wrestling. Although he was by all accounts a sensitive and thoughtful person, he's ironically best remembered for his various contemptible personas, which were so committed and so convincing that all but his closest family and friends were completely taken in. Why would someone so gentle-natured and sensitive build an entire career seeking the hatred of his audience? What drives a performer to solicit that reaction? Graphic novelist Box Brown takes on the complex and often hilarious life of Andy Kaufman.
Mark your calendars now!
Box Brown's latest graphic novel from First Second books 'Is This Guy For Real' comes out on February 7, 2018 and we're going to be hosting a book release event for it! We'll be hanging out with Box at Atlantis the Lost Bar at 2442 Frankford Ave in Fishtown and selling copies of his book (while he signs em!) and tossing back some brewskies and listening to the tunes provided by the Wednesday night DJ! Can't be that!

There's a Facebook event for this OVER HERE
---
NEW STUFF ON OUR INSTAGRAM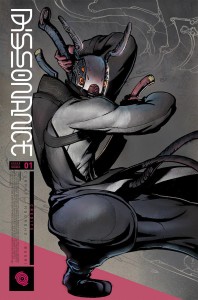 DISSONANCE #1

IMAGE COMICS
(W) Singgih Nugroho, Ryan Cady (A) Sami Basri (CA) Varsam Kurnia
In an alternate world where Earth is populated with powerful human-spirit hybrids called Fantasmen, Folke and Roisia Herviett, two siblings with opposing worldviews, are challenged to prove their worth and take up their parents' positions in a devious group who secretly run the world. Meanwhile, Seraphim, a Fantasmen warrior guard, is sent to prevent a catastrophic event from affecting the Earth and its own universe.
From designer MELITA CURPHY, writer SINGGIH NUGROHO, and featuring the art of SAMI BASRI (Power Girl, WITCHBLADE), comes a fantasy drama set in a sci-fi world unlike any other.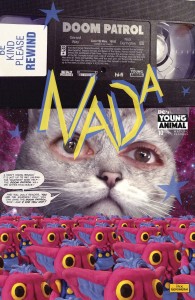 DOOM PATROL #10

DC COMICS
(W) Gerard Way (A/CA) Nick Derington
The world is going haywire, and it's up to the Doom Patrol to save it from going to S#!%. Weird things continue to happen that only the Chief can (attempt to) explain. Plus, tap dancing, and secret origins revealed!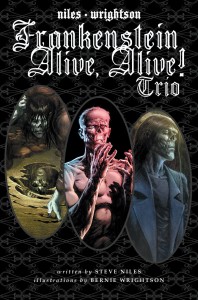 FRANKENSTEIN ALIVE TRIO
IDW PUBLISHING
(W) Steve Niles (A/CA) Bernie Wrightson
Collecting issues 1, 2, and 3 of the acclaimed Frankenstein series by Niles and Wrightson in a bargain-priced format! A grand treat of Victorian horror featuring the further adventures of Mary Wollstonecraft Shelly's classic monster, as ghoulishly illustrated by Bernie Wrightson, the true master of the macabre!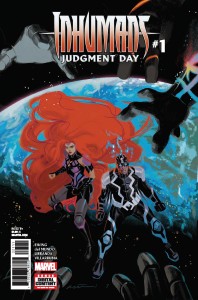 INHUMANS JUDGMENT DAY #1
MARVEL COMICS
(W) Al Ewing (A) Michael Del Mundo (CA) Daniel Acuna
THE INUMANS FACE THE WRATH OF THEIR CREATORS!
The Royal Family has spent months tracking down Primagen, the element that birthed Terrigen and could save the Inhuman race from its slow extinction. But to get it, they confronted the Progenitors – beings older than the Earth itself. They stole fire from the gods. And the gods are angry. The fate of planet Earth once again sits in Black Bolt and Medusa's hands. The Progenitors are here to end their experiment once and for all – and our world with it. Who will be able to stand…on Judgment Day?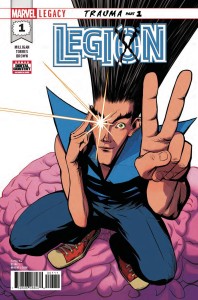 LEGION #1 (OF 5)

MARVEL COMICS
(W) Peter Milligan (A) Wilfredo Torres (CA) Javier Rodriguez
Trauma Part 1
A mind-bending X-Men tale from the brains of Peter Milligan (X-Statix, Shade the Changing Man) and Wilfredo Torres (Moon Knight, Black Panther)! David Haller, the son of Professor Charles Xavier, has always had trouble containing the multiple personalities in his mind. And with each personality, comes a wild and dangerous mutant power. But now, a terrifying new personality is threatening to absorb these powers and take  over David's mind and body.  In a desperate attempt to save himself, David seeks out the help of renowned young psychotherapist Hannah Jones to delve into his fractured mind and fight back this dark personality. But unknown to Legion….Dr Jones brings her own demons with her…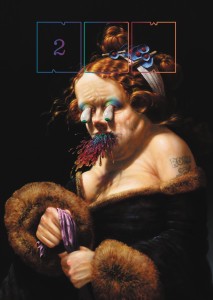 NOW #2
FANTAGRAPHICS BOOKS
The second issue of Now showcases a cover by painter Christian Rex Van Minnen, as well as 120 pages of all new short fiction by a host of established and upcoming comics talent from around the world, including: South American cartoonists Ariel Lopez V. and Fabio Zimbres; Spanish cartoonist Conxita Herrero; acclaimed cartoonist and filmmaker Dash Shaw; Canadian artist and musician Nick Thorburn (of the bands Unicorns and Islands); Finnish cartoonist Tommi Musturi; plus new work by Sammy Harkham (Crickets), Joshua Cotter (Skyscrapers of the Midwest, Nod Away), Graham Chaffee (Good Dog, To Have and To Hold), Anuj Strestha, Andrice Arp, Joseph Remnant, and other surprises!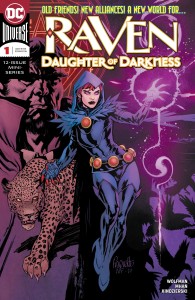 RAVEN DAUGHTER OF DARKNESS #1 (OF 12)
DC COMICS
(W) Marv Wolfman (A) Pop Mhan (CA) Yanick Paquette
In this all-new miniseries, Raven faces a new, otherworldly menace that is all too grounded in reality. Plus, Raven's personal life is in an uproar as her mother and aunt struggle for the soul of a Titan! It's up to Baron Winters of the Night Force to intercede on her behalf as she embarks on the adventure called "The Girls With the Anime Eyes"!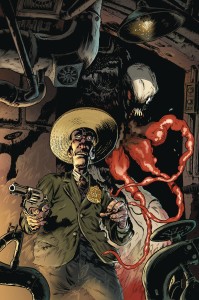 VINEGAR TEETH #1 (OF 4)
DARK HORSE COMICS
(W) Damon Gentry (A/CA) Troy Nixey
As a human being, Artie Buckle is a grade-A schmuck. But he's a pretty damn fine cop. Good thing, because Brick City is under siege from its citizenry and only an unlikely partnership with a mysterious, tentacled, extra-dimensional being can put an end to the escalating crime problem. Thing is, there's a danger far greater than cub scouts robbing banks . . . oh my! Across space and time lies a far greater threat, not only to Brick City but to the world! Holy crap! Can the two get past their differences and save the planet? Well, of course they can, but getting there is gonna be a helluva fun ride.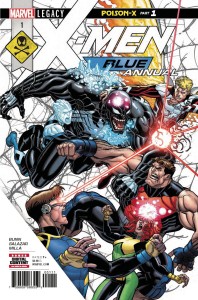 X-MEN BLUE ANNUAL #1

MARVEL COMICS
(W) Cullen Bunn (A) Edgar Salazar (CA) Nick Bradshaw
THE CROSSOVER BETWEEN VENOM AND X-MEN BLUE STARTS HERE!
Spinning out of the events of Venomverse, the Children of the Atom and the Lethal Protector team up to take down an extradimensional threat! This is it, folks, the team-up you've been asking for: X-MEN BLUE and VENOM must band together in the cold reaches of space to protect our universe from a threat more diabolical than you can imagine. But will EDDIE BROCK, his faithful SYMBIOTE, MARVEL GIRL, CYCLOPS, ICEMAN, BEAST and ANGEL be enough to save this universe? I really, really hope so.
NOW HERE'S THE FULL LIST!
If you want a full visual list of everything howabout you click on this hyperlink  (tho the Diamond  might not update til Monday or something)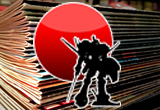 (the following list of comics reflects ALL the comics coming into BOTH locations. If there's something on this list that's NOT IN STOCK at your favorite BNW location DO NOT HESITATE  TO ASK FOR US TO ORDER IT FOR YOU!)
COMICS AND MAGAZINES
30 Days Of Night #2 (OF 6)
Abbott #1
Action Comics #996
Agent 47 Birth Of Hitman #3
Amazing Spider-Man #794
Avengers #677
Backways #2
Batgirl #19
Batman Beyond #16
Batman Lost #1 2nd Ptg
Batman The Dawnbreaker #1 3rd Ptg
Batman The Drowned #1 3rd Ptg
Batman The Merciless #1 3rd Ptg
Batman The Murder Machine #1 3rd Ptg
Batman The Red Death #1 4th Ptg
Bettie Page #7
Betty And Veronica Vixens #3
Black Cloud #7
Black Magick #10
Black Panther #169
Black Science #34
Blue Beetle #17
Catalyst Prime Incidentals #5
Comic Book History Of Comics Comics For All #2
Demon Hell Is Earth #3 (OF 6)
Dept H #22
Detective Comics #973
Dissonance #1
Doom Patrol #10
Doomsday Clock #3 (OF 12)
Draw #34
Ducktales #5
Empowered & Sistah Spookys High School Hell #2
Flash #39
Frankenstein Alive Trio
Gasolina #5
Gears Of War Rise Of Raam #1
Go Go Power Rangers #6
Gotham City Garage #8
Hal Jordan And The Green Lantern Corps #37
Hellblazer #18
Imaginary Fiends #3 (OF 6)
Inhumans Judgment Day #1 (OF 1)
Judge Dredd Blessed Earth #8
Jughead The Hunger #3
Justice League Of America #23
Kid Lobotomy #4
Legion #1 (OF 5)
Looney Tunes #241
Luke Cage #169
Lumberjanes #46
Maestros #3 2nd Ptg
Maestros #4
Manifest Destiny #33
Marvel Two-In-One #2
Marvels Avengers Infinity War Prelude #1 (OF 2)
Monstress #13
Moonstruck #5
Nightwing The New Order #6 (OF 6)
Ninja-K #3
Now #2
Phoenix Resurrection Return Jean Grey #4 (OF 5)
Postal #25
Raven Daughter Of Darkness #1 (OF 12)
Redneck #9
Regression #6
Ringside #14
ROM & The Micronauts #2 (OF 5)
Ruff & Reddy Show #4 (OF 6)
Scooby Doo Team Up #34
Sex Criminals #21
Sex Criminals #21 Xxx Kris Anka
Shadow #6
Sherlock Frankenstein & Legion Of Evil #4 (OF 4)
Sink #4 (OF 5)
Southern Bastards #19
Star Trek Discovery #2
Star Wars Adv Forces Of Destiny Ahsoka & Padme
Star Wars Poe Dameron #23
Steven Universe Ongoing #12
Suicide Squad #34
Teen Titans #12 2nd Ptg
Teen Titans #16
Thanos #15
The Forevers #5
Transformers Lost Light #13
Vinegar Teeth #1 (OF 4)
Wild Storm #11
Wonder Woman #39
X-Men Blue #20
X-Men Blue Annual #1
X-O Manowar (2017) #11
Zodiac Starforce Cries Of Fire Prince #3
TRADE PAPERBACKS, GRAPHIC NOVELS, HARDCOVERS AND MANGA
Big Hard Sex Criminals Hc Vol 02
Hellblazer Tp Vol 18 The Gift
Immortal Iron Fists Mpgn Tp
Only End Of The World Again Hc
Predator Hunters Tp
Punisher Tp Vol 03 King Of New York Streets
Renato Jones Tp Season 02
Spy Seal Tp Vol 01 Corten-Steel Phoenix
Transformers Optimus Prime Tp Vol 02
Wolverine Old Man Logan Tp Vol 06 Days Of Anger
---
 DON'T SEE WHAT YOU WANT ON OUR SHELVES?!
 Just because you've come into the shop and find that there's an empty spot on theshelf where the book you wanted should be does not mean you're out of luck. Fret not! Sold Out in our stores surely does not mean what you crave is beyond your grasp! Feel free to ask whomever is behind the counter to see if your desired item is still available and if it is we'll gladly get it for you!

We do multiple re-orders weekly (restocking and leveling inventory between both BNW locations as well placing orders directly from Diamond) to be sure we can get you scratch that special itch!
Pre-ordering books is also a great way to help let us know what you want! It helps us gauge what people looking forward to and it helps the creators out too!