If sifting through the internet seems like a bit too much of a task and you'd like us to beam this right to your phone (or home Cerebro-like computer system) try signing up for our handy weekly email newsletter!
---
FRIDAY NIGHT MAGIC SCHEDULE INFO!

There's another new set of Magic right around the corner and our Willow Grove location will once again be hosting a weekend of pre-release events! So get ready to join us for the Rivals of Ixalan Prerelease! INFO HERE
---
FEBRUARY!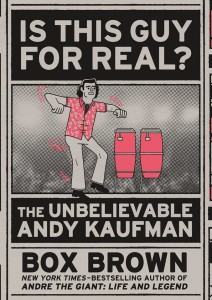 IS THIS GUY FOR REAL GN
:01 FIRST SECOND
(W/A/CA) Box Brown
Comedian and performer Andy Kaufman's resume was impressive – a popular role on the beloved sitcom Taxi, a high-profile stand-up career, and a surprisingly successful stint in professional wrestling. Although he was by all accounts a sensitive and thoughtful person, he's ironically best remembered for his various contemptible personas, which were so committed and so convincing that all but his closest family and friends were completely taken in. Why would someone so gentle-natured and sensitive build an entire career seeking the hatred of his audience? What drives a performer to solicit that reaction? Graphic novelist Box Brown takes on the complex and often hilarious life of Andy Kaufman.
Mark your calendars now!
Box Brown's latest graphic novel from First Second books 'Is This Guy For Real' comes out on February 7, 2018 and we're going to be hosting a book release event for it! We'll be hanging out with Box at Atlantis the Lost Bar at 2442 Frankford Ave in Fishtown and selling copies of his book (while he signs em!) and tossing back some brewskies and listening to the tunes provided by the Wednesday night DJ! Can't be that!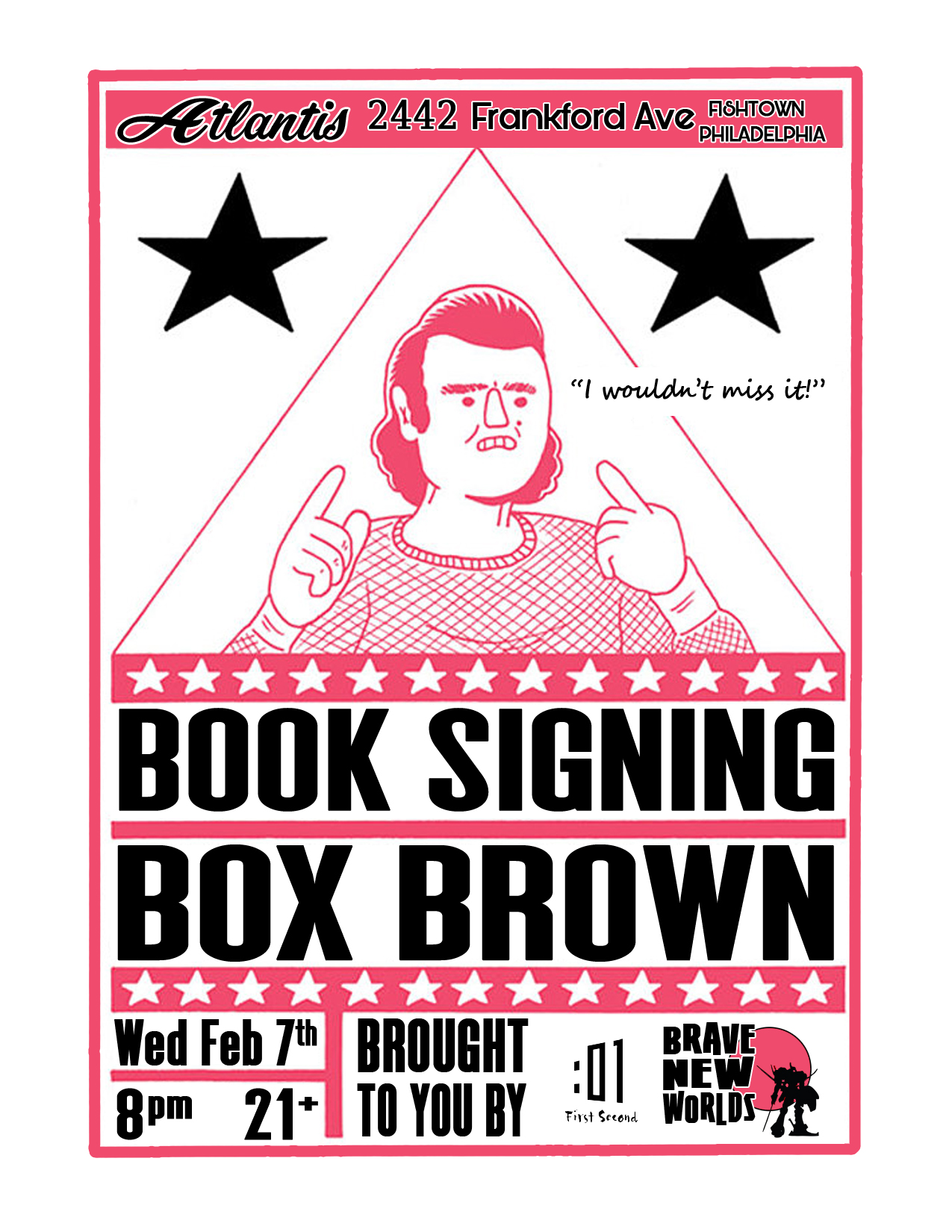 There's a Facebook event for this OVER HERE
AWW JEEZ RICK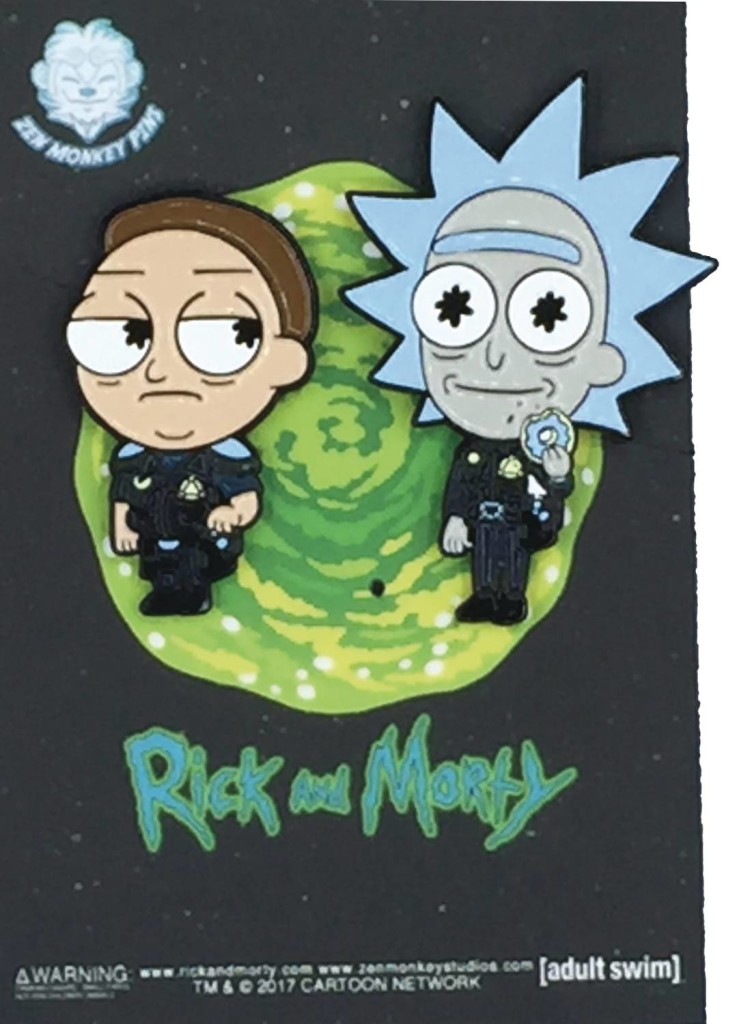 RICK AND MORTY COP RICK AND MORTY LAPEL PIN 2PC SET

ZEN MONKEY STUDIOS LLC
This Rick doesn't know what he's in for. But Cop Morty? He's seen some things man.  Aw geez, Morty's the bad cop, isn't he?
---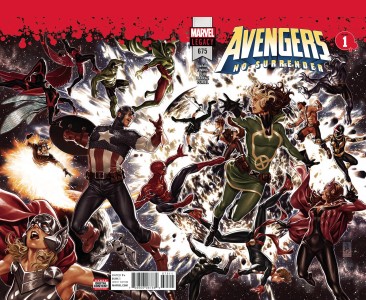 AVENGERS #675

MARVEL COMICS
(W) Mark Waid & Various (A) Pepe Larraz (CA) Mark Brooks
NO SURRENDER Part 1
AVENGERS goes WEEKLY for the stunning sixteen-part saga that will write the end of an era!
The Earth has been STOLEN! The sky burns while mysterious cosmic objects crash down from above, wreaking havoc across the world! The Avengers are the last line of defense between Earth and the mysterious forces threatening to tear it apart. It's time to ASSEMBLE! The teams you know and love from AVENGERS, UNCANNY AVENGERS, U.S.AVENGERS and OCCUPY AVENGERS come together to face a threat beyond any they've faced before in a weekly epic adventure that will define the future of Earth's Mightiest Heroes!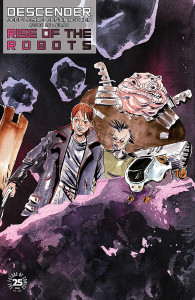 DESCENDER TP VOL 05 RISE OF THE ROBOTS
IMAGE COMICS
(W) Jeff Lemire (A/CA) Dustin Nguyen
The first major DESCENDER event is here. This is what it has all been building to. The Robot Resistance rises up and tightens its iron grip in the universe as the origins of the Harvesters are finally revealed and the galaxy is thrown into all-out war!
A new chapter of the sci-fi epic begins here by superstar creators JEFF LEMIRE and DUSTIN NGUYEN.
Collects DESCENDER #22-26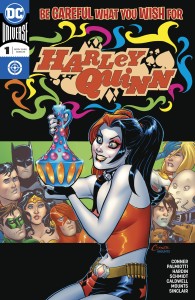 HARLEY QUINN BE CAREFUL WHAT YOU WISH FOR #1 SPC
DC COMICS
(W) Amanda Conner, Jimmy Palmiotti (A) Amanda Conner, Chad Hardin (CA) Amanda Conner
If you thought you'd seen all the mayhem Harley was capable of unleashing with the help of an all-powerful genie and infinite wishes…well, we wish you'd known better! This oversize special presents the Loot Crate-exclusive story as a stand-alone comic, available in comics shops for the first time ever, with an additional eighteen (18!) pages of brand-new story and art by Amanda Conner!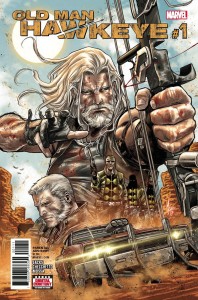 OLD MAN HAWKEYE #1 (OF 12)

MARVEL COMICS
(W) Sacks, Ethan (A/CA) Marco Checchetto
AN EYE FOR AN EYE Part 1
The super heroes have fallen.  The country has been divided into territories controlled by super villains.  Among the wastelands lives CLINT BARTON – one of the few Avengers to survive.  But it's been 45 years, and he's no Avenger.  Trying to eke out a living anyway he can, the former HAWKEYE is confronted with a startling discovery:  the sharpshooter is going blind.  With time running short, Clint realizes there's one last thing he wants to see: revenge for his fallen comrades-in-arms.
Rising-star writer ETHAN SACKS and superstar artist MARCO CHECCHETTO take you back to the Wastelands in a story set five years before the original classic OLD MAN LOGAN.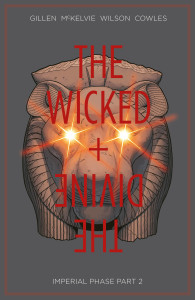 WICKED & DIVINE TP VOL 06 IMPERIAL PHASE PART 2

IMAGE COMICS
(W) Kieron Gillen (A/CA) Jamie McKelvie
When you're at the peak of your powers, there's only one way to go. The question becomes-how many people are you willing to drag down with you?
The bestselling, critically acclaimed comic by KIERON GILLEN, JAMIE McKELVIE and MATT WILSON reaches its most dramatic arc yet.
Collects THE WICKED + THE DIVINE #29-33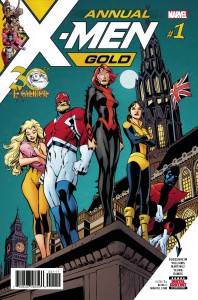 X-MEN GOLD ANNUAL #1

MARVEL COMICS
(W) Marc Guggenheim, Leah Williams (A) Alitha Martinez (CA) Alan Davis
TWENTIETH ANNIVERSARY EXCALIBUR REUNION!
•  A brand-new Braddock bundle of joy!
•  The return of a D'Bari hero!
•  Kitty's Shadowcat costume!
•  'Nuff said!
NOW HERE'S THE FULL LIST!
If you want a full visual list of everything howabout you click on this hyperlink  (tho the Diamond  might not update til Monday or something)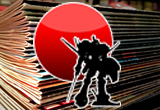 (the following list of comics reflects ALL the comics coming into BOTH locations. If there's something on this list that's NOT IN STOCK at your favorite BNW location DO NOT HESITATE  TO ASK FOR US TO ORDER IT FOR YOU!)
COMICS AND MAGAZINES
Action Comics #995
Adventure Time Regular Show #6
Alters #9
Archie #27
Avengers #675
Barbarella #2
Batgirl And The Birds Of Prey #18
Bloodshot Salvation #5
BSG Vs BSG #1 (OF 6)
Cable #153
Captain Kronos #4
Catalyst Prime Accell Vol 2 #3
Catalyst Prime Astonisher #4
Coyotes #3
Damned #7
Daredevil #597
Deadman #3 (OF 6)
Despicable Deadpool #292
Eternal Empire #6
Eternity #1 2nd Ptg
Flash #38
Ghost Money #6 (OF 10)
GI Joe A Real American Hero #247
Gotham City Garage #7
Grass Kings #11
Gwenpool #24
Hal Jordan And The Green Lantern Corps #36
Harley Quinn #34
Harley Quinn Be Careful What You Wish For #1 Spc
Jim Henson Power Of Dark Crystal #10 (OF 12)
Judas #2 (OF 4)
Justice League Of America #22
Kingsman Red Diamond #5 (OF 6)
Lola Xoxo Vol 2 #6
Mech Cadet Yu #5
Minky Woodcock Girl Who Handcuffed Houdini #2
Mister Miracle #6 (OF 12)
Monstro Mechanica #2
Ms Marvel #26
New Super Man #19
Ninjak Vs Vu #1 (OF 4)
Old Man Hawkeye #1 (OF 12)
Old Man Logan #33
Paradiso #2
Penny Dreadful #8
Pestilence #6
Phoenix Resurrection Return Jean Grey #3 (OF 5)
Port Of Earth #3
Punisher #220
Quarrys War #2
Ragman #4 (OF 6)
Red Hood And The Outlaws #18
Rose #7
Royal City #9
Runaways #5
Saucer State #6 (OF 6)
Scooby Apocalypse #21
Secret Warriors #12
She-Hulk #161
Sleepless #2
Slots #4
Spider-Man Deadpool #26
Spongebob Comics #76
Star Wars Adv Forces Of Destiny Rey
Star Wars Darth Vader #10
Suicide Squad #33
Supergirl #17
Sword Of Ages #2
Tales From The Hyperverse (ONE Shot)
Titans #19
Tmnt Ongoing #78
Unbeatable Squirrel Girl #28
Venom #160
Wildstorm Michael Cray #4
Witchblade #2
Wonder Woman #38
Wwe Royal Rumble 2018 Special #1
X-Men Blue #19
X-Men Gold Annual #1
TRADE PAPERBACKS, GRAPHIC NOVELS, HARDCOVERS AND MANGA
Batman Beyond Tp Vol 02 Rise Of The Demon (REBIRTH)
Curse Words Tp Vol 02 Explosiontown
Descender Tp Vol 05 Rise Of The Robots
Harley Quinn Tp Vol 04 Surprise Surprise (REBIRTH)
Hellboy And The BPRD 1954 Tp
Mech Cadet Yu Tp Vol 01 Discover Now Px
Wicked & Divine Tp Vol 06 Imperial Phase Part 2
TOYS
Pop Heroes Booster Gold & Blue Beetle Px Vin Fig
ODDS AND ENDS
Rick And Morty Cop Rick And Morty Lapel Pin 2pc