Willow Grove has Magic pre-releases going on all weekend for Rival of Ixilan so if Magic's your thing don't miss out! Otherwise click this link and lets take a look at what will be out on Wednesday January 17th!
If sifting through the internet seems like a bit too much of a task and you'd like us to beam this right to your phone (or home Cerebro-like computer system) try signing up for our handy weekly email newsletter!
---
FRIDAY NIGHT MAGIC SCHEDULE INFO!

The Willow Grove location is once again hosting a weekend of pre-release events! Join us ALL WEEKEND for the Rivals of Ixalan Prerelease! INFO HERE
---
FEBRUARY IS GETTING CLOSER!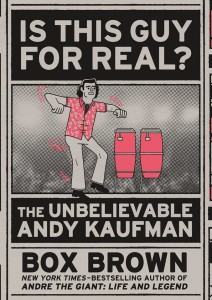 IS THIS GUY FOR REAL GN
:01 FIRST SECOND
(W/A/CA) Box Brown
Comedian and performer Andy Kaufman's resume was impressive – a popular role on the beloved sitcom Taxi, a high-profile stand-up career, and a surprisingly successful stint in professional wrestling. Although he was by all accounts a sensitive and thoughtful person, he's ironically best remembered for his various contemptible personas, which were so committed and so convincing that all but his closest family and friends were completely taken in. Why would someone so gentle-natured and sensitive build an entire career seeking the hatred of his audience? What drives a performer to solicit that reaction? Graphic novelist Box Brown takes on the complex and often hilarious life of Andy Kaufman.
Mark your calendars now!
Box Brown's latest graphic novel from First Second books 'Is This Guy For Real' comes out on February 7, 2018 and we're going to be hosting a book release event for it! We'll be hanging out with Box at Atlantis the Lost Bar at 2442 Frankford Ave in Fishtown and selling copies of his book (while he signs em!) and tossing back some brewskies and listening to the tunes provided by the Wednesday night DJ! Can't be that!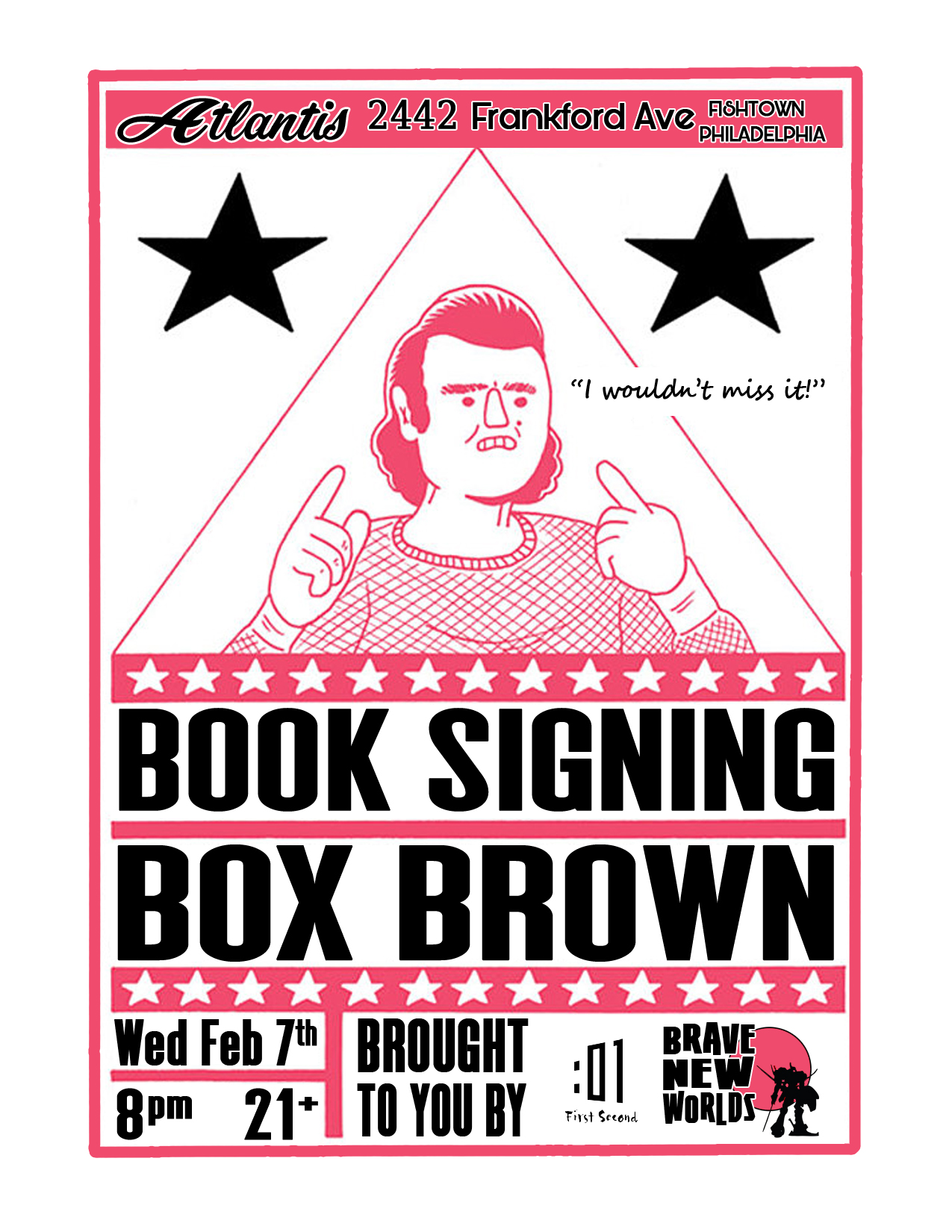 There's a Facebook event for this OVER HERE
GOT SOME SWEET PREVIEWS EXCLUSIVE POPS!
NEW D&D GEAR!
---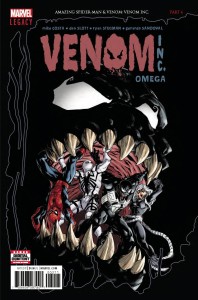 AMAZING SPIDER-MAN VENOM INC OMEGA #1 LEG
MARVEL COMICS
(W) Mike Costa, Dan Slott (A) Ryan Stegman, Gerardo Sandoval (CA) Ryan Stegman
VENOM INC. Part 6
•  The symbiotic super villain called Maniac has seized control of all of New York's major crime families, and he's now got his sights set on the entire city!
•  To make matters worse, he's also got a cadre of super villains under his symbiotic spell, and Spider-Man, Venom and their allies are the only things standing in their way!
•  The final chapter of VENOM INC!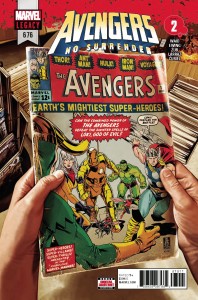 AVENGERS #676 LEG
MARVEL COMICS
(W) Mark Waid & Various (A) Pepe Larraz (CA) Mark Brooks
NO SURRENDER Part 2
NOW ON SALE WEEKLY!
The Black Order. The Lethal Legion. Two teams of powerful villains bent on destroying each other have arrived on Earth, and they don't care who gets caught in the crossfire. But who's pulling their strings? And what is the secret of the lost Avenger?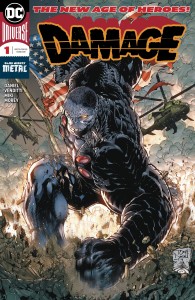 DAMAGE #1
DC COMICS
(W) Robert Venditti (A/CA) Tony S. Daniel, Danny Miki
Tasked as the government's own living, breathing, ticking time bomb, Ethan retains no control when the monster takes over. Cheaper than a nuclear warhead and twice as effective, Ethan fights to rein in the damage he unleashes when the beast inside him springs free for one hour a day. With everyone around him in danger, Ethan struggles to contain the DAMAGE he inflicts on the DC Universe.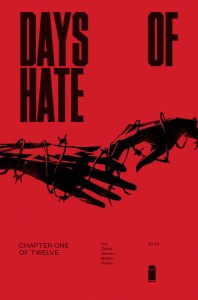 DAYS OF HATE #1 (OF 12)
IMAGE COMICS
(W) Ales Kot (A) Danijel Zezelj (CA) Danijel Zezelj, Tom Muller
SERIES PREMIERE
The United States of America, 2022.
The loss that ripped them apart drove one into the arms of the police state and the other towards a guerrilla war against the white supremacy. Now they meet again.
This is a story of a war.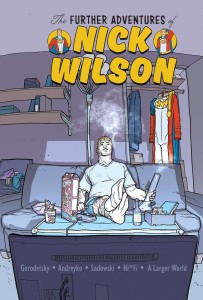 FURTHER ADV OF NICK WILSON #1 (OF 5)

IMAGE COMICS
(W) Eddie Gorodetsky, Marc Andreyko (A) Steve Sadowski (CA) Pete Woods
From Eisner and Emmy-winning writers! For a few years in his early 20s, Nick Wilson had super powers and all the acclaim associated with them. When those powers vanished, so did his fame, sending him from national hero to late-night punchline. By the time we pick up his story, he is not yet 30 and barely an answer in a trivia contest.
Faced with a life in a rear-view mirror full of lost powers, faded glory, former enemies, ex-girlfriends, and forgotten grudges, Nick struggles to figure out who he is today. Packing on an extra 20 pounds and peering through a medicinal marijuana haze, he is trying to build a future when all that's left is just a man who hasn't been super for a very long time.
These are THE FURTHER ADVENTURES OF NICK WILSON.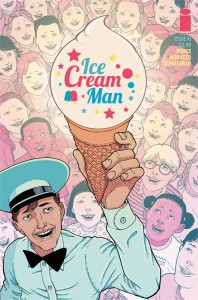 ICE CREAM MAN #1
IMAGE COMICS
(W) W. Maxwell Prince (A/CA) Martin Morazzo
    Chocolate, vanilla, existential horror, drug addiction, musical fantasy…there's a flavor for everyone's misery.
ICE CREAM MAN is a genre-defying comic book series featuring disparate "one-shot" tales of sorrow, wonder, and redemption. Each installment features its own cast of strange characters, dealing with their own special sundae of suffering. And on the periphery of all of them, like the twinkly music of his colorful truck, is the Ice Cream Man-a weaver of stories, a purveyor of sweet treats. Friend. Foe. God. Demon. The man who, with a snap of his fingers-lickety split!-can change the course of your life forever.
Written by W. MAXWELL PRINCE (ONE WEEK IN THE LIBRARY), with art by MARTÍN MORAZZO (GREAT PACIFIC) and CHRIS O'HALLORAN (GENERATION GONE).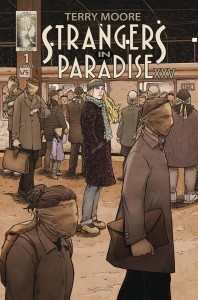 STRANGERS IN PARADISE XXV #1
ABSTRACT STUDIOS
(W/A/CA) Terry Moore
  America's favorite couple is back! To celebrate its 25th-Anniversary, the Eisner Award-winning series is back with an all-new story beginning with this #1 issue! Francine and Katchoo are living the dream until they learn a former Parker Girl is in hiding and writing a tell-all book about the wicked empire Darcy Parker built with Katchoo at her side. Determined to stop her, Katchoo enlists the aid of her mercenary sister Tambi and the hunt is on!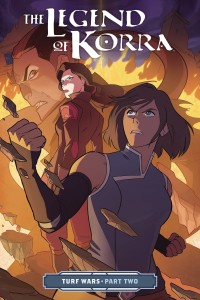 LEGEND OF KORRA TP VOL 02 TURF WARS PT 2

DARK HORSE COMICS
(W) Michael Dante Dimartino (A) Irene Koh (CA) Heather Campbell
Recovering from a fight with the dragon-eel spirit and furious for revenge, Triple Threats member Tokuga solidifies his ties with the duplicitous Wonyong. Meanwhile, when Republic City's housing crisis reaches its peak, Zhu Li sets her sights on the biggest public figure in the city-President Raiko – in a bid for the presidency! With her friend's success, the future of the spirit portal, and the wellbeing of Republic City's citizens at stake, can Korra remain neutral and fulfill her duties as the Avatar? Written by series co-creator Michael Dante DiMartino and drawn by Irene Koh (TMNT, Afrina and the Glass Coffin), with consultation by Bryan Konietzko, this is the official continuation of The Legend of Korra!
---
 DON'T SEE WHAT YOU WANT ON OUR SHELVES?!
 Just because you've come into the shop and find that there's an empty spot on theshelf where the book you wanted should be does not mean you're out of luck. Fret not! Sold Out in our stores surely does not mean what you crave is beyond your grasp! Feel free to ask whomever is behind the counter to see if your desired item is still available and if it is we'll gladly get it for you!

We do multiple re-orders weekly (restocking and leveling inventory between both BNW locations as well placing orders directly from Diamond) to be sure we can get you scratch that special itch!
Pre-ordering books is also a great way to help let us know what you want! It helps us gauge what people looking forward to and it helps the creators out too!
NOW HERE'S THE FULL LIST!
If you want a full visual list of everything howabout you click on this hyperlink  (tho the Diamond  might not update til Monday or something)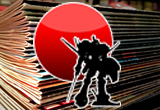 (the following list of comics reflects ALL the comics coming into BOTH locations. If there's something on this list that's NOT IN STOCK at your favorite BNW location DO NOT HESITATE  TO ASK FOR US TO ORDER IT FOR YOU!)
COMICS AND MAGAZINES
Adventure Time Comics #19
Alien Bounty Hunter #3 (OF 5)
All New Wolverine #29
Amazing Spider-Man #792 2nd Ptg
Amazing Spider-Man Venom Inc Omega #1
America #11
Angelic #5
Aquaman #32
Assassinistas #2
Avengers #676
Batman #39
Batman Teenage Mutant Ninja Turtles Ii #3 (OF 6)
Batman White Knight #1 (OF 8) 4th Ptg
Batman White Knight #2 (OF 8) 3rd Ptg
Batman White Knight #3 (OF 8) 2nd Ptg
Batwoman #11
Bombshells United #10
Brilliant Trash #3
Catalyst Prime Summit #2
Catalyst Prime Superb #6
Champions #16
Copperhead #18
Damage #1
Dark Fang #3
Dark Nights Metal #2 (OF 6) 3rd Ptg
Dark Nights Metal #3 (OF 6) 2nd Ptg
Days Of Hate #1 (OF 12)
Deadpool Vs Old Man Logan #4 (OF 5)
Doctor Strange #382 2nd Ptg
Doctor Strange #384
Evolution #3
Family Trade #4
Fence #3
Further Adv Of Nick Wilson #1 (OF 5)
Future Quest Presents #6
Generation X #86
Green Lanterns #39
Harley Quinn #35
Ice Cream Man #1
Injustice 2 #18
James Bond The Body #1
Jenny Finn #3 (OF 4)
Jim Henson Storyteller Fairies #2 (OF 4)
Jimmys Bastards #6
Justice League #37
Kill Or Be Killed #15
Kong On Planet Of Apes #3
Made Men #5
Mage Hero Denied #5 (OF 15)
Mighty Morphin Power Rangers #23
Mighty Thor #703
Miraculous #19
Miraculous #20
Monsters Unleashed #10
Nightwing #37
Normandy Gold #5
Optimus Prime #15
Peter Parker Spectacular Spider-Man #299
Red Sonja #12
Robotech #6
Rugrats #4
Rumble #2
Sheena #5
Simpsons Comics #242
Spirits Of Vengeance #4 (OF 5)
Star Wars #42
Star Wars Adv Forces Of Destiny Hera
Star Wars Adventures #6
Strangers In Paradise Xxv #1
Super Sons #12
Superman #39
Trinity #17
Weapon X #13
Will Eisner Spirit Corpse Makers #5 (OF 5)
Wonder Woman Conan #5 (OF 6)
WWE #13
X-Men Gold #20
TRADE PAPERBACKS, GRAPHIC NOVELS, HARDCOVERS AND MANGA
Aho Girl (CLUELESS Girl) Gn Vol 01
Dept H Hc Vol 03 Decompressed
I Am A Hero Omnibus Tp Vol 05
Kill Or Be Killed Tp Vol 03
Legend Of Korra Tp Vol 02 Turf Wars Pt 2
Nightwing Tp Vol 04 Blockbuster (REBIRTH)
Punisher Max Tp Complete Collection Vol 07
TOYS
Black Panther Legends 6in Af Asst