Hey look at that…it's snowing out there. Well feel free to distract yourself from that with this list of what's coming out on 12.13.17!
If sifting through the internet seems like a bit too much of a task and you'd like us to beam this right to your phone (or home Cerebro-like computer system) try signing up for our handy weekly email newsletter!
---
FRIDAY NIGHT MAGIC SCHEDULE INFO!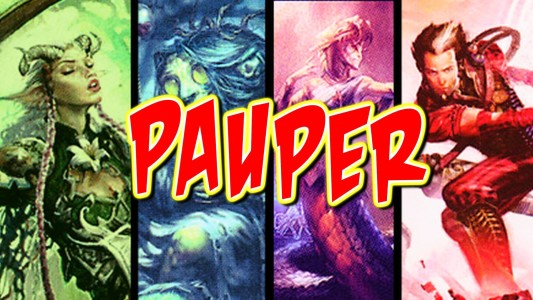 Our new schedule for FNM events has begun!
1st Friday of each month – Standard
2nd Friday of each month – Modern
3rd Friday of each month – Commander
4th Friday of each month – Pauper
5th Friday of each month (if it exists) – Conspiracy: Take the Crown booster drafts
---
SOME NEW GAMES FOR YA!
---
50% OFF…UPGRADED even since last weeks post!
There's some new stuff on the tables EVEN since we just told you it was restocked and refreshed last week!
---
SATURDAY BOOK SIGNING IN OLD CITY!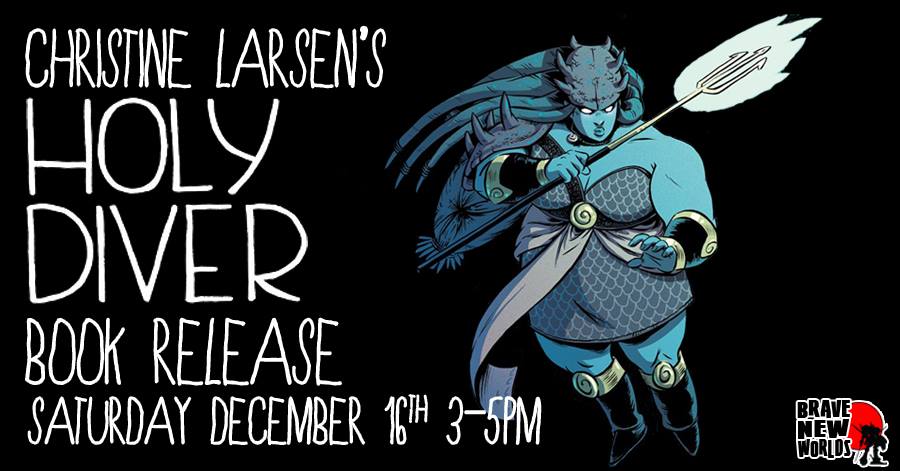 Local comic creator (and friend of ours!) Christine Larsen has an awesome new full color graphic novella coming out this month and we're going to have her in store slinging and signing copies for you just in time to get a last minute awesome gift for that comic book loving person in your life! Don't miss out!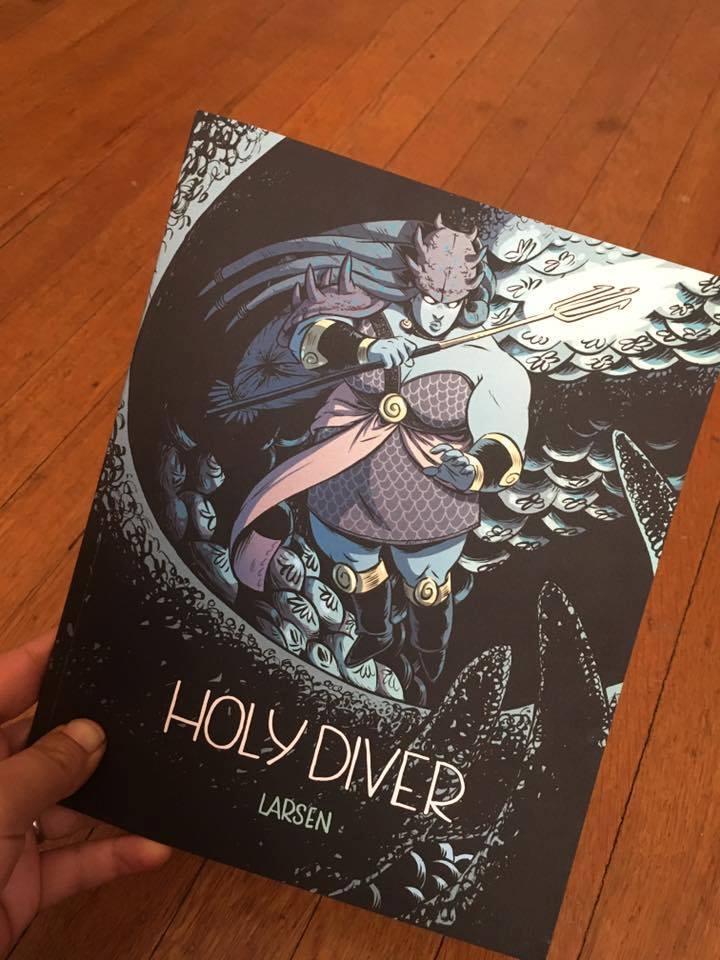 Holy Diver follows in the tradition of her Microcosmics series: no dialogue fantasy stories set in a mystic, alien world. All of these Microcosmics stories are part of the same universe, and link together in subtle ways.
In this tale: Evil rises from the deep and an ancient power gives birth to a god.
This book is a 40 page, 8 x 10″, full cover novella; perfect bound with a matte, laminated soft cover. There's a facebook event over here
---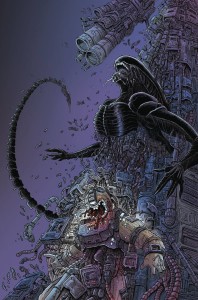 ALIENS DEAD ORBIT #4
DARK HORSE COMICS
(W/A/CA) James Stokoe
With one last gambit aboard the space station, Wascylewski finds himself ambushed by two more deadly xenomorphs that will stop at nothing until he's dead.
The conclusion to Orc Stain creator James Stokoe's thrilling and claustrophobic Aliens story!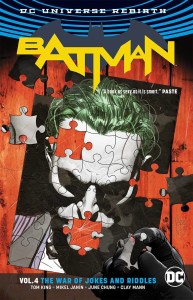 BATMAN TP VOL 04 THE WAR OF JOKES & RIDDLES (REBIRTH)
DC COMICS
(W) Tom King (A) Mikel Janin & Various (CA) Mikel Janin
The Riddler and The Joker are at war! As the battle rages, the villains of Gotham City are forced to choose side or be caught in the crossfire. As the conflict spreads to every corner of Gotham City, Batman battles back both side's forces, and an unlikely criminal becomes the key to a potential resolution… but is the price of peace too high? Collects BATMAN #25-32.
2nd Printing!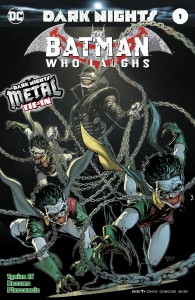 BATMAN WHO LAUGHS #1 2ND PTG (METAL)
DC COMICS
(W) James TynionIV (A) Riley Rossmo (CA) Jason Fabok
As the events of DARK NIGHTS: METAL rock the DC Universe, the creatures of the Dark Multiverse stand ready to invade our world! How can the World's Greatest Heroes stop a horde of deadly beings that appear to be powerful nightmare versions of familiar figures? Find out in these special tie-in issues!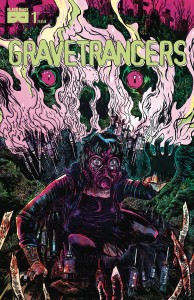 GRAVETRANCERS #1
BLACK MASK COMICS
(W) M.L. Miller (A) James Whynot
On a journey to track down the grave of their estranged father, Maribel and Anthony find their way to the Malort Cemetery, a strange, seemingly abandoned field of mostly unmarked tombs. There they encounter an eccentric clan of grave-robbers who've devised a highly-addictive drug made from human remains–and the fresher the corpse, the stronger the dose. What started out as an attempt to reconnect with the past becomes a descent into a psychedelic, neon-colored nightmare, will Maribel and Anthony find their way through the hallucinogens or will they become the next hit?
Written by M.L. Miller (Pirouette) and featuring mind-shredding artwork by new artist James Michael Whynot, Gravetrancers delivers a grisly grindhouse tale of taboo and terror.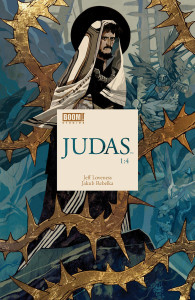 JUDAS #1 (OF 4)
BOOM! STUDIOS
(W) Jeff Loveness (A/CA) Jakub Rebelka
Emmy and WGA Award-nominated writer Jeff Loveness (Marvel's Nova) presents an exploration of the classical biblical character, perfect for fans of Preacher and The Goddamned.
Judas Iscariot journeys through life and death, grappling with his place in "The Greatest Story Ever Told," and how much of his part was preordained. In a religion built on redemption and forgiveness, one man had to sacrifice himself for everyone…and it wasn't Jesus.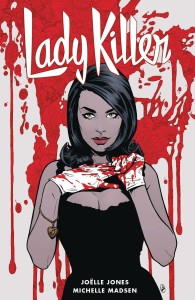 LADY KILLER TP VOL 02
DARK HORSE COMICS
(W/A/CA) Joëlle Jones
The killer housewife is back! The Schuller family has moved to Cocoa Beach, where life carries on as usual. Josie continues to juggle Tupperware parties, her kids, and a few heads-and things don't get any easier for the entrepreneur hit lady when her past comes back to haunt her. Collects issues #1-#5 of the series.
MISTER MIRACLE #5 (OF 12)
DC COMICS
(W) Tom King (A) Mitch Gerads (CA) Nick Derington
How do you spend your last night on Earth? Why, with the one you love, of course! Having been condemned to death by the new Highmaster, Mister Miracle is going to have to return to New Genesis for his execution. Before he does, he and Big Barda go on one last date. But if Scott Free truly is infected by Darkseid, as Orion says, you can bet some dark force will intervene-only to what end?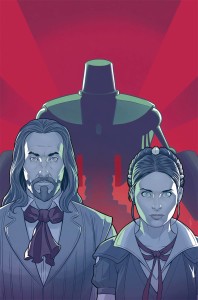 MONSTRO MECHANICA #1
AFTERSHOCK COMICS
(W) Paul Allor (A/CA) Chris Evenhuis
A new series starring Leonardo da Vinci, his female apprentice and their wooden robot!
At the height of the Renaissance, warring factions vie for control of Leonardo da Vinci's destructive arsenal. The only thing standing in their way is Leonardo's young apprentice and her nine-foot tall mechanical bodyguard. Together, they navigate a world of wicked men and war machines, determined to save Leonardo from the world-and the world from Leonardo.
From creators Paul Allor (Teenage Mutant Ninja Turtles) and Chris Evenhuis (Wynonna Earp) comes this swashbuckling adventure story about war, identity and the birth of the modern world!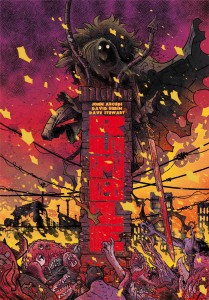 RUMBLE #1
IMAGE COMICS
(W) John Arcudi (A/CA) David Rubin
"SOUL WITHOUT PITY," Part One
Rathraq is back! But who is he, exactly? Once an ancient warrior god, he was resurrected as a sword-wielding scarecrow. And now, Rathraq has transformed yet again-or has he? JOHN ARCUDI and new artist, superstar DAVID RUBÍN, give you the new face of Rathraq and a new direction for the series when the critically acclaimed RUMBLE returns!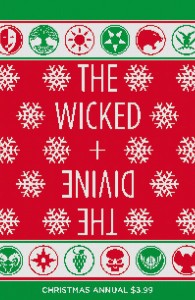 WICKED & DIVINE CHRISTMAS ANNUAL #1

IMAGE COMICS
(W) Kieron Gillen (A) Kris Anka & Various (CA) Jamie McKelvie, Matt Wilson
JAMIE said "It's a shame we never saw any of the gods' early funtimes," and KIERON said "Yeah," and then they looked at each other, and then called all their talented friends to do a Christmas album of (mostly) fan service! Inanna and Baal getting it on! Lucifer and Sakhmet getting it on! Dionysus giving Baphomet a lift in a crappy car! And more! This one has it all.
NOW HERE'S THE FULL LIST!
If you want a full visual list of everything howabout you click on this hyperlink  (tho the Diamond  might not update til Monday or something)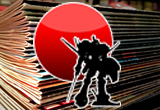 (the following list of comics reflects ALL the comics coming into BOTH locations. If there's something on this list that's NOT IN STOCK at your favorite BNW location DO NOT HESITATE  TO ASK FOR US TO ORDER IT FOR YOU!)
COMICS AND MAGAZINES
Action Comics #993
Adventure Time Regular Show #5
Aliens Dead Orbit #4
All New Wolverine #28
Amazing Spider-Man #792
Animosity #11
Back To The Future #25
Batgirl And The Birds Of Prey #17
Batman Who Laughs #1 2nd Ptg (METAL)
Ben Reilly Scarlet Spider #11
Bloodshot Salvation #4
Brilliant Trash #2
Bug The Adventures Of Forager #6 (OF 6)
Cable #152
Catalyst Prime Superb #5
Coyotes #2
Daredevil #596
Dept H #21
Despicable Deadpool #290
Detective Comics #970
Disney Princess #16
Falcon #3
Flash #36
Galaktikon #3
Ghost Money #5
Gotham City Garage #5
Grass Kings #10
Gravetrancers #1
Hal Jordan And The Green Lantern Corps #34
Halo Rise Of Atriox #4 (OF 5)
Harrow County #28
Invader Zim #26
IT Secret World Of Modern Banking 2 #3 (OF 5)
Jean Grey #10
Jenny Finn #2 (OF 4)
Judas #1 (OF 4)
Jughead The Hunger #2
Justice League Of America #20
Kid Lobotomy #3
Kingsman Red Diamond #4 (OF 6)
Maestros #3
Mister Miracle #5 (OF 12)
Monstro Mechanica #1
New Super Man #18
Port Of Earth #2
Punisher #219
Ragman #3 (OF 6)
Red Hood And The Outlaws #17
Retcon #4 (OF 4)
Robotech #5
Royal City #8
Royals #12
Rumble #1
Runaways #4
Samurai Jack Quantum Jack #3 (OF 5
Scooby Apocalypse #20
Secret Warriors #10
She-Hulk #160
Sheena #4
Skin & Earth #6 (OF 6)
Slam Next Jam #4
Slots #3
Spongebob Comics #75
Star Wars #40
Suicide Squad #31
Supergirl #16
Titans #18
Unbeatable Squirrel Girl #27
Voltron Legendary Defender Vol 2 #5
Weapon X #12
Wicked & Divine Christmas Annual #1
Wildstorm Michael Cray #3
Wonder Woman #36
X-Men Blue #17
Youngblood #7
TRADE PAPERBACKS, GRAPHIC NOVELS, HARDCOVERS AND MANGA
Batman Tp Vol 04 The War Of Jokes & Riddles (REBIRTH)
Bitch Planet Triple Feature Tp Vol 01
Champions Tp Vol 02 Freelancer Lifestyle
Defenders Tp Vol 01 Diamonds Are Forever
Lady Killer Tp Vol 02
Lobster Johnson Tp Vol 05 Pirates Ghost
Ms Marvel Tp Vol 08 Mecca
Peter Parker Spectacular Spider-Man Tp Vol 01 Into Twilight
Rocket Tp Vol 01 Blue River Score
Star Wars Rogue One Gn
Trinity Hc Vol 02 Dead Space (REBIRTH)
Trinity Tp Vol 01 Better Together (REBIRTH)
ODDS AND ENDS
DC Batman Universe Bust Coll #2 Joker
Marvel Fact Files Classic Special #1 Iron Man
Marvel Fact Files Classic Special #2 Captain America
Marvel Fact Files Special #29 Planet Hulk
Marvel Gallery GotG 2 Drax & Baby Groot Pvc Fig
Marvel Gallery Thor Ragnarok Hulk Pvc Fig
Rick And Morty Evil Morty Lapel Pin
Rick And Morty Pocket Tiny Rick Lapel Pin
COMING SOON!