Just in time to help you with your December shopping rush we've upgraded our 50% OFF Sections! Check this stuff out!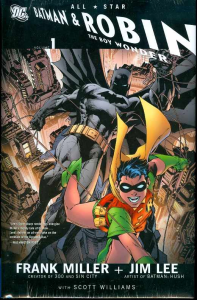 ALL STAR BATMAN AND ROBIN THE BOY WONDER HC VOL 01
DC COMICS
(W) Frank Miller (A/CA) Jim Lee
 Written by Frank Miller
Art and cover by Jim Lee & Scott Williams
One of the most talked-about Batman stories ever –
conceived by modern master Frank Miller (BATMAN: YEAR ONE, THE DARK KNIGHT RETURNS) and artists extraordinaire Jim Lee & Scott Williams (BATMAN, SUPERMAN) – is collected in hardcover for the first time! Lee & Miller join forces to tell a new version of Dick Grayson's origin in a high-octane tale that unfolds with guest appearances by Superman, Wonder Woman, Green Lantern, Black Canary, and more! This volume collects issues #1-9 of the acclaimed series.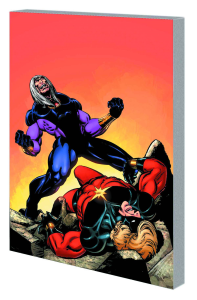 CAPTAIN MARVEL TP DEATH OF CAPTAIN MARVEL NEW PTG
MARVEL COMICS
(W) Jim Starlin & Various (A) Jim Starlin, Pat Broderick (CA) Jim Starlin
As Protector of the Universe and de facto defender of Earth, the Kree Captain Mar-Vell has triumphed over foes large and small. But when Mar-Vell is diagnosed with cancer, he finds himself face-to-face with a foe that even his vast might can't defeat – and both he, and a universe that loves him, must rally together to accept the inevitable. Plus: Look back at the seminal battle with Nitro that infected Captain Marvel years before – and in the midst of a battle with Titan's planet-sized computer system, now corrupted by the madness of Thanos, witness the budding romance between Mar-Vell and his true love Elysius! Guest-starring the Avengers, the X-Men, the Fantastic Four and more! Collecting CAPTAIN MARVEL (1968) #34, MARVEL SPOTLIGHT (1979) #1-2 and MARVEL GRAPHIC NOVEL #1: THE DEATH OF CAPTAIN MARVEL.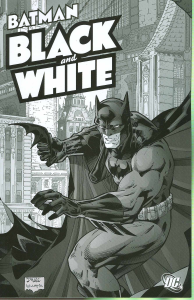 BATMAN BLACK AND WHITE TP VOL 01 NEW EDITION
DC COMICS
(W) Brian Bolland & Various (A) Simon Bisley & Various (CA) Mike Mignola
 Written by Neil Gaiman, Chuck Dixon, Dennis O'Neil and others
Art by Jim Lee, Bruce Timm, Joe Kubert and others
Cover by Lee
A new edition of the Eisner Award-winning collection at our standard trim size! Don't miss these stellar Batman stories presented in stark black-and-white by a star-studded lineup of comics industry creators!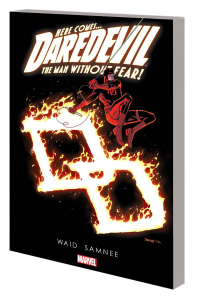 DAREDEVIL BY MARK WAID TP VOL 05
MARVEL COMICS
(W) Mark Waid (A/CA) Chris Samnee
A mystery takes Daredevil to the edge like never before! When Matt Murdock receives fateful news about someone close to him, will he be forced to abandon his super-hero identity to save one of his dearest friends? As a life-or-death medical drama plays out in Matt's personal life, the hidden foe behind Daredevil's recent troubles steps out of the shadows to play his trump card. The Man Without Fear comes face-to-face with his opposite number – an unstoppable enemy with a mysterious connection to the accident that gave young Matt Murdock his powers. The first two years of Mark Waid's award-winning run on the most critically acclaimed series in comics come to a head in this heart-stopping adventure! Collecting DAREDEVIL (2011) #22-27.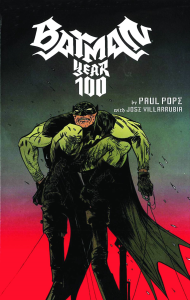 BATMAN YEAR ONE HUNDRED TP NEW PTG
DC COMICS
(W/A/CA) Paul Pope
• A new edition of the acclaimed title from writer/artist Paul Pope!
•  In Gotham City, 2039, a federal agent is murdered, leaving The Batman, a forgotten icon from the past, wanted for the murder.
•  Collects BATMAN YEAR ONE HUNDRED #1-4, plus a story from BATMAN CHRONICLES #11.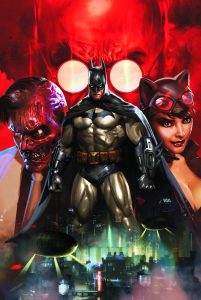 BATMAN ARKHAM UNHINGED HC VOL 01
DC COMICS
(W) Derek Fridolfs & Various (A) Mike S. Miller & Various (CA) Dave Wilkins
• Collects BATMAN: ARKHAM UNHINGED #1-5!
•  Inspired by the best-selling videogame Batman: Arkham City, these tales feature the evil of Hugo Strange, Harley Quinn, The Joker, Mr. Freeze, The Penguin, Hammer and Sickle and more!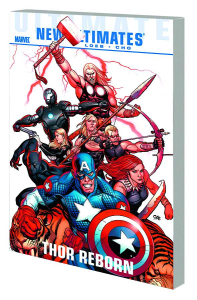 ULTIMATE COMICS NEW ULTIMATES THOR REBORN TP
MARVEL COMICS
(W) Jeph Loeb (A/CA) Frank Cho
Written by JEPH LOEB
Penciled by FRANK CHO
Cover by FRANK CHO
Ultimatum claimed the lives of countless heroes. The world changed completely. This is what happens next! The Ultimates have regrouped to protect a world that still needs saving. But with Loki and the Enchantress on the attack, the planet's finest team of heroes sorely misses the mighty power of one of its founding members. Where is Thor, and will he be reborn in time to save the day? Collecting ULTIMATE COMICS NEW ULTIMATES #1-5.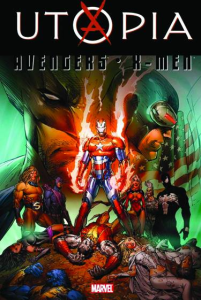 AVENGERS X-MEN UTOPIA TP
MARVEL COMICS
(W) Matt Fraction (A) Mike Deodato & Various (CA) Marc Silvestri
Written by MATT FRACTION, CRAIG KYLE, CHRIS YOST, KIERON GILLEN, PAUL CORNELL, JESSE DELPERDANG, SHANE MCCARTHY, ROB WILLIAMS, MARC BERNARDIN, ADAM FREEMAN, JASON AARON & SIMON SPURRIER
Penciled by MARC SILVESTRI, MIKE DEODATO, LUKE ROSS, TERRY DODSON, DUSTIN WEAVER, DANIEL ACUNA, CARMINE DI GIANDOMENICO, LEONARD KIRK, JESSE DELPERDANG, IBRAIM ROBERSON, MICHEL LACOMBE, PACO DIAZ, JOCK & PAUL DAVIDSON
Cover by MARC SILVESTRI
Norman Osborn runs the Avengers, promising America a new day of safety and security. Cyclops leads the X-Men – determined to free mutantkind from the forces of cold, impersonal, unreasoning institutional racism that threaten them. Both leaders are locked in a high-stakes chess match with the prize being their respective visions of utopia, and Emma Frost the one piece that could make either the winner! But which side of the board is she on? Plus: Who are the Dark X-Men? Find out the secrets behind this uncanny assemblage of mutants – including Cloak, Dagger, Daken and Namor, the Sub-Mariner! Collecting DARK AVENGERS/UNCANNY X-MEN: UTOPIA & EXODUS; UNCANNY X-MEN #513-514, DARK AVENGERS #7-8, DARK X-MEN: THE BEGINNING #1-3, X-MEN LEGACY #226-227 DARK X-MEN: THE CONFESSION and material from DARK REIGN: THE CABAL.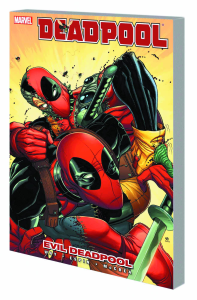 DEADPOOL TP VOL 10 EVIL DEADPOOL
MARVEL COMICS
(W) Daniel Way (A) Salva Espin, John McCrea (CA) Nick Bradshaw
Would the real Wade Wilson please stand up? Deadpool returns to America, but he's not coming home alone! When a collection of Deadpool's discarded body parts meld to form an evil clone, the Merc With a Mouth faces off against himself for the crown of most hated former mercenary turned super hero turned pirate turned intergalactic bounty hunter. But their explosive confrontation brings the NYPD, Interpol and even Captain America bearing down on Deadpool, and he'll have to convince them all there's an even crazier, less principled version of himself on the loose! Plus: Deadpool: The Musical! Collecting DEADPOOL (2008) #45-49 and #49.1.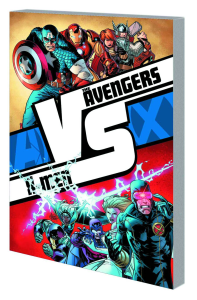 AVENGERS VS X-MEN TP VS AVX
MARVEL COMICS
(W/A) Various (CA) Adam Kubert
The Avengers vs. X-Men event spills over into the all-action AVX: VS – offering extended, blow-by-blow accounts of fan-favorite matchups as chronicled by an incredible array of comic-book talent! It's the ultimate grudge match as Thing grapples with Namor! Sparks fly as Iron Man clashes with Magneto! Love hurts as Black Panther battles Storm! Explosive energies meet unbreakable shield as Gambit faces Captain America! Chaos erupts as Hope butts heads with the Scarlet Witch! Thrill to these bouts and more, served up by a titanic tag-team of Marvel's biggest writers and artists. It's Avengers vs. X-Men – 'nuff said! Plus: The X-Babies face the A-Babies in the tie-in to end all tie-ins! Collecting AVX: VS #1-6 and A-BABIES VS. X-BABIES #1.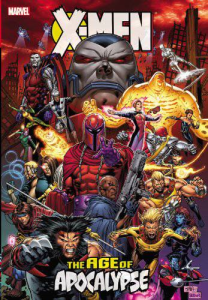 X-MEN AGE OF APOCALYPSE OMNIBUS HC NEW PTG
MARVEL COMICS
(W/A) Various (CA) Billy Tan
Charles Xavier is dead – killed in the past during a time-travel accident – and without his dream, the world has become a nightmare! Apocalypse rules with an iron fist, ruthlessly enforcing his "survival of the fittest" creed – but hidden among a downtrodden humankind are Magneto's ragtag freedom fighters: the X-Men! When Bishop, last survivor of the true Marvel Universe, explains how the world went wrong, these embittered mutants must risk everything – and undertake a dangerous and complex quest – to put things right! Collecting UNCANNY X-MEN (1981) #320-321, X-MEN (1991) #40-41, CABLE (1993) #20, X-MEN ALPHA, AMAZING X-MEN (1995) #1-4, ASTONISHING X-MEN (1995) #1-4, FACTOR X #1-4, GAMBIT AND THE X-TERNALS #1-4, GENERATION NEXT #1-4, WEAPON X (1995) #1-4, X-CALIBRE #1-4, X-MAN #1-4, X-MEN OMEGA, AGE OF APOCALYPSE: THE CHOSEN and X-MEN ASHCAN #2.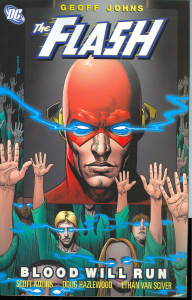 FLASH BLOOD WILL RUN TP NEW ED
DC COMICS
(W) Geoff Johns (A) Scott Kolins, Ethan Van Sciver (CA) Brian Bolland
The Flash races into adventure in this incredible new edition of a classic trade paperback collecting THE FLASH #170-176, plus stories from THE FLASH SECRET FILES and IRON HEIGHTS, written by Geoff Johns! Featuring art by fan-favorites Ethan Van Sciver (GREEN LANTERN), Scott Kolins (Beyond) and more!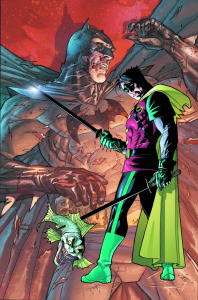 DAMIAN SON OF BATMAN DELUXE ED HC

DC COMICS
(W) Andy Kubert, Grant Morrison (A/CA) Andy Kubert
Damian Wayne, the son of Batman, has adopted the cape and cowl as his own… but what horrific events set this troubled hero on the path of his dark destiny? It's a possible future that may never be in this epic written and drawn by Andy Kubert! Plus, in a tale written by Grant Morrison, Damian Wayne is the Batman of Tomorrow in a story set 15 years from now in a nightmarish future Gotham City! Collecting DAMIAN: SON OF BATMAN #1-4 and BATMAN #666.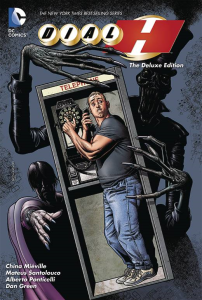 DIAL H DELUXE ED HC (N52)
DC COMICS
(W) China Mieville (A) Mateus Santolouco & Various (CA) Brian Bolland
When gamer Nelson Jent accidentally discovers the mysterious H Dial, his life will never be the same! But can he keep the Dial out of the clutches of an array of villains? And what is the secret behind the Dial's power? Collects DIAL H #0-15.
DEMON TP VOL 01 HELLS HITMAN
DC COMICS
(W) Garth Ennis (A) John McCrea & Various (CA) John McCrea
Garth Ennis's tales of The Demon are collected for the first time! In these dark, fast-paced tales, Etrigan the Demon battles the Gothodaemon, the demon of Gotham City, with the help of Hitman. Then, a company of German soldiers from World War II are resurrected to capture an army base-and it's up to the Demon and the crew of the Haunted Tank to send them back to their graves. Collected from THE DEMON #40 and 42-49, plus ANNUAL #2.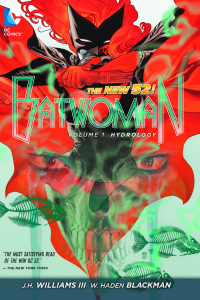 BATWOMAN HC VOL 01 HYDROLOGY (N52)
DC COMICS
(W) J. H. Williams, Haden Blackman (A) J. H. Williams & Various (CA) J. H. Williams
  As a part of the acclaimed DC Comics – The New 52, Batwoman's new series begins from the team of J.H. Williams III and W. Haden Blackman with this title collecting issues #0-5!
Who or what is stealing children from the barrio, and for what vile purpose? Will Kate train her cousin, Bette Kane (a.k.a. Flamebird), as her sidekick? How will she handle unsettling revelations about her father, Colonel Jacob Kane? And why is a certain government agency suddenly taking an interest in her? These are some of the questions that will be answered in these spectacular stories!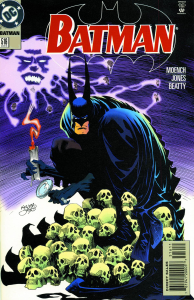 BATMAN BY DOUG MOENCH AND KELLEY JONES HC VOL 01
DC COMICS
(W) Doug Moench (A) Kelley Jones, John Beatty (CA) Kelley Jones
In these moody 1990s tales from BATMAN #515-525, 527-532 and 535-536, Batman emerges from the shadows to face foes including Killer Croc, The Scarecrow, Mr. Freeze, Two-Face and more. Plus, don't miss guest-appearances by Nightwing, Robin, Deadman and Swamp Thing.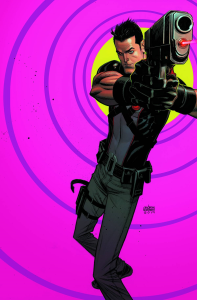 GRAYSON HC VOL 01 AGENTS OF SPYRAL (N52)
DC COMICS
(W) Tim Seeley, Tom King (A) Mikel Janin & Various (CA) Andrew Robinson
A thrilling new chapter of Dick Grayson's life begins in this title collecting the start of his new hit series. It's a super-spy thriller that will shock you and prove one thing: You may think you know Nightwing – but you don't know Dick! As he digs into the mysterious organization known as SPYRAL and learns more about his new partner, Helena Bertinelli, how can Dick keep track of all the lies? Or will he fall apart once he can no longer tell fact from fiction? Plus: Dick Grayson goes toe-to-toe with the Midnighter! Collects GRAYSON #1-4, a story from SECRET ORIGINS #7 and GRAYSON: FUTRUES END #1.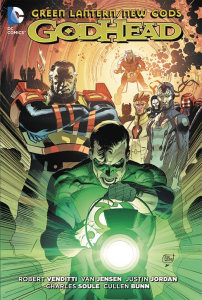 GREEN LANTERN NEW GODS GODHEAD HC
DC COMICS
(W) Robert Venditti & Various (A) Ethan Van Sciver & Various (CA) Lee Weeks
In these stories from GREEN LANTERN/NEW GODS: GODHEAD #1, GL #35-37, GL CORPS #35-37, GL NEW GUARDIANS #35-37, RED LANTERNS #35-37, SINESTRO #6-8 and GL ANNUAL #3, Highfather learns that ring-wielders stole secrets of cosmic importance from beyond the Source Wall! Now, Highfather must breach the wall – but first, he needs his own set of rings!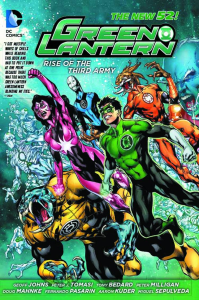 GREEN LANTERN RISE OF THE THIRD ARMY HC (N52)
DC COMICS
(W) Geoff Johns & Various (A) Doug Mahnke & Various (CA) Ivan Reis, Joe Prado
The universe is in shambles and the Guardians are the cause in this epic from GREEN LANTERN #13-16, GREEN LANTERN CORPS #13-16, GREEN LANTERN CORPS ANNUAL #1, RED LANTERNS #13-16 and GREEN LANTERNS: NEW GUARDIANS #13-16! The mysterious Third Army has risen across the cosmos like a plague, destroying everything in its path-and Hal Jordan and Sinestro are nowhere to be found. Now, it's up to new Green Lantern Simon Baz to become the hero that the Corps needs!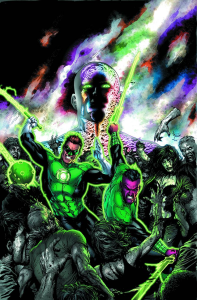 GREEN LANTERN WRATH OF THE FIRST LANTERN HC (N52)
DC COMICS
(W) Geoff Johns & Various (A) Doug Mahnke & Various (CA) Gary Frank
The Wrath of the First Lantern is here as the Green Lanterns battle the Guardians of Oa and the Third Army – but who will win, and at what cost? And as the First Lantern moves on the brightest of the Corps for his reality altering experiments, we learn the shocking fate of Hal and Sinestro in this must-read crossover event! This new hardcover collects GREEN LANTERN #17-20, GREEN LANTERN CORPS #17-20, RED LANTERNS #17-20 and GREEN LANTERN: NEW GUARDIANS #17-20.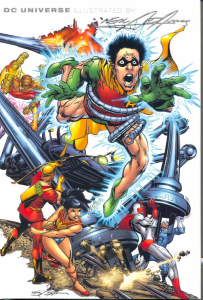 DC UNIVERSE ILLUSTRATED BY NEAL ADAMS HC VOL 01
DC COMICS
(W) Neal Adams & Various (A) Neal Adams, Sergio Aragones (CA) Neal Adams
Written by Robert Kanigher, Bob Haney, Gardner Fox, Neal Adams, Cary Bates, Len Wein and Howard LissArt by Neal Adams, Joe Kubert, Nick Cardy, Dick Dillin, Steve Harper and Vince Colletta
Cover by Neal Adams
At last, it's here – the first of three hardcover volumes collecting nearly every DC Comics story and cover by Neal Adams not already collected in GREEN LANTERN/GREEN ARROW, BATMAN or DEADMAN titles! Featuring rarely seen stories from OUR ARMY AT WAR #182, 183 and 186, STAR SPANGLED WAR STORIES #134 and 144, DETECTIVE COMICS #369, TEEN TITANS #20-22, ACTION COMICS #425, SUPERMAN #254, WEIRD WAR TALES #12 and 13 and more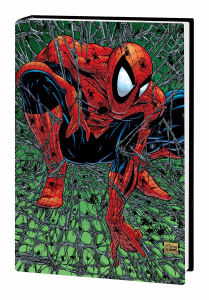 SPIDER-MAN BY TODD MCFARLANE OMNIBUS HC
MARVEL COMICS
(W) Todd McFarlane & Various (A) Todd McFarlane, Rob Liefeld (CA) Todd McFarlane
Todd McFarlane became a superstar illustrating AMAZING SPIDER-MAN, but he changed the industry forever with his next project: the "adjectiveless" SPIDER-MAN! Taking on both writing and art duties, McFarlane ushered Peter Parker into a gritty new era – and it began with "Torment"! When the Big Apple's streets run red with blood, the web-slinger heads into the sewers to stop the Lizard's homicidal rampage. But what is driving his old friend and foe? Plus: Ghost Rider lends a bony hand when the deranged Hobgoblin returns, the wall-crawler finds himself at the center of a clash of claws between Wolverine and Wendigo, and Pete goes back in black to face Morbius the Living Vampire! And in the ultimate nineties team-up, Spidey joins X-Force to battle the unstoppable Juggernaut! Collecting SPIDER-MAN (1990) #1-14 and #16, and X-FORCE (1991) #4.
CREEPER BY STEVE DITKO HC
DC COMICS
(W/A) Steve Ditko & Various (CA) Steve Ditko
Written by Steve Ditko, Don Segall, Dennis O'Neil and Michael Fleischer
Art by Steve Ditko and others
Cover by Steve Ditko
Steve Ditko, co-creator of Spider-Man, struck again in 1968 with the strange hero The Creeper. Now, for the first time, DC collects Ditko's Creeper epics from SHOWCASE #73, BEWARE THE CREEPER #1-6, 1ST ISSUE SPECIAL #7 and short stories from WORLD'S FINEST COMICS #249-255.
CAPTAIN AMERICA TRIAL OF CAPTAIN AMERICA OMNIBUS HC
MARVEL COMICS
(W/A) Various (CA) TBD
Bucky Barnes, the once and future Winter Soldier, took on the mantle of Captain America after Steve Rogers' seeming death. But now Steve is back, and the two Caps must decide which one of them will wield the shield! As the Grand Director, Baron Zemo and Sin make life difficult for the heroes, Steve settles into a new role as head of S.H.I.E.L.D. – and Bucky's secret past is exposed to the world! Now, Steve must race to keep Bucky from being swallowed up by a Russian gulag! But when tragedies strike and the Serpent Squad returns, will Steve have the strength to soldier on? Guest starring the Falcon, Black Widow and more! Collecting CAPTAIN AMERICA REBORN: WHO WILL WIELD THE SHIELD? #1, CAPTAIN AMERICA (2005) #602-619 and #615.1, STEVE ROGERS: SUPER-SOLDIER #1-4, and CAPTAIN AMERICA (2011) #1-10.
Rated T+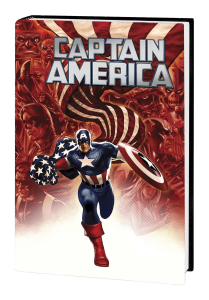 CAPTAIN AMERICA RETURN OF WINTER SOLDIER OMNIBUS HC
MARVEL COMICS
(W/A) Various (CA) Steve Epting
Ed Brubaker's award-winning Captain America run concludes! As Captain America's staunch ally Bucky, James Buchanan Barnes was one of America's greatest heroes of WWII – until he was brainwashed into becoming the Soviet spy known as the Winter Soldier. Now, in the aftermath of FEAR ITSELF, James is the Winter Soldier again! When Russian sleeper agents awaken and old enemies resurface with new identities, Winter Soldier and Black Widow clash with Dr. Doom – and James must save the Widow from her own past! But even with help from Wolverine and Hawkeye, must Bucky sacrifice everything to save his love? Meanwhile, Captain America takes on Scourge and the Discordians, while a deadly villain from the past reveals a mystery spanning generations of heroes! Collecting CAPTAIN AMERICA AND BUCKY #620-628, FEAR ITSELF #7.1: CAPTAIN AMERICA, WINTER SOLDIER #1-14 and CAPTAIN AMERICA (2011) #11-19.
Rated T+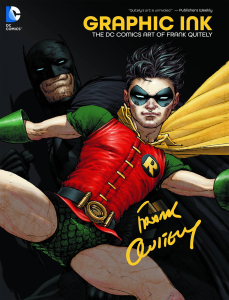 GRAPHIC INK THE DC COMICS ART OF FRANK QUITELY HC
DC COMICS
(W) Doug Moench & Various (A/CA) Frank Quitely
Frank Quitely's finely detailed artwork has been gracing the pages of DC comic books since he the 1990s. Quitely quickly earned a name for himself illustrating fellow Scotsman Grant Morrison's FLEX MENTALLO, JLA EARTH 2, as well as Neil Gaiman's SANDMAN: ENDLESS NIGHTS. This title collects all of Quitely's Paradox BIG BOOK stories, his ALL-STAR SUPERMAN and BATMAN & ROBIN covers and much, much more!