You're all full of Turkey, or maybe a turkey-like stand-in. You're done with your standing in like for a giant tv or a Nintendo SWITCH…Well sit back and relax while you take a look at what will be coming out this week in comics! Also we've got some Black Friday Weekend info in here!
If sifting through the internet seems like a bit too much of a task and you'd like us to beam this right to your phone (or home Cerebro-like computer system) try signing up for our handy weekly email newsletter!
1st OFF! IT'S BLACK FRIDAY WEEKEND!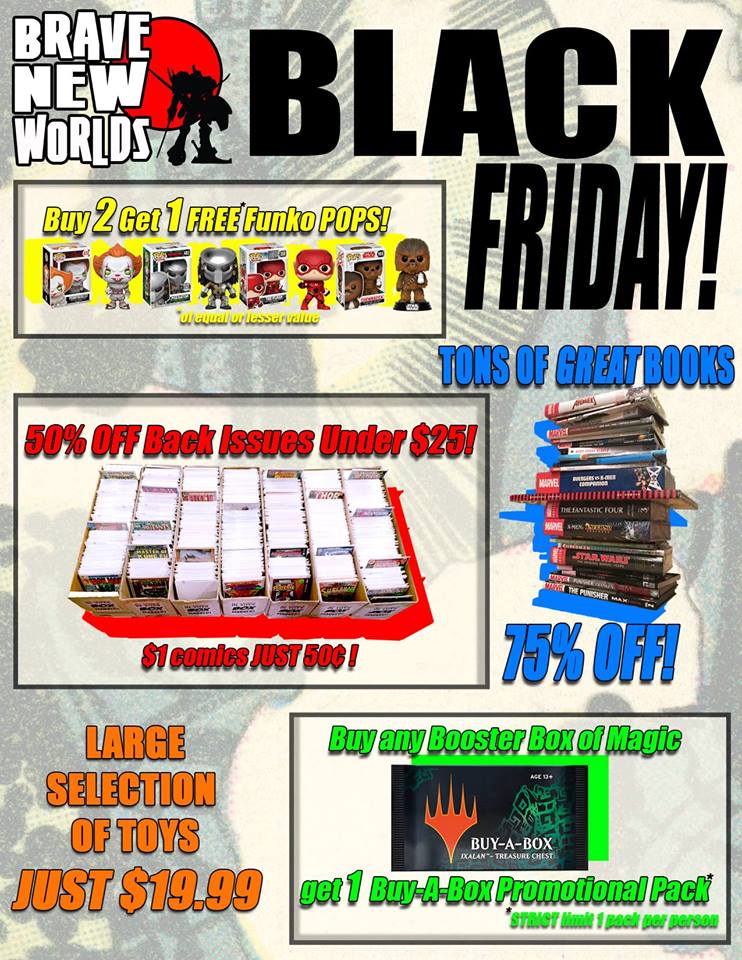 Swing by either BNW location to take advantage of some all of these awesome deals! Ya can't beat $1 comics for just 50¢!
FRIDAY NIGHT MAGIC SCHEDULE INFO!
HERE'S SOME STUFF FROM THIS WEEK YOU MAY WANNA CHECK OUT!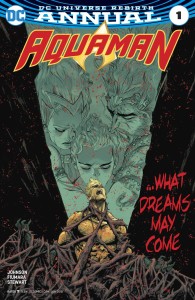 AQUAMAN ANNUAL #1
DC COMICS
(W) Philip Kennedy Johnson (A/CA) Max Fiumara
Aquaman's dream of unity between surface and sea has come true! A utopia of human and Atlantean ingenuity, and a symbol of harmony between the two cultures, the city of Crownspire is Arthur Curry's greatest achievement. There Aquaman, Mera, and Tom Curry live in content. But who built Crownspire? Where is Murk? And what exactly is Tom Curry?
Something is very wrong with Aquaman's world, and if he doesn't find out soon he may never live to see another day.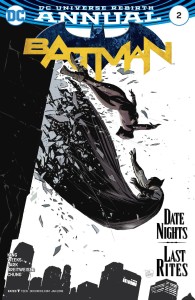 BATMAN ANNUAL #2
DC COMICS
(W) Tom King (A) Lee Weeks, Michael Lark (CA) Lee Weeks
Travel back in time with us to see the early days of the Bat and the Cat. What was Bruce and Selina's first date? How did this rivalry blossom into romance, and then go right back to being a rivalry again? Tom King reteams with his BATMAN/ELMER FUDD collaborator Lee Weeks to show us a little young love with capes and cowls. And a little crimefighting, too.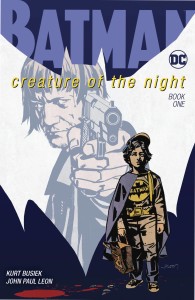 BATMAN CREATURE OF THE NIGHT #1 (OF 4)
DC COMICS
(W) Kurt Busiek (A/CA) John Paul Leon
Young Bruce Wainwright lost his parents in a violent crime…and in the real world, no superheroes exist to save the day. But as grief and rage builds inside Bruce until he feels he can't keep it inside anymore, something strange starts taking wing in the Gotham night! Perhaps Bruce's grief isn't inside him after all? Modern masters Kurt Busiek and John Paul Leon unite for the spiritual companion to the beloved SUPERMAN: SECRET IDENTITY, putting a new spin you've never seen before on the legend of Batman-and the dark emotions that drive him!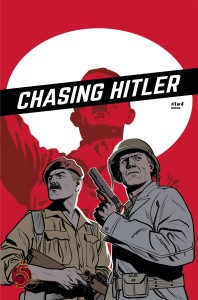 CHASING HITLER #1 (OF 4)
RED 5 COMICS
(W) Jai Nitz, Hayley Nitz (A/CA) Jethro Morales
As WWII draws to an end and the Allies surround Berlin, Adolf Hitler realizes that all is lost. Or is it? Two Allied servicemen are tasked with verifying Hitler's death. When they can't, the chase begins!
DARK DAYS THE FORGE & THE CASTING DIRECTORS CUT #1
DC COMICS
(W) Scott Snyder, James TynionIV (A) Andy Kubert & Various (CA) Jim Lee
The road to DARK NIGHTS: METAL began with DARK DAYS: THE FORGE and DARK DAYS: THE CASTING! Now, these two top-selling specials are presented again in this new Director's Cut edition! As THE FORGE begins, Aquaman, Green Lantern and more of DC's pantheon of heroes suspect Batman of hiding a dark secret that could threaten the very existence of the multiverse! And in THE CASTING, The Joker's surprise attack threatens to lay waste to all of Batman's carefully laid plans. This Director's Cut includes never-before-published extras!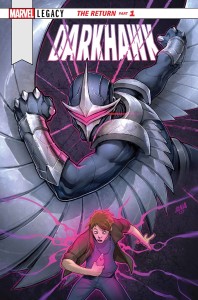 DARKHAWK #51

MARVEL COMICS
(W) Chad Bowers, Chris Sims (A) Kev Walker (CA) David Nakayama
The RETURN Part 1 (OF 1)
Years ago, Chris Powell discovered a mysterious amulet that allowed him to transform into the spacefaring gladiator known as DARKHAWK. With his newfound edge against crime, he stood against some of the most extreme threats the Marvel Universe has to offer! Now, when two members of the Fraternity of Raptors descend on New York with designs on stealing the amulet and returning it to the stars, it's not Darkhawk who has to rise to the challenge…it's Chris Powell!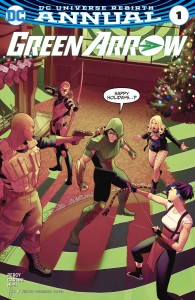 GREEN ARROW ANNUAL #1
DC COMICS
(W) Ben Percy (A) Eleonora Carlini (CA) Jamal Campbell
Christmas is a time for reflection, relatives and… revenge! So says Count Vertigo, who returns to Seattle to send Oliver Queen on a violent, mind-bending journey into his own past and future. The hidden secrets of GREEN ARROW are laid bare in this oversize special that tests the already tenuous bonds between Team Arrow, featuring the long-awaited returns of Shado, Diggle and the dark archer Merlyn!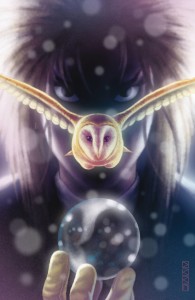 JIM HENSON LABYRINTH 2017 SPECIAL #1
BOOM! STUDIOS
(W) Adam Smith & Various (A) Jared Cullum & Various (CA) Derek Kirk Kim
Celebrate Jim Henson's Labyrinth with an all-new collection of short stories celebrating the various characters and creatures from the world of Labyrinth. Includes the never-before-told story of how Sir Didymus met his trusted steed Ambrosius. Also includes the story of a goblin running late to the famous "Dance Magic Dance" sequence from the film.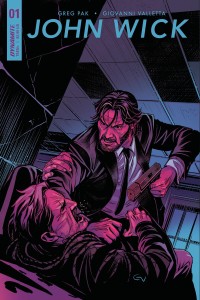 JOHN WICK #1

D. E.
(W) Greg Pak (A/CA) Giovanni Valletta
JOHN WICK: BOOK OF RULES PART ONE
When a young John Wick emerges from prison and embarks upon his first, epic vendetta, he comes up against a strange, powerful community of assassins and must learn how to master the Book of Rules that guides their lethal business. What are the Three Bills? Who is Calamity? And who was John Wick before he became the Baba Yaga? Here for the first time, read the thrilling origin story of John Wick, from "Planet Hulk" writer Greg Pak and "Dark Horse Presents" artist Giovanni Valletta.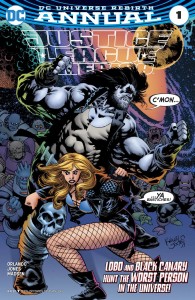 JUSTICE LEAGUE OF AMERICA ANNUAL #1
DC COMICS
(W) Steve Orlando (A/CA) Kelley Jones
Lobo's secret – revealed! Only Batman has known why Lobo is in the JLA – until now! The Main Man's secret is laid bare when he recruits Black Canary alone for a mission into deep space to take on one of the nastiest bastiches the galaxy's ever known. But will this be a one-way trip for Canary? Legendary artist Kelley Jones joins series writer Steve Orlando to find out in what promises to be one of the greatest Lobo epics ever told!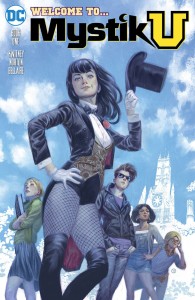 MYSTIK U #1 (OF 3)
DC COMICS
(W) Alisa Kwitney (A) Mike Norton (CA) Julian Totino Tedesco
Leave the world of the mundane behind and step through the magical doors of Mystik U! After a tragic accident, a young Zatanna Zatara, under the guidance of Rose Psychic, enrolls in a mysterious university that teaches its students how to master their unique brands of magic. Will Zatanna fit in with her new classmates (Enchantress, Sargon the Sorcerer, Faust and more!) and unlock her true potential? Find out in this exciting bimonthly miniseries from novelist Alisa Kwitney (DESTINY) and Mike Norton (Revival, Runaways)!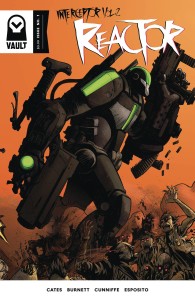 REACTOR #1 (OF 4)
VAULT COMICS
(W) Donny Cates (A/CA) Dylan Burnett
There's Weep, your average machine-gun-wielding teenager raised on an Earth overrun with vampires. There's Poli, who landed on Earth with the mission to kill every damn vampire there. And then there's King Luc's heavily fortified blood farm. You do the math. From Donny Cates (God Country, Redneck) and Dylan Burnett (Weavers) comes Reactor, a whole new entry into the world of vampire warfare, overpowered mechsuits, and 10-year-old presidents that Interceptor kicked-off.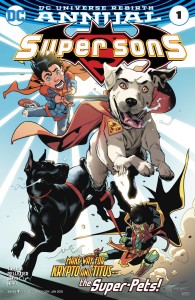 SUPER SONS ANNUAL #1
DC COMICS
(W) Peter J. Tomasi (A) Paul Pelletier (CA) Jorge Jimenez
"SUPER-PETS UNLEASHED"! The World's Furriest team Krypto and Titus-together at last! Tired of the boys stealing the spotlight, the doggy duo lead the Super Sons on a canine-powered epic!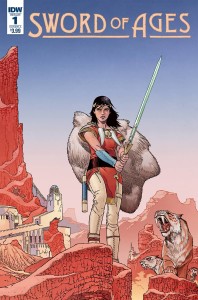 SWORD OF AGES #1

IDW PUBLISHING
(W/A/CA) Gabriel Rodriguez
A mythic origin story you never expected to see! This winter, the Sword will be drawn for the first time ever, courtesy of writer/artist/Locke & Key co-creator Gabriel Rodriguez in a five-issue miniseries adventure of epic proportions! A young woman will become the first wielder of the most famous sacred weapon of all time to champion for her world's survival, inspiring a legion of heroes to join her struggle against a merciless alien force. The line between science fiction and magic might get fuzzy, but the line between heroes and villains will be drawn in blood.

NOW HERE'S THE FULL LIST!
If you want a full visual list of everything howabout you click on this hyperlink  (tho the Diamond  might not update til Monday or something)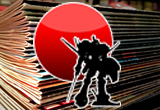 (the following list of comics reflects ALL the comics coming into BOTH locations. If there's something on this list that's NOT IN STOCK at your favorite BNW location DO NOT HESITATE  TO ASK FOR US TO ORDER IT FOR YOU!)
COMICS AND MAGAZINES
America #9
Aquaman Annual #1
Atomic Robo Spectre Of Tomorrow #2
Batman Annual #2
Batman Creature Of The Night #1 (OF 4)
Batman The Devastator #1 Metal 2nd Ptg
Batman The Red Death #1 Metal 3rd Ptg
Beauty #17
Bettie Page #5
Black Magick #9
BPRD Devil You Know #4
Captain Kronos #3
Catalyst Prime Kino #1
Chasing Hitler #1 (OF 4)
Dark Ark #3
Dark Days The Forge & The Casting Directors Cut #1
Darkhawk #51
Death Of Cerebus In Hell #1 (OF 1)
Doctor Who 11th Year Three #12
Eternity #2
Fu Jitsu #3
GFT Dance Of The Dead #2 (OF 6)
GFT Tarot #3
GI Joe A Real American Hero #246
Giantkillers #0
Green Arrow Annual #1
Hack Slash Resurrection #2
Hal Jordan And The Green Lantern Corps #33
Heartthrob Season 2 #5
Heavy Vinyl #4 (OF 4) (FORMERLY Hi-Fi Fight Club)
Image Plus #4 (WYTCHES The Bad Egg Pt 4)
Injustice 2 Annual #1
It Secret World Of Modern Banking 2 #2 (OF 5)
Jean Grey #9
Jim Henson Labyrinth 2017 Special #1
John Wick #1
Justice League Of America Annual #1
Kaijumax Season 3 #5
Kill Or Be Killed #14
Lazarus X Plus 66 #5 (OF 6)
Lola Xoxo Vol 2 #5
Manifest Destiny #32
Miraculous #17
Moon Knight #189
Motor Crush #8
Mystik U #1 (OF 3)
New Talent Showcase 2017 #1
Old Man Logan #31
Previews #351 December 2017
Marvel Previews Vol 04 #5 December 2017 Extras
Reactor #1 (OF 4)
Renato Jones Season Two #5 (OF 5)
Rick & Morty #32
Robyn Hood The Hunt #5
ROM Vs Transformers Shining Armor #5
Sacred Creatures #5
Secret Warriors #9
Spawn #280
Spider-Gwen #26
Spy Seal #4
Star Trek Boldy Go #14
Star Trek Discovery #1
Star Wars Adventures #4
Star Wars Jedi Republic Mace Windu #4 (OF 5)
Star Wars Poe Dameron #21
Street Fighter Vs Darkstalkers #7 (OF 8)
Super Sons Annual #1
Sword Of Ages #1
Tarot Witch Of The Black Rose #107
TMNT Ghostbusters Ii #5
Transformers Lost Light #11
US Avengers #12
Vampirella #8
Venom #158
War Mother #4
X-Files JFK Disclosure #2 (OF 2)
X-Men Blue #16
TRADE PAPERBACKS, GRAPHIC NOVELS, HARDCOVERS AND MANGA
All New Wolverine Tp Vol 04 Immune
Astra Lost In Space Gn Vol 01
Dragon Ball Super Gn Vol 02
Ghostbusters 101 Tp Everyone Answers The Call
Happy Dlx Ed Tp
Injection Tp Vol 03
Invisibles Tp Book 02
Jessica Jones Tp Vol 02 Secrets Of Maria Hill
Nurse Nurse Gn
Promised Neverland Gn Vol 01
Silver Surfer Tp Vol 05 Power Greater Than Cosmic
Splatoon Manga Gn Vol 01
Star Wars Rogue One Adaptation Tp
Superman Tp Vol 04 Black Dawn (REBIRTH)
Superwoman Tp Vol 02 Rediscovery (REBIRTH)
Tokyo Ghoul Re Gn Vol 02
ODDS AND ENDS
Batman TAS 25th Anniv Harley Quinn Dlx Pvc Fig