Well would you look at that. We've got less than 2 months until we're in 2018 (yipes) AND the clocks change this weekend (DON'T FORGET THAT)
If sifting through the internet seems like a bit too much of a task and you'd like us to beam this right to your phone (or home Cerebro-like computer system) try signing up for our handy weekly email newsletter!
FRIDAY NIGHT MAGIC SCHEDULE INFO!

On November 18th, we'll have lots of unique and limited edition items for sale! We'll be running a special sale on back issues and bargain books on this day.
Local Comic Shop Day® celebrates locally owned independent comic book specialty stores, showcasing their unique and vital role in being the primary fire-starters of pop culture
There'll be updates over on the FACEBOOK EVENT PAGE too!
CHRIS WARE'S HUGE NEW BOOK!
  RIPLEY!
THIS VENOM IS SWEET HAS HECK!

MARVEL NOW VENOM ARTFX+ STATUE
KOTO INC.
Kotobukiya's ARTFX+ 1/10 scale lineup of Spider-Man friends and foes continues with the symbiot Venom!Venom crouches in a low stance with his left arm pulled back, ready to strike with his claws. Based on artwork specifically commissioned for this series Display alone or along with Spider-Man to create exciting battle displays.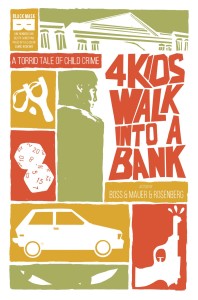 4KIDS WALK INTO A BANK TP

BLACK MASK COMICS
(W) Matthew Rosenberg (A/CA) Tyler Boss
    4 KIDS WALK INTO A BANK is the darkly comedic story of four burgeoning child criminals and their elaborate plans.
When a group of bumbling criminals show up in her father's life looking to pull one last job, young Paige has two choices – let her father get caught up in their criminal hijinks or enlist her three best friends to do the job first. Paige picks the bad one.
180ish pages of full color comic-booking about friendship, family, growing up, and grand larceny from rising star writer Matthew Rosenberg (WE CAN NEVER GO HOME, KINGPIN, SECRET WARRIORS) and equally rising star artist Tyler Boss (LAZARUS, CALEXIT, Vice Magazine).
This vollume collects the complete series that Kieron Gilled (THE WICKED + THE DIVINE, DARTH VADER) described as "Imagine Tarantino does Goonies. And excellent." and Brian K. Vaughan (SAGA, Y THE LAST MAN) said was "Exploding with ambition and love of the medium!"
Collects issues 1-5.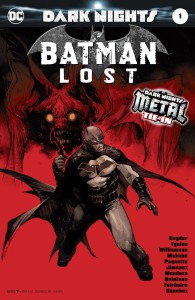 BATMAN LOST #1 (METAL)
DC COMICS
(W) Scott Snyder & Various (A) Doug Mahnke & Various (CA) Olivier Coipel
Trapped in the Dark Multiverse, Batman must face his greatest fears!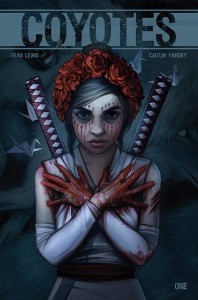 COYOTES #1

IMAGE COMICS
(W) Sean Lewis (A/CA) Caitlin Yarsky
Underworld meets Sicario in this new miniseries from SEAN LEWIS (SAINTS, THE FEW) and amazing new artist CAITLIN YARSKY. Hunted by a legion of wolves that roam the border, women are disappearing. The survivors band together to wage war. Detective Frank Coffey is trying to understand this mythic-level bloodbath when he comes across Red, a little girl with a secret and a sword. Ultra-violent and smart as hell, COYOTES transforms the everyday into a myth we can rally behind.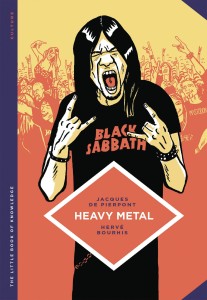 LITTLE BOOK OF KNOWLEDGE HC HEAVY METAL
IDW PUBLISHING
(W) Jacques de Pierpont (A/CA) Hervé Bourhis
Learn to identify the many tribes of the international heavy metal community, from Thrash to Black Metal. Master the codes, from the sign of the horns to the Diabolus In Musica. Understand how Satanic Metal coexists with Christian Metal. Discover genres that have spread outside the Western world, like Japanese and Iranian Metal. With so much more to uncover, your journey into Heavy Metal has just begun.
Bullet points:
* The perfect impulse purchase for the friend that knows it all-or needs to know more!
* Catch up to the Heavy Metal fan in your life with this collection of facts and info!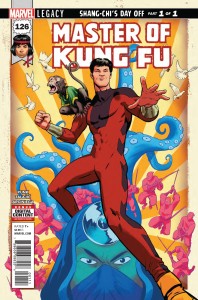 MASTER OF KUNG FU #126

MARVEL COMICS
(W) Cm Punk (A) Dalibor Talajic (CA) Javier Rodriguez
Shang-Chi's Day Off Part 1 (OF 1)
The Marvel Universe is full of fighters: brawlers, scrappers, weapons experts, mystical kung fu virtuosi. But there's only one martial artist skilled enough to be called the greatest. SHANG-CHI has been a pinch hitter for a long time, stepping in for Avengers missions when no one else would do, but when no one can match your speed or skill, sometimes it's best to work alone. To see what you've been missing if you don't know Shang-Chi, don't miss MASTER OF KUNG FU!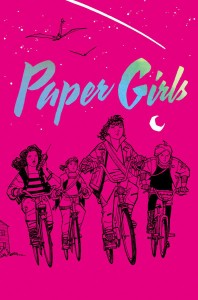 PAPER GIRLS DLX ED HC VOL 01
IMAGE COMICS
(W) Brian K. Vaughan (A/CA) Cliff Chiang
From BRIAN K. VAUGHAN, New York Times bestselling writer of SAGA, and CLIFF CHIANG, legendary artist of Wonder Woman, this gorgeous oversized deluxe hardcover is the perfect way to experience the first two storylines of the smash-hit series that The Chicago Tribune named one of the "Best Books of the Year."
In the early hours after Halloween of 1988, four 12-year-old newspaper delivery girls uncover the most important story of all time. Suburban drama and otherworldly mysteries collide in this critically acclaimed story about nostalgia, first jobs, and the last days of childhood.
Collects PAPER GIRLS #1-10, along with exclusive extras and a brand-new cover from CLIFF CHIANG! 7.5″ x 11.125″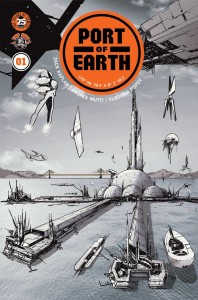 PORT OF EARTH #1
IMAGE COMICS
(W) Zack Kaplan (A/CA) Andrea Mutti
Imagine if aliens came to Earth not in war or peace, but with a business deal: open up a spaceport here on Earth in exchange for advanced technology. But when our alien visitors break Port restrictions and wreak havoc in our cities, it falls to the newly formed Earth Security Agents to hunt down and safely deport the dangerous rogue aliens back to the Port of Earth. A gritty sci-fi action thriller from new comic book writer ZACK KAPLAN (ECLIPSE) and ANDREA MUTTI (Rebels, Star Wars, Batman Eternal, Prometheus).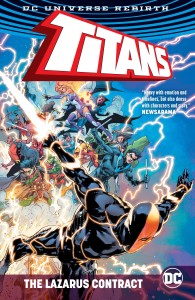 TITANS THE LAZARUS CONTRACT HC
DC COMICS
(W) Dan Abnett & Various (A) Brett Booth & Various (CA) Ivan Reis
When Deathstroke discovers that Wally West's return holds the key to bringing his son back from the dead, he'll stop at nothing to do just that. Standing in his way? Both the Teen Titans and the Titans! But will the Titans and the Teen Titans be fast enough to stop him from changing the world as we know it? Collects TITANS #11, TEEN TITANS #8, DEATHSTROKE #19-20 and TEEN TITANS: THE LAZARUS CONTRACT SPECIAL #1.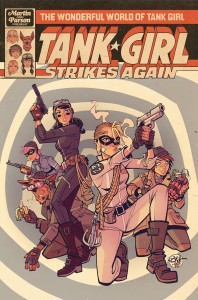 WONDERFUL WORLD OF TANK GIRL #1
TITAN COMICS
(W) Alan Martin (A/CA) Brett Parson
The Wonderful World of Tank Girl #1 – Tank Girl Strikes Again!
Tank Girl and the gang are back, in this, the first of four brand-new, epic, stand-alone stories!
In Tank Girl Strikes Again, our anti-heroes try to pull off their biggest caper ever, but, thanks to Booga's gormless plotting, they barely escape with their lives. This is Tank Girl on true classic, chaotic, idiotic form!

NOW HERE'S THE FULL LIST!
If you want a full visual list of everything howabout you click on this hyperlink  (tho the Diamond  might not update til Monday or something)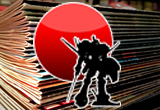 (the following list of comics reflects ALL the comics coming into BOTH locations. If there's something on this list that's NOT IN STOCK at your favorite BNW location DO NOT HESITATE  TO ASK FOR US TO ORDER IT FOR YOU!)
COMICS AND MAGAZINES
Action Comics #991 (OZ Effect)
Adventure Time Regular Show #4
Batgirl And The Birds Of Prey #16
Batman Lost #1 (METAL)
Birthright #28
Catalyst Prime Accell Vol 2 #1
Catalyst Prime Astonisher #2
Coyotes #1
Daredevil #595
Despicable Deadpool #289
Detective Comics #968
Disney Princess #14
Divided States Of Hysteria #6
Eugenic #2 (OF 3)
Falcon #2
Flash #34
Generation X #8
Ghost Money #4
Gotham City Garage #3
Grass Kings #9
Green Hornet 66 Meets Spirit #5 (OF 5)
Gwenpool #22
Hal Jordan And The Green Lantern Corps #32 (METAL)
Half Past Danger Ii Dead To Reichs #3 (OF 5)
Harbinger Renegade #0
Harley Quinn #31
Harrow County #27
Heavy Metal #288
Hellboy & BPRD 1955 Occult Intelligence #3 (OF 3)
Injection #15
Jessica Jones #14
Judge Dredd Blessed Earth #7
Justice League Of America #18
Kid Lobotomy #2
Kingsman Red Diamond #3 (OF 6)
Kong On Planet Of Apes #1
Master Of Kung Fu #126
Mister Miracle #4 (OF 12)
Moon Knight #188
Ms Marvel #24
My Little Pony Friendship Is Magic #60
New Super Man #17
Normals #6
Pestilence #5
Port Of Earth #1
Ragman #2 (OF 6)
Red Hood And The Outlaws #16
Redlands #4
Rock Candy Mountain #5
Royal City #7
Royals #10
Runaways #3
Scales & Scoundrels #3
Scooby Apocalypse #19
She-Hulk #159
Sherlock Great Game #4 (OF 6)
Slam Next Jam #3
Slots #1 2nd Ptg
Slots #2
Spider-Man Deadpool #23
Spirits Of Vengeance #2 (OF 5)
Spongebob Comics #74
Star Wars #38
Suicide Squad #29
Supergirl #15
Superwoman #16
Theres Nothing There #5
Titans #17
TMNT Ghostbusters II #2
Transformers First Strike #1
Unbeatable Squirrel Girl #26
Uncanny Avengers #29
Venom #157
Wildstorm Michael Cray #2
Wonder Woman #34
Wonderful World Of Tank Girl #1
X-Men Gold #15
TRADE PAPERBACKS, GRAPHIC NOVELS, HARDCOVERS AND MANGA
4 Kids Walk Into A Bank Tp
Batgirl Tp Vol 02 Son Of Penguin (REBIRTH)
Best Wishes Gn
Betty & Veronic A By Adam Hughes Tp Vol 01
Black Panther Tp Book 04 Avengers Of New World
Edge Of Venomverse Tp
Justice League Of America Tp Vol 02 Kingbutcher (REBIRTH)
Little Book Of Knowledge Hc Heavy Metal
Northlanders Tp Book 03 The European Saga
Paper Girls Dlx Ed Hc Vol 01
Spider-Man Miles Morales Tp Vol 03
Star Wars Darth Maul Son Dathomir Tp New Ptg
Star Wars Force Awakens Adapatation Tp
Titans The Lazarus Contract Hc
ODDS AND ENDS
Marvel Now Venom Artfx+ Statue