Hey remember last week when we said Old City was gonna be closed this past Tuesday?! Well that was so M. Night Shyamalan and the Glass movie crew could film a scene in the shop! That was sweet! Now onto the new comics!
If sifting through the internet seems like a bit too much of a task and you'd like us to beam this right to your phone (or home Cerebro-like computer system) try signing up for our handy weekly email newsletter!
LADIES! LADIE'S NIGHT 2K17 is a MONTH AWAY!!!
Good news everyone! LADIES' NIGHT is returning to our Old City shop in October!!!

Since Cacey is running the event I've got nothing to add so here's what's going on as it's written on the  FACEBOOK EVENT:
It may have been a few years but Ladies' Night IS BACK!
If you're a woman or identify as a woman, you are cordially invited to our celebration of all things nerdy, hosted by our very own queen Cacey Crawford!
There will be special sections highlighting our favorite female creators, artists and characters. Come talk comics with all the geek goddesses that grace our great establishment every week. It's the perfect time to ask like minded ladies for new reading recommendations, or pick up that trade you've been eying!
Plus, we'll have plenty of tasty treats and refreshments, and who doesn't love that??
This event is entirely LADIES ONLY!! Sit down boys, be humble
More details to come. In the meantime, save the date!

The fantabulous ladies of the Dirty Diamonds are coming! Kelly Phillips and Claire Folkman will be here with their latest issue of Dirty Diamonds and other things! Meet them! Talk comics! Get involved!  YES!

Yo we're super psyched that  Annie Mok's unique comics voice has been added to our list of guests coming out to Ladies' Night 2k17!  Nothing like supporting local comic creators, right?! C'mon out and see what she'll have with her!
LADIES' NIGHT GETS MORE LADIES!

Beth stopped by to drop off some more copies of her books and we locked her in to represent on the 21st! WOO HOO!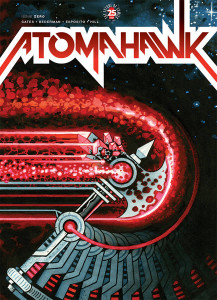 ATOMAHAWK #0

IMAGE COMICS
(W) Donny Cates (A/CA) Ian Bederman
Behold, puny earth things! A deluxe, oversized collection of the story originally serialized in Heavy Metal magazine, this is the complete adventure of the Cyberzerker and his mighty Atomahawk! Join them on their quest to free their imprisoned God, and find out why GRANT MORRISON calls it: "A screaming black hole feedback squall of death metal Kirby-kozmik energy spinning straight towards your prefrontal cortex. DONNY CATES and IAN BEDERMAN forge a stylish, super-heavy 21st-century mythology of blood, sentient steel, and rebel circuitry. A razor-nova of explosive writing and searing visuals that bury themselves deep in your skull. ATOMAHAWK REX!"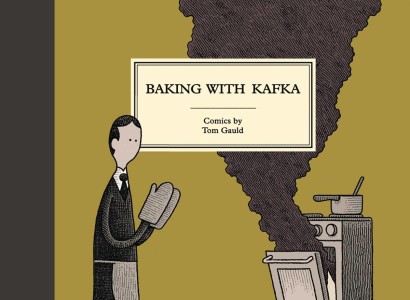 BAKING WITH KAFKA HC
DRAWN & QUARTERLY
(W/A/CA) Tom Gauld
In his inimitable style, British cartoonist Tom Gauld has opened comics to a crossover audience and challenged perceptions of what the medium can be. Simultaneously silly and serious, Gauld adds an undeniable lightness to traditionally highbrow themes. From sarcastic panels about the health hazards of being a best-selling writer to a list of magical items for fantasy writers (such as the Amulet of Attraction, which summons mainstream acceptance, Hollywood money, and fresh coffee), Gauld's cartoons are timely and droll – his trademark British humor, impeccable timing, and distinctive visual style sets him apart from the rest.
BATMAN FLASH THE BUTTON DELUXE ED HC (REBIRTH)
DC COMICS
(W) Joshua Williamson, Tom King (A) Jason Fabok, Howard Porter (CA) Jason Fabok
The explosive storyline from BATMAN #21-22 and THE FLASH #21-22 is collected in a new Deluxe Edition hardcover! The Dark Knight and the Fastest Man Alive, the two greatest detectives on any world, unite to explore the mystery behind a certain blood-stained smiley button
embedded in the Batcave wall. What starts as a simple investigation turns deadly when the secrets of the button prove irresistible to an unwelcome third party – and it's not who anyone suspects! It's a mystery woven through time, and the ticking clock starts here!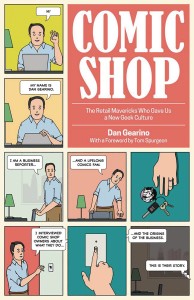 COMIC SHOP RETAIL MAVERICKS WHO GAVE US NEW GEEK CULTURE
OHIO UNIVERSITY PRESS
(W) Dan Gearino
Comic book shops came into their own in the 1970s, a new breed of small businesses that transformed the way comics are marketed and sold. The shops created a space for quirky ideas to gain an audience, and helped some small-press comics turn into media giants. Gearino, a business journalist, leads a tour through this world, going back to the dawn of the modern comic shop, and also looking at the present-day market. Along the way, he captures the voices of creators, store owners, and players from around the U.S. and Canada including Steve Geppi, Paul Levitz, Diana Schutz, Chuck Rozanski, Bud Plant, and many more.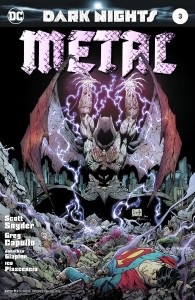 DARK NIGHTS METAL #3 (OF 6)
DC COMICS
(W) Scott Snyder (A/CA) Greg Capullo, Jonathan Glapion
Superman is pulled into the mystery of the Dark Multiverse while the Justice League follows the trail to a weapon that could keep the forces of the Dark Multiverse at bay!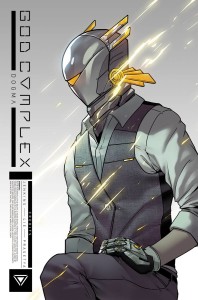 GOD COMPLEX #1

IMAGE COMICS
(W) Paul Jenkins, Bryan Lie (A) Hendry Prasetya (CA) Isuardi Therianto
In the futuristic city of Delphi, a young digital-forensics investigator named Seneca finds himself embroiled in the bizarre murders of three church acolytes. Guided by his cryptic mentor, the Ruler named Hermes, Seneca uncovers a stunning conspiracy and a mystery that will turn his entire world upside down. From writer PAUL JENKINS (Inhumans, Wolverine: Origin) and artist HENDRY PRASETYA (Mighty Morphin Power Rangers) comes a unique vision of a digital future powered by mythological gods.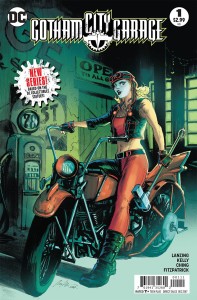 GOTHAM CITY GARAGE #1
DC COMICS
(W) Jackson Lanzing, Collin Kelly (A) Brian Ching (CA) Rafael Albuquerque
A new series inspired by the DC Collectibles statue line! It's been decades since Governor Lex Luthor turned Gotham City into a modern utopia, saving his people from the devastation that made the rest of the continent a wasteland. But his city isn't paradise for everyone. If the Lexes network misfires, and a citizen wakes up and steps out of line, the Bat and his minions are brutal in restoring the status quo. So when young Kara Gordon, whose ridealong tech has never functioned optimally, rushes headlong into the Freescape, she's shocked to find Gotham City Garage-where new friends might become family, if she lives long enough.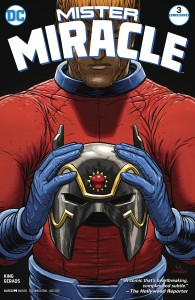 MISTER MIRACLE #3 (OF 12)
DC COMICS
(W) Tom King (A) Mitch Gerads (CA) Nick Derington
The groundbreaking new series from the creators of The Sherriff of Babylon and BATMAN #14-15 continues. The insanity of war is the insanity of Mister Miracle. Darkseid and Orion's forces clash violently on the battlefields of New Genesis. Stained with blood and glory, the New Gods fight on. As they move closer to victory, Scott and Barda begin to see that every step forward leads them into a deadly trap. Where do you run when the path ahead is your enemy's triumph and the path behind is your family's defeat?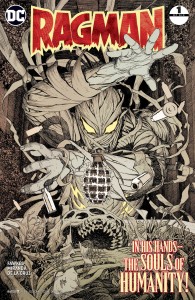 RAGMAN #1 (OF 6)
DC COMICS
(W) Ray Fawkes (A) Inaki Miranda (CA) Guillem March
After a failed mission to raid a tomb in the Israeli Desert, war veteran Rory Harper is plagued by the death of his partners. As Rory battles his guilt back in Gotham City, he discovers that what was in that tomb has followed him home, and it's about to change his life. But as Rory begins his journey, an evil is invading Gotham City, and it wants what he's discovered. A hero is born in this visionary reimagining of the Ragman mythos by writer Ray Fawkes and artist Inaki Miranda!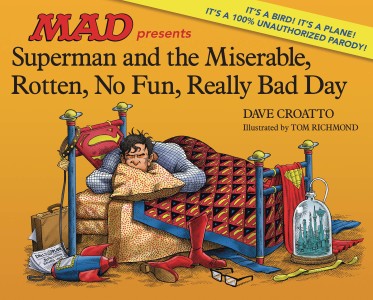 SUPERMAN & MISERABLE ROTTEN NO FUN REALLY BAD DAY HC
DC COMICS
(W) Dave Croatto (A/CA) Tom Richmond
It's a bird! It's a plane! It's the worst day ever! It's a 100% UNauthorized children's book parody as only MAD Magazine can do it in SUPERMAN AND THE MISERABLE, ROTTEN, NO FUN, REALLY BAD DAY!
It's a day so terrible that only the Man of Steel could possibly hope to survive it! On this miserable, rotten, no fun, very bad day, Superman will face rampaging super-villains, angry editors, boring chores, a cranky Justice League and, worst of all, bad pizza. Superman's home planet, Krypton, exploded – so he's no stranger to bad days-but even so, this is one for the record books!
In this all-new story from the Usual Gang of Idiots at MAD Magazine (the same crew that brought you GOODNIGHT, BATCAVE) the best-selling children's book Alexander and the Terrible, Horrible, No Good, Very Bad Day is parodied with the heroes and villains from the world of DC Comics' Superman!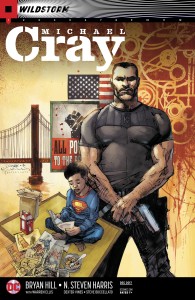 WILDSTORM MICHAEL CRAY #1
DC COMICS
(W) Bryan Hill (A) N. Steven Harris, Dexter Vines (CA) Denys Cowan, Bill Sienkiewicz
Warren Ellis' critically acclaimed relaunch of THE WILD STORM gets its first solo spinoff series! Michael Cray, professional assassin, has been betrayed by International Operations and has an alien life-form in his head that's either killing him, transforming him, or both. The only thing that can bring sense to his life is for him to do what he does best: kill the wrong people for the right reasons. But Michael needs support and resources to hit back against I.O., and he gets them in exchange for working with Trelane, taking out her targets, his way. First up? A sociopathic Silicon Valley billionaire by the name of Oliver Queen!
MARVEL LENTICULAR COVES WEEK 2!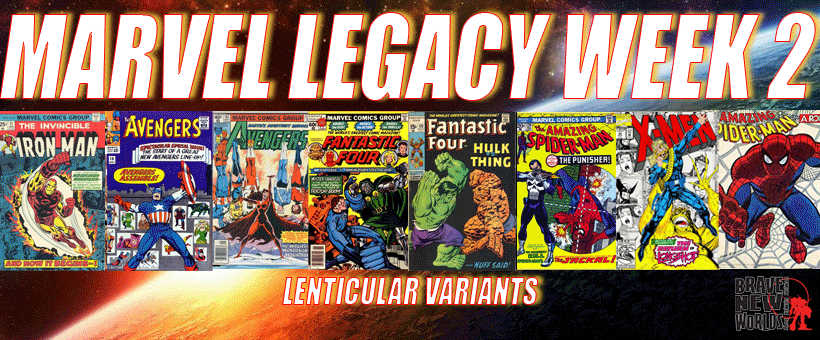 ALL NEW WOLVERINE #25

MARVEL COMICS
(W) Tom Taylor (A) Juan Cabal (CA) Terry Dodson
ORPHANS OF X Part 1
DAKEN, the enigmatic son of Logan, has been kidnapped and it's up to the ALL-NEW WOLVERINE to find him. But when the trail leads Laura, a genetic clone of the original Wolverine, back to the FACILITY where she was created and tortured, she will find new horrors waiting for her.  Who are the ORPHANS OF X and what do they have in store for the children of Logan? PLUS: Includes 3 bonus MARVEL PRIMER PAGES! Story by Robbie Thompson and art by Mark Bagley!
AMAZING SPIDER-MAN #789

MARVEL COMICS
(W) Dan Slott (A) Stuart Immonen (CA) Alex Ross
THE FALL OF PARKER Part 1
Down on your luck Peter Parker is back, for good or ill. New York has changed, and so has Peter – but entering a new phase of his Spider-Man life isn't easy; neither are new relationships OR new foes. Peter Parker is not the Spider-Man you remember, but why is he taking his fight to THE DAILY BUGLE? And what happened to PARKER INDUSTRIES?
PLUS: Includes 3 bonus MARVEL PRIMER PAGES! Story by Robbie Thompson and art by Mark Bagley!
DEFENDERS #6

MARVEL COMICS
(W) Brian Michael Bendis (A/CA) David Marquez
KINGPINS OF NEW YORK Part 1
The Defenders: Iron Fist, Jessica Jones, Luke Cage and Daredevil, protectors of the people, are in a desperate struggle to keep New York City safe in the wake of the power vacuum caused by the Kingpin's absence and the all-out street war that results!  So what could make things even worse for our team of harried heroes? Would you believe – Deadpool? PLUS: Includes 3 bonus MARVEL PRIMER PAGES! Story by Robbie Thompson and a TBA artist!
DESPICABLE DEADPOOL #287

MARVEL COMICS
(W) Gerry Duggan (A) Scott Koblish (CA) David Lopez
DEADPOOL KILLS CABLE Part 1
Deadpool's going back to his vile beginnings as a mercenary and wanted killer.  No more being a hero.  No more X-Men.  No more Avengers.  And if he wants to break bad again, what's more despicable than killing your best friend? Cable better get ready because his old friend Wade has him in the crosshairs. PLUS: Includes 3 bonus MARVEL PRIMER PAGES! Story by Robbie Thompson and a TBA artist!
FALCON #1

MARVEL COMICS
(W) Rodney Barnes (A) Joshua Cassara (CA) Jesus Saiz
TAKE FLIGHT Part 1
Sam Wilson – winged warrior, avian Avenger and one-time sentinel of liberty – takes to the skies again, reborn and recommitted as the fighter for freedom, THE FALCON! Engaged in an all-new assignment while training his new partner THE PATRIOT, Sam Wilson soars high and sees all. But Sam's new mission finds him on a collision course with an enemy way out of his weight class-the demonic BLACKHEART! Writer Rodney Barnes (THE BOONDOCKS) joins artist Joshua Cassara (SECRET EMPIRE: UNDERGROUND) to challenge Sam Wilson as never before! From the stratosphere to the streets, the Marvel Universe now has a high-flying hero circling above them ready to strike! PLUS: Includes 3 bonus MARVEL PRIMER PAGES! Story by Robbie Thompson and art by Mark Bagley!
GWENPOOL #21

MARVEL COMICS
(W) Christopher Hastings (A) Irene Strychalsk (CA) Paulina Ganucheau
DOOM SEES YOU Part 1
Since arriving in the Marvel Universe from the real world, Gwenpool has made a name for herself as one of its most exciting heroes.  From teaming up with Spider-Man and the Mighty Thor to tackling villains like M.O.D.O.K. and Arcade, no one can top her combination of demolition and off-the-wall adventure.  But now Gwenpool's looking for the biggest and baddest foes she can think of and she's going right to the top of the list with…DR. DOOM! PLUS: Includes 3 bonus MARVEL PRIMER PAGES! Story by Robbie Thompson and a TBA artist!
UNCANNY AVENGERS #28

MARVEL COMICS
(W) Jim Zub (A) Sean Izaakse (CA) R. B. Silva
STARS AND GARTERS Part 1
Part Avengers and part X-Men.  Two of Earth's mightiest heroes and two of Earth's mightiest friends. And when it comes to super-heroics, Wonder Man and the Beast have seen it, done it, and they got the T-shirt. When the world throws you cosmic conflict, global calamity, death, rebirth and heartache aplenty, it's important to remember where your friends are. Join us for "A Pint or Two," won't you? PLUS: Includes 3 bonus MARVEL PRIMER PAGES! Story by Robbie Thompson and a TBA artist!
X-MEN BLUE #13 LEG
MARVEL COMICS
(W) Cullen Bunn (A) Jorge Molina (CA) Arthur Adams
MOJO WORLDWIDE Part 2
The X-Men may have bitten off more than they can chew when the Mojoverse continues its bizarre invasion of MANHATTAN! JEAN GREY and her team fight side by side with KITTY PRYDE and her team…but can MOJO be defeated when he's got the X-Men's greatest hits weaponized against them? Or will an unlikely alley come to the rescue? PLUS: Includes 3 bonus MARVEL PRIMER PAGES! Story by Robbie Thompson and art by Mark Bagley
NOW HERE'S THE FULL LIST!
If you want a full visual list of everything howabout you click on this hyperlink  (tho the Diamond  might not update til Monday or something)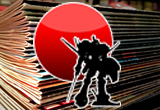 (the following list of comics reflects ALL the comics coming into BOTH locations. If there's something on this list that's NOT IN STOCK at your favorite BNW location DO NOT HESITATE  TO ASK FOR US TO ORDER IT FOR YOU!)
COMICS AND MAGAZINES
Action Comics #989
Adventure Time 2017 Spoooktacular #1
Adventure Time Regular Show #3
All New Wolverine #25
All Time Comics Crime Destroyer #2
Alters #7
Amazing Spider-Man #789
Atomahawk #0
Babyteeth #5
Back To The Future #23
Birthright #27
Black Science #32
Bombshells United #3
Briggs Land Lone Wolves #5 (OF 6)
Dan Dare #1
Daredevil #27
Dark Nights Metal #3 (OF 6)
Defenders #6
Despicable Deadpool #287
Detective Comics #966
Divided States Of Hysteria #5
Doctor Who Lost Dimension Special #1
Dying And The Dead #6
Eternal Empire #5
Evil Within #2
Falcon #1
Family Trade #1
Famous Monsters Of Filmland #289
First Strike #5
Flash #32
Galaktikon #2
Ghost Money #3 (OF 10)
GI Joe (2016) #9
God Complex #1
Gold Digger Halloween Special 2017
Gotham City Garage #1
Grass Kings #8
Greatest Adventure #6
Groo Play Of Gods #4
Gwenpool #21
Hal Jordan And The Green Lantern Corps #30
Harbinger Renegade #8
Harrow County #26
Hellboy & Bprd 1955 Occult Intelligence #2 (OF 3)
Hulk #11
Inhumans Once Future Kings #3 (OF 5)
Jimmys Bastards #4
Justice League Of America #16
Kingsman Red Diamond #2 (OF 6)
Kiss Vampirella #5 (OF 5)
Kull Eternal #2
Lazaretto #2 (OF 5)
Marvel Universe Guardians Of Galaxy #23
MASK Mobile Armored Strike Kommand #10
Mech Cadet Yu #3
Mister Miracle #3 (OF 12)
Monster Bash Magazine #31
Ms Marvel #23
Neil Gaiman American Gods Shadows #8
New Super Man #16
Optimus Prime #11
Orphan Black Deviations #5 (OF 6)
Penny Dreadful #6
Ragman #1 (OF 6)
Red Hood And The Outlaws #15
Redlands #3
Retcon #2
Rocket #6
Royal City #6
Runaways #2
Sacred Creatures #4
Scales & Scoundrels #2
Scooby Apocalypse #18
Sheena #2
Skin & Earth #4 (OF 6)
Slam Next Jam #2
Spongebob Comics #73
Star Trek Boldly Go #12
Star Trek TNG Mirror Broken #4 (OF 6)
Star Wars Doctor Aphra #13
Suicide Squad #27
Supergirl #14
Superwoman #15
Unbeatable Squirrel Girl #25
Uncanny Avengers #28
Vision Directors Cut #5 (OF 6)
Weapon X #9
Wicked & Divine #32
Wildstorm Michael Cray #1
Wonder Woman #32
Wormwood Goes To Washington #1 (OF 3)
Wynonna Earp Season Zero #4 (OF 5)
X-Men Blue #13
TRADE PAPERBACKS, GRAPHIC NOVELS, HARDCOVERS AND MANGA
Animosity Tp Vol 02
Baking With Kafka Hc
Batman Flash The Button Deluxe Ed Hc
Black Cloud Tp Vol 01 No Exit
Comic Book Story Of Video Games Gn
Comic Shop Retail Mavericks Who Gave Us New Geek Culture
Deathstroke The Terminator Tp Vol 03 Nuclear Winter
Deathstroke Tp Vol 03 Twilight (REBIRTH)
Demon By Jack Kirby Tp
DC Comics Bombshells Tp Vol 05 Death Of Illusion
Good Times Are Killing Me Hc
Harrow County Tp Vol 06 Hedge Magic
Hellboy In Hell Library Edition Hc
Howard The Duck Tp Complete Collection Vol 04
Kobane Calling Gn
Low Tp Vol 04 Outer Aspects Of Inner Attitudes
Oh My Goddess Omnibus Tp Vol 06
Overwatch Anthology Hc Vol 01
Plants Vs Zombies Lawn Of Doom Hc
Rat Queens Tp Vol 04 High Fantasies
Seven To Eternity Tp Vol 02
Slugfest Inside The Epic 50-Year Battle Between Marvel & Dc
Star Wars Screaming Citadel Tp
Super Sons Tp Vol 01 When I Grow Up (REBIRTH)
Superman & Miserable Rotten No Fun Really Bad Day
Walking Dead Hc Vol 14
TOYS
DCtv The Flash 06 The Flash Season 3 Af